Acorns Blog - 2019-2020
Welcome back to the new school year! In our class we have Mrs Foran, Mrs Stanley, Mrs Pugh, Miss Poxan and Mrs Gray who help us.
We are looking forward to showing you all of the amazing things we do in our class. Take a look and see!
Happy New Year 2020.
Acorns Class - Summer Term 2020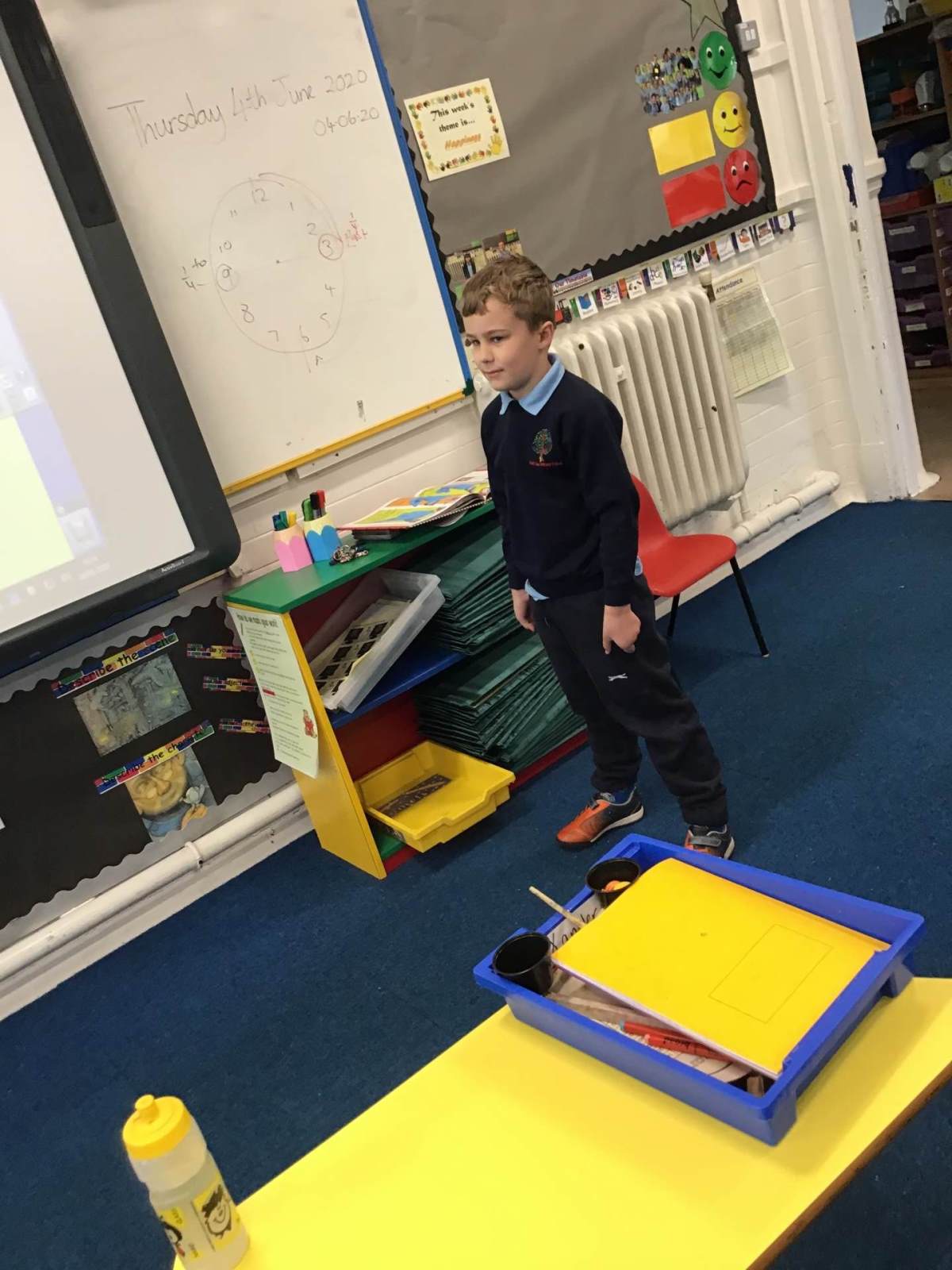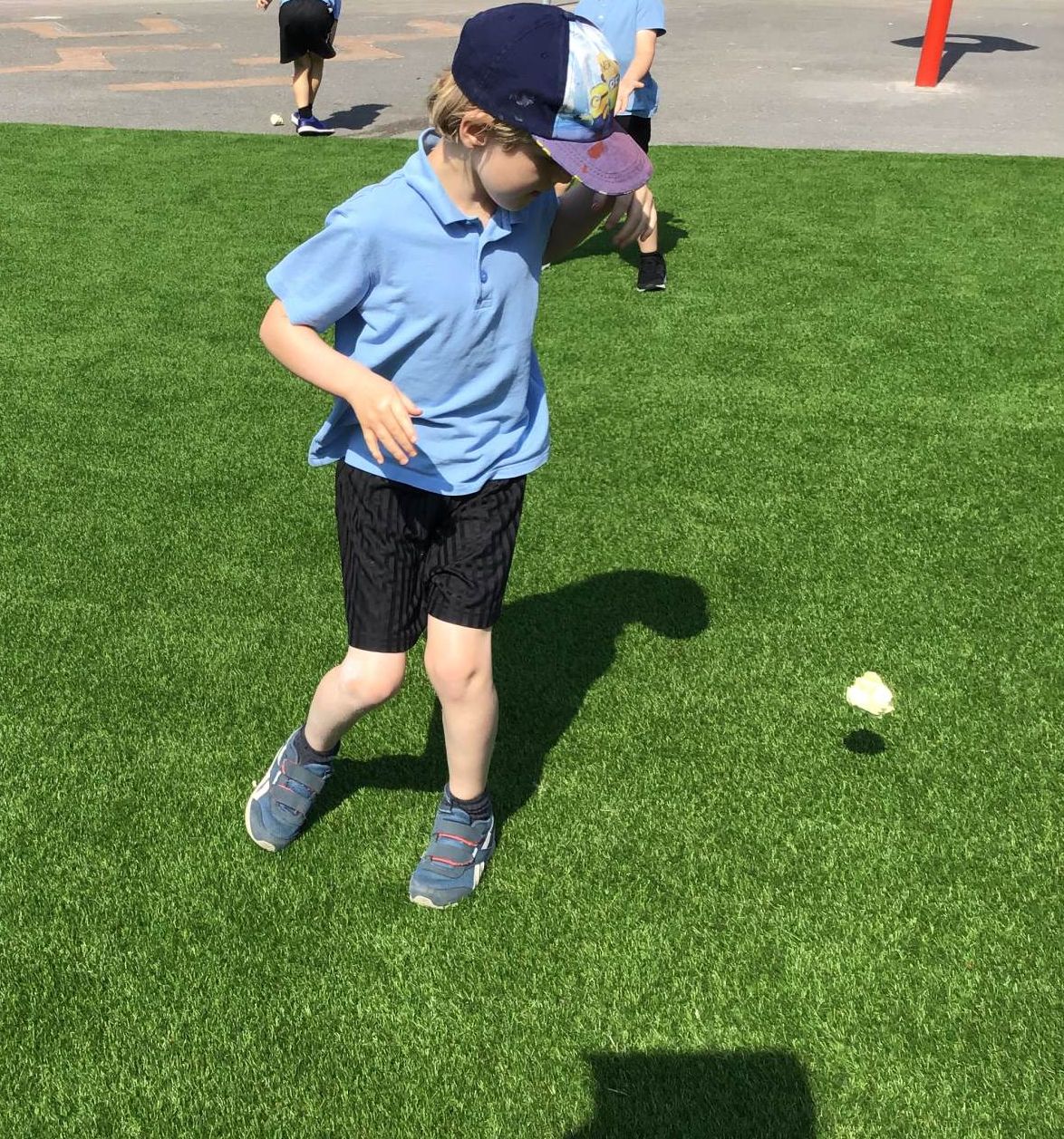 Paper Aeroplanes.
After reading the book The Great Paper Caper, the children followed instructions to make their own paper aeroplane. We then flew them to see whose would fly the furthest!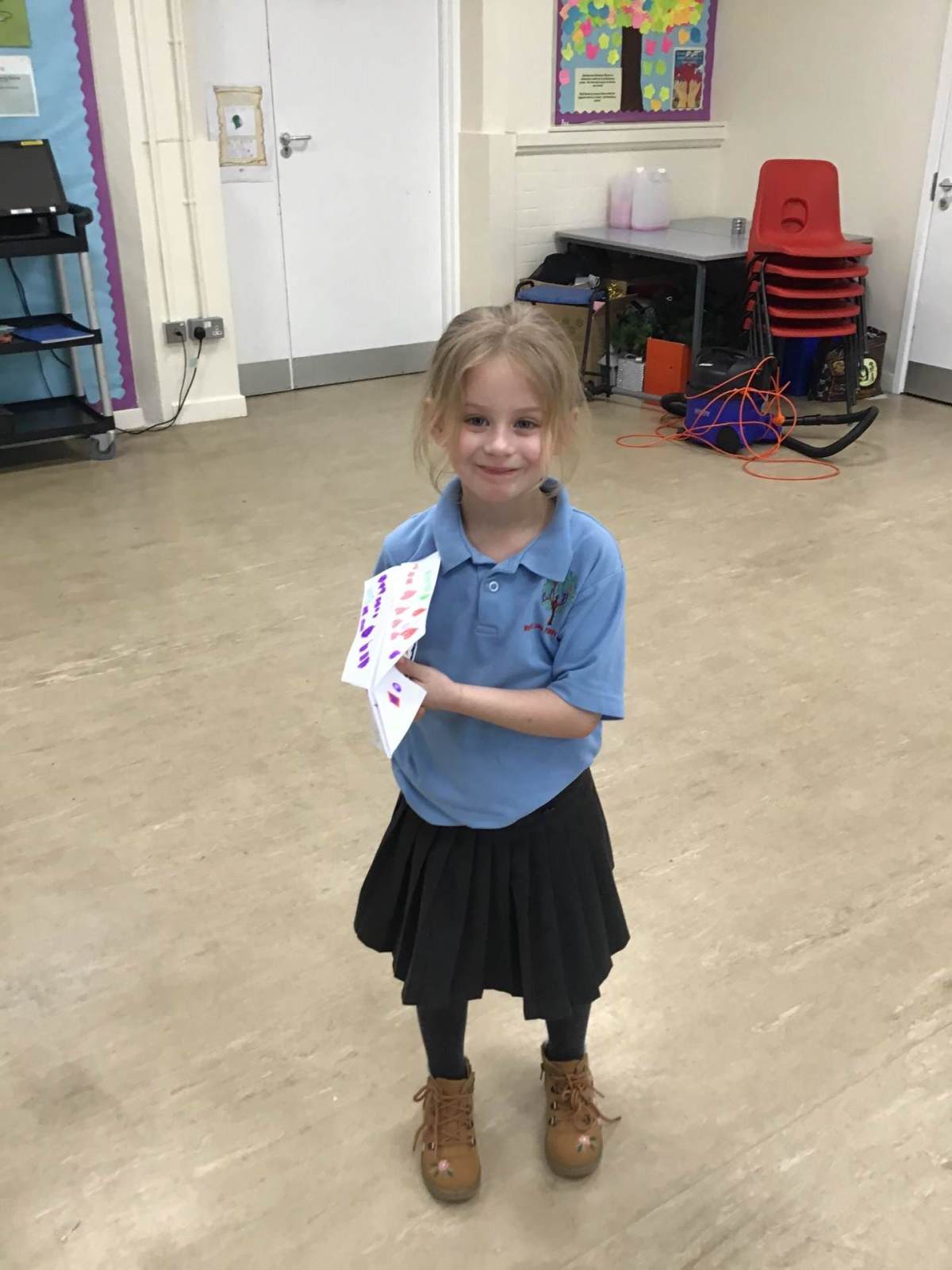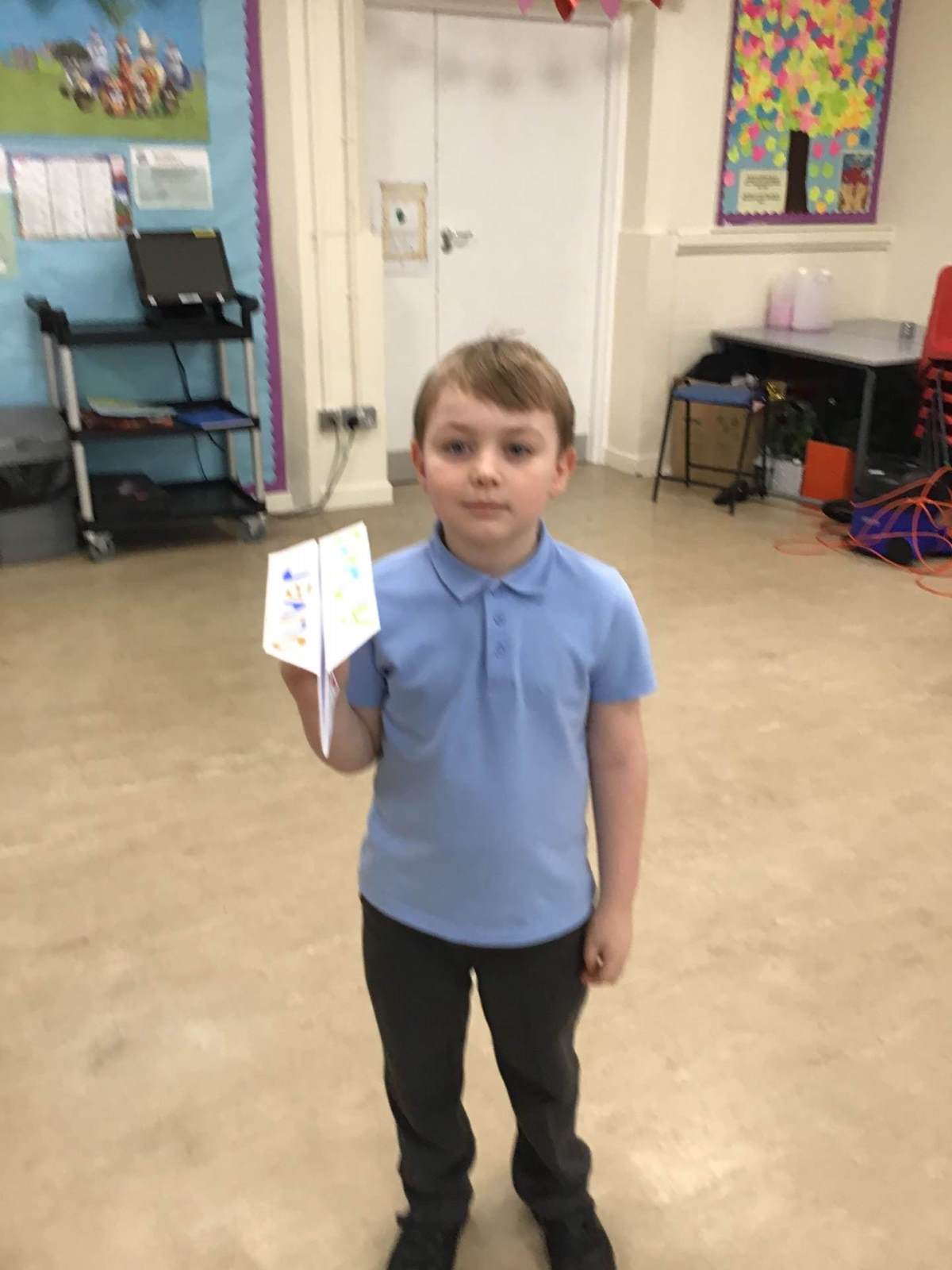 Second Place First Place Fourth Place Third Place
Playgrounds
As part of our topic we have been learning about playgrounds. We designed and then made our own piece of equipment.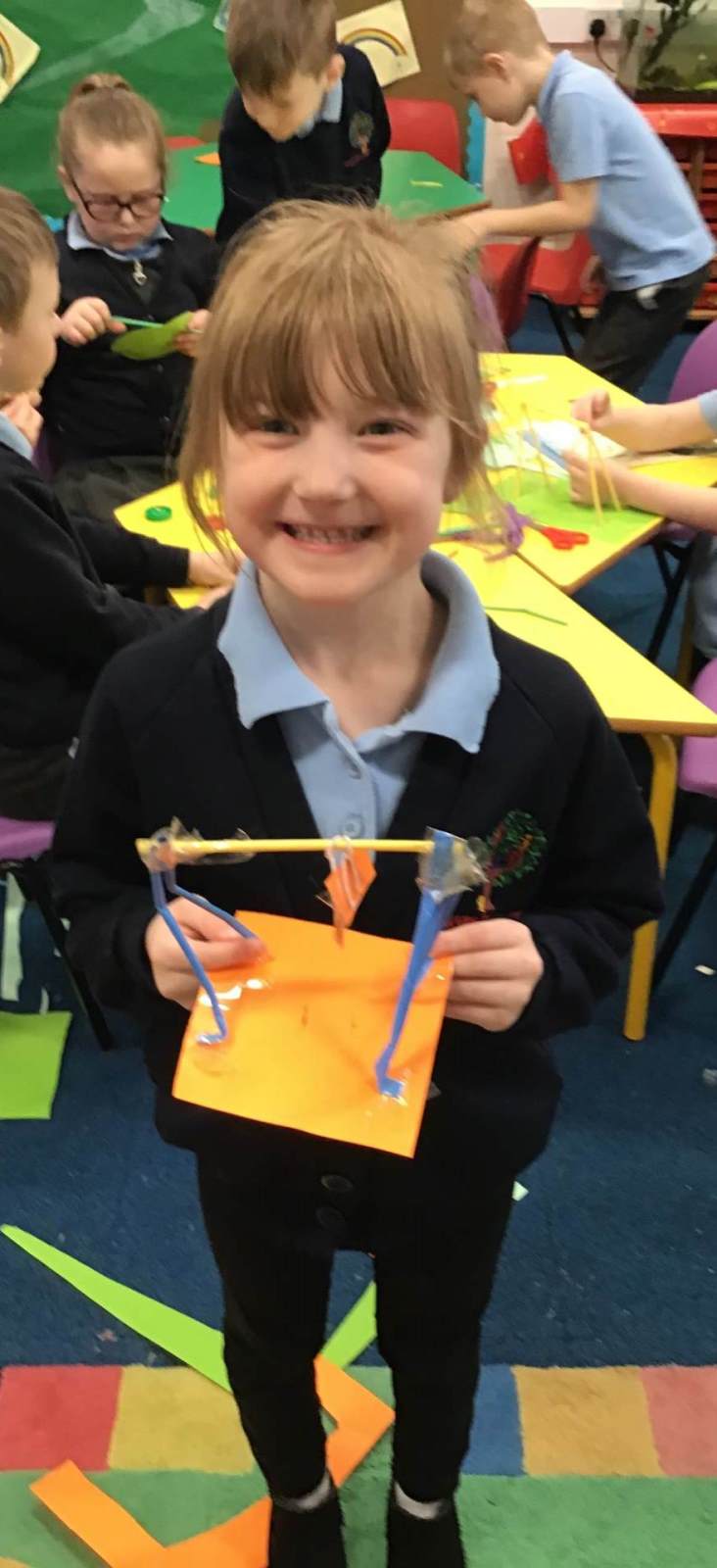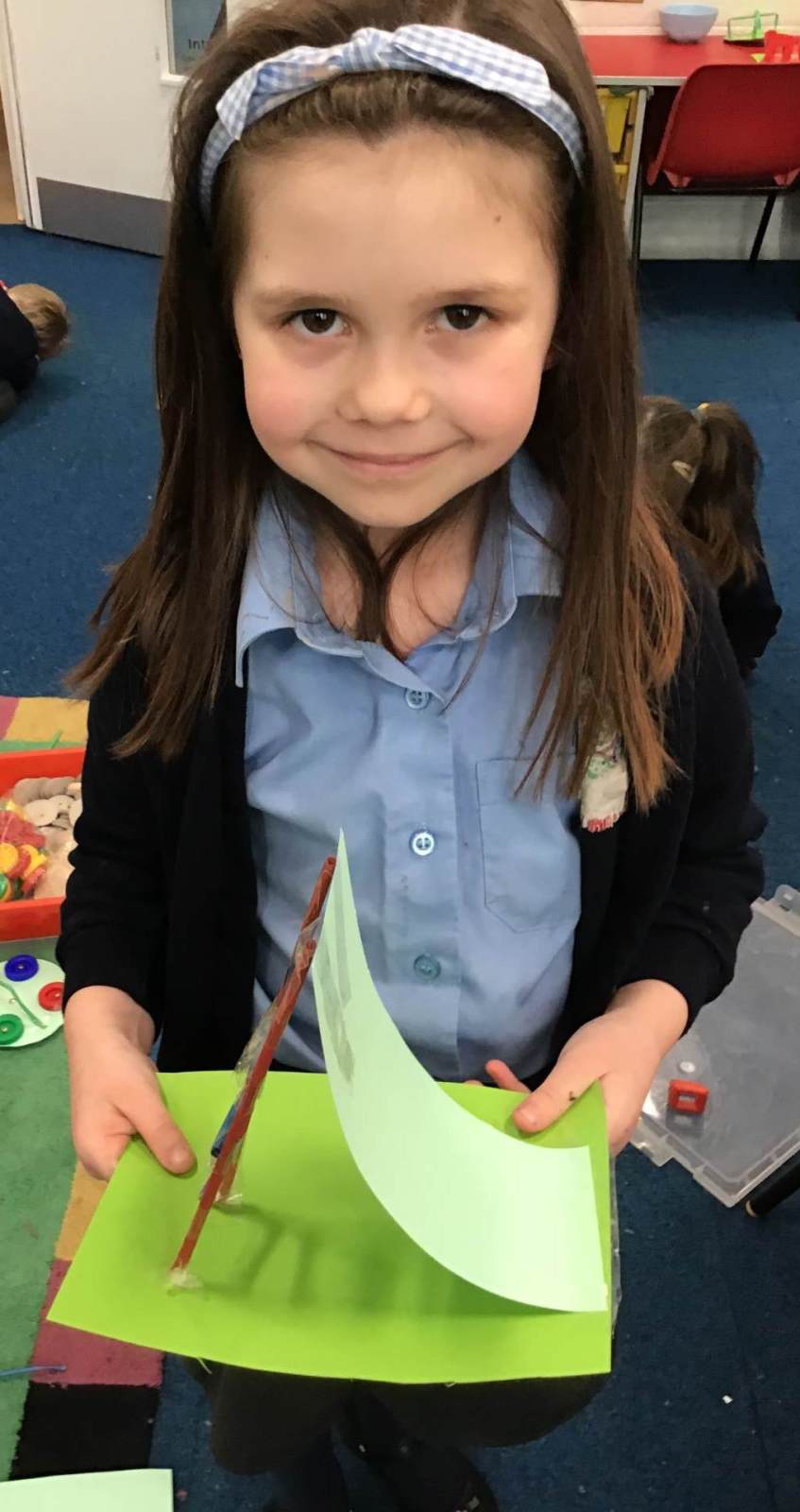 Sport Relief
On Friday 13th March Acorns Class helped raise money for the charity Sport Relief. We came to school dressed as a sports hero or heroine.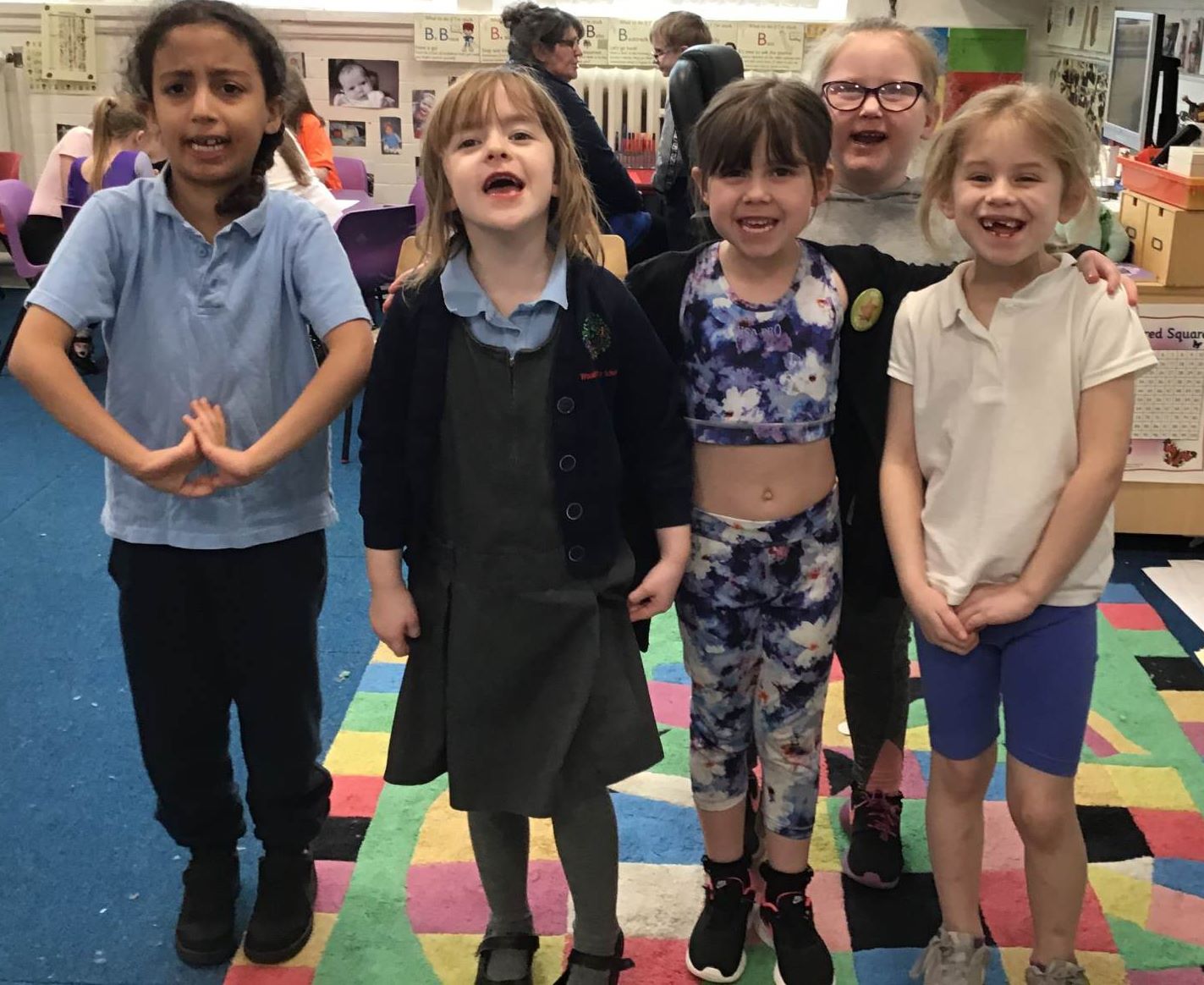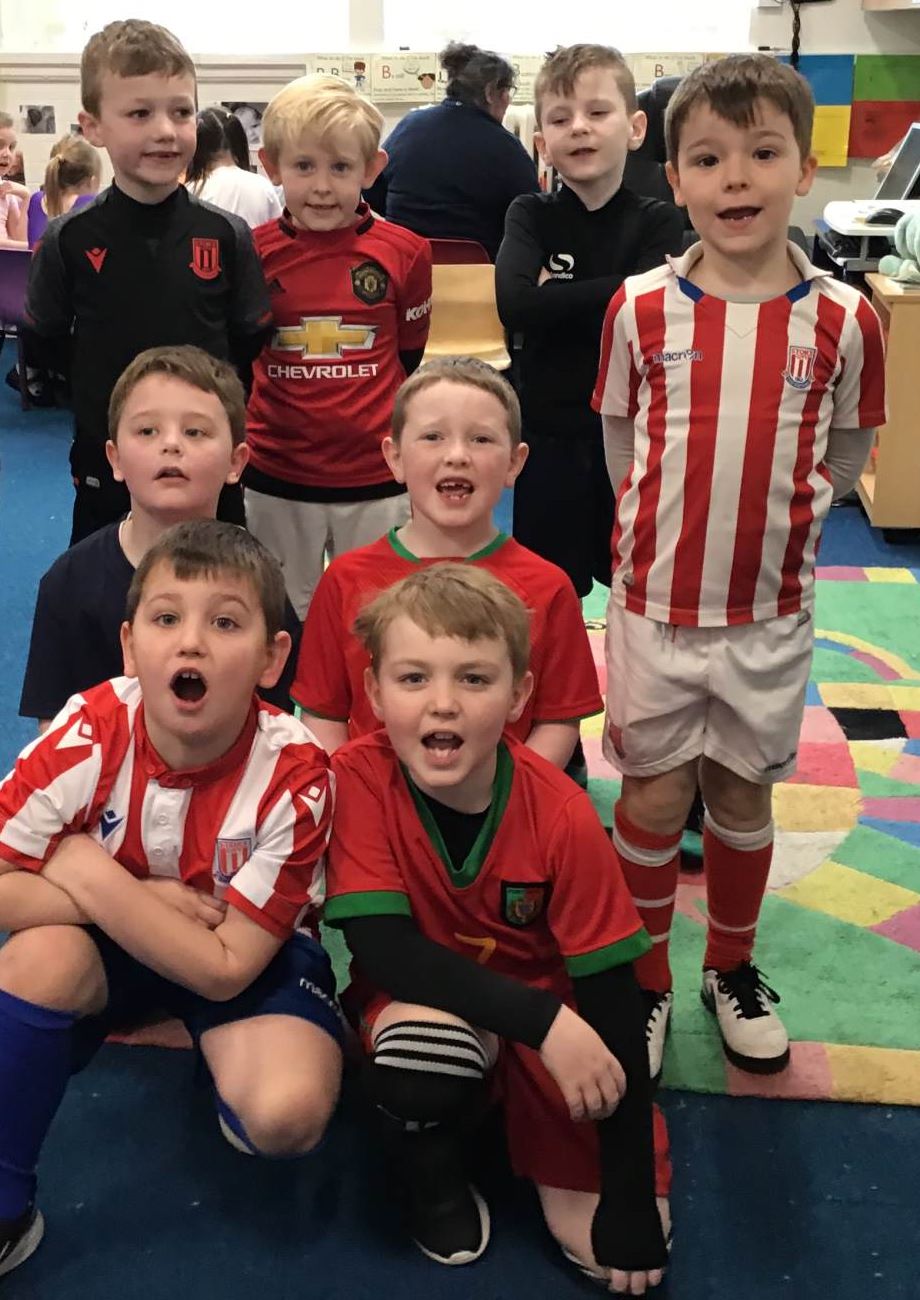 Chicks
Acorns Class were lucky enough to be able to hold the chicks that Bluebells have been looking after.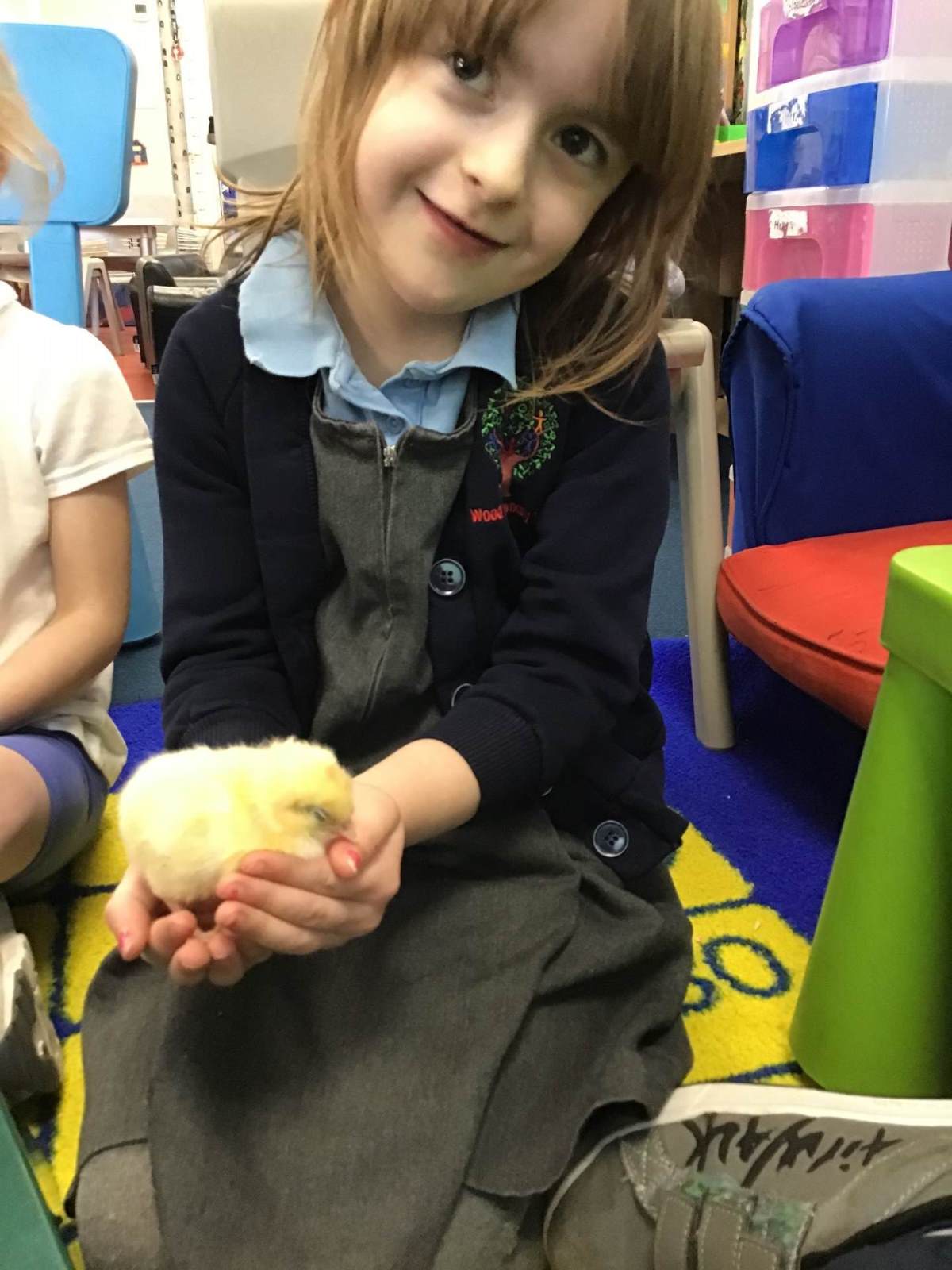 Weight - Year 1
Year 1 have been looking this week at weight and measurement in maths. They have been weighing objects using scales to compare objects.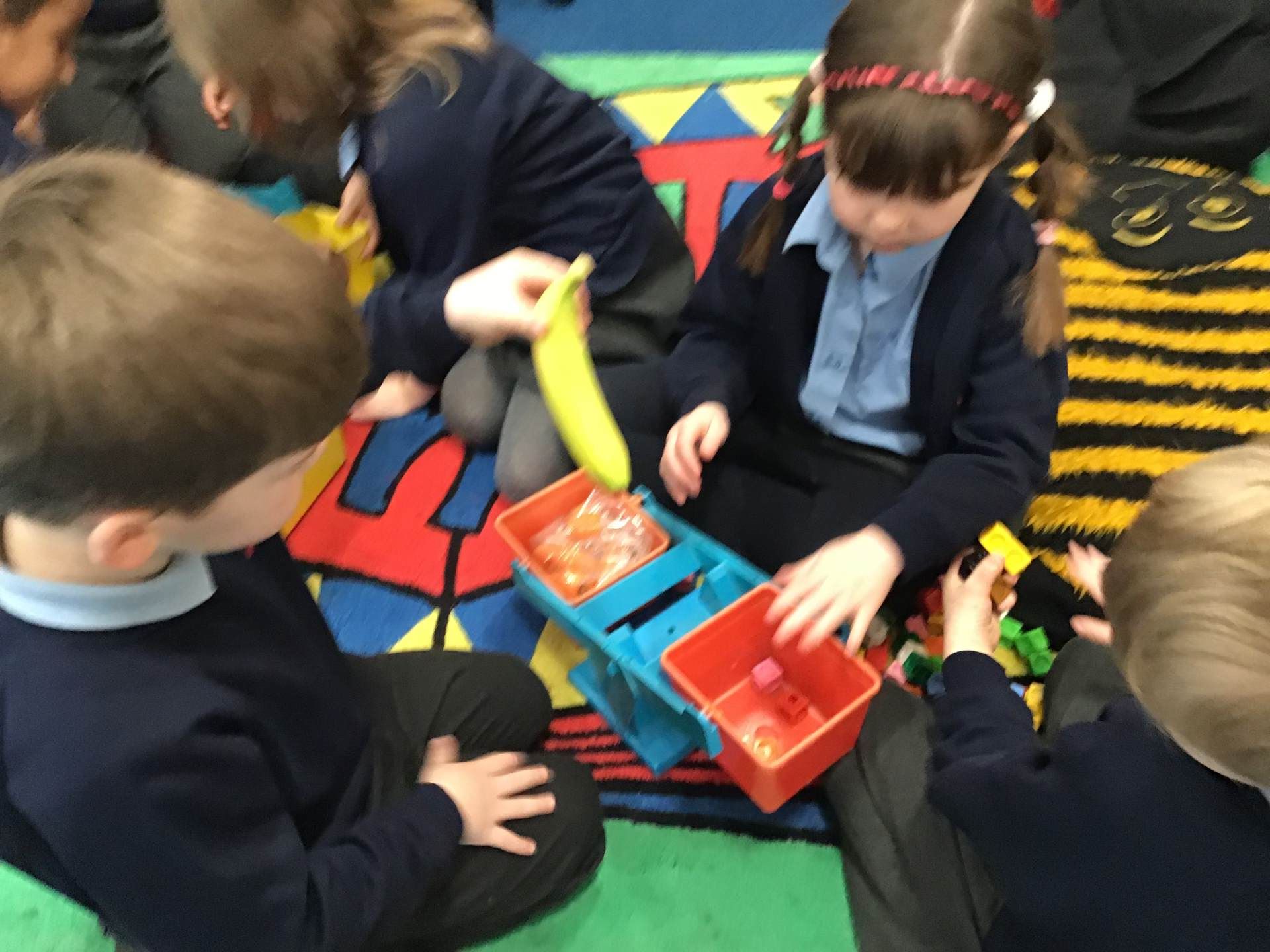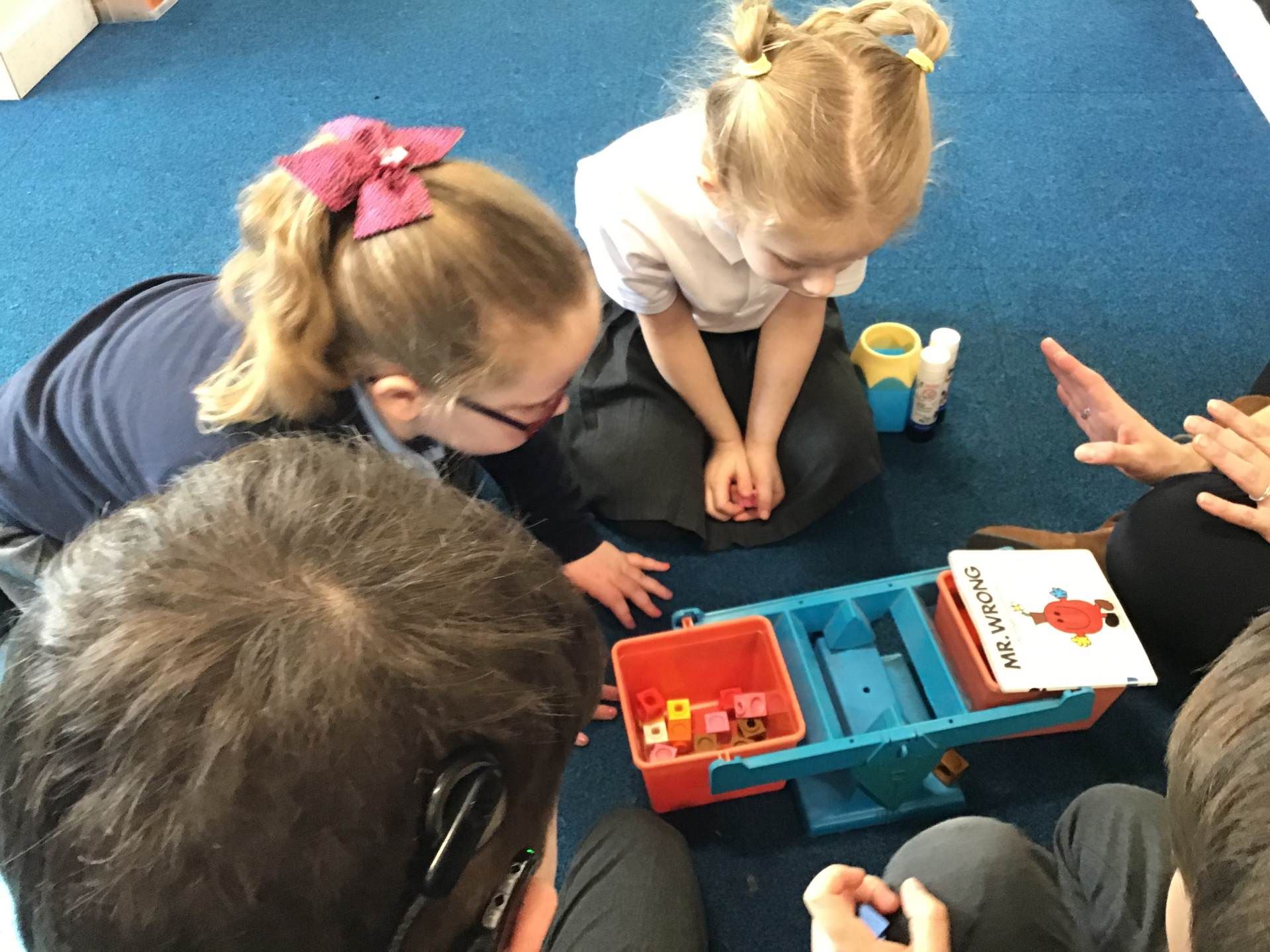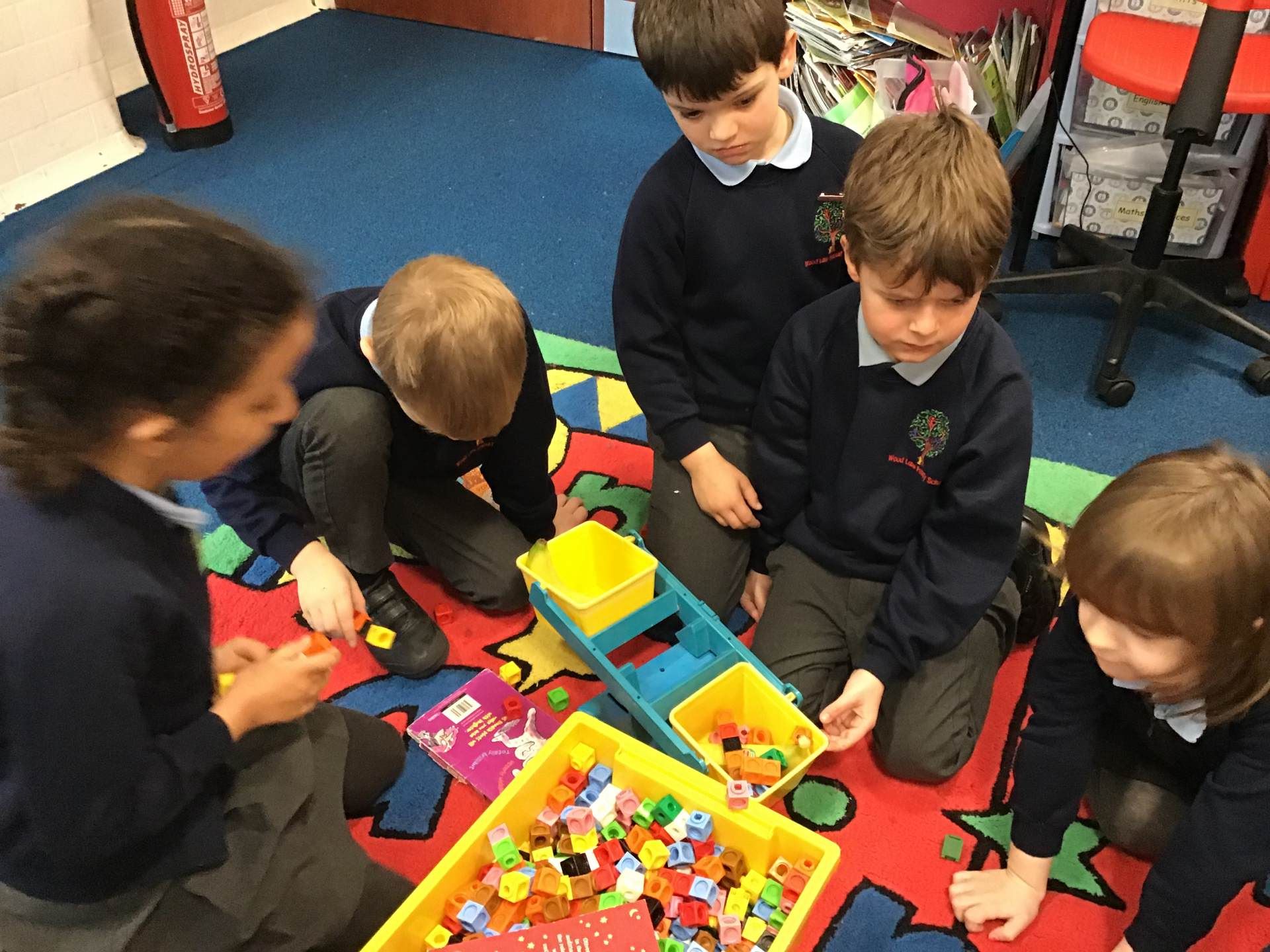 Rugby - Year 2
On Tuesday morning Year 2 children started Rugby sessions with Mr Websdale. We had so much fun.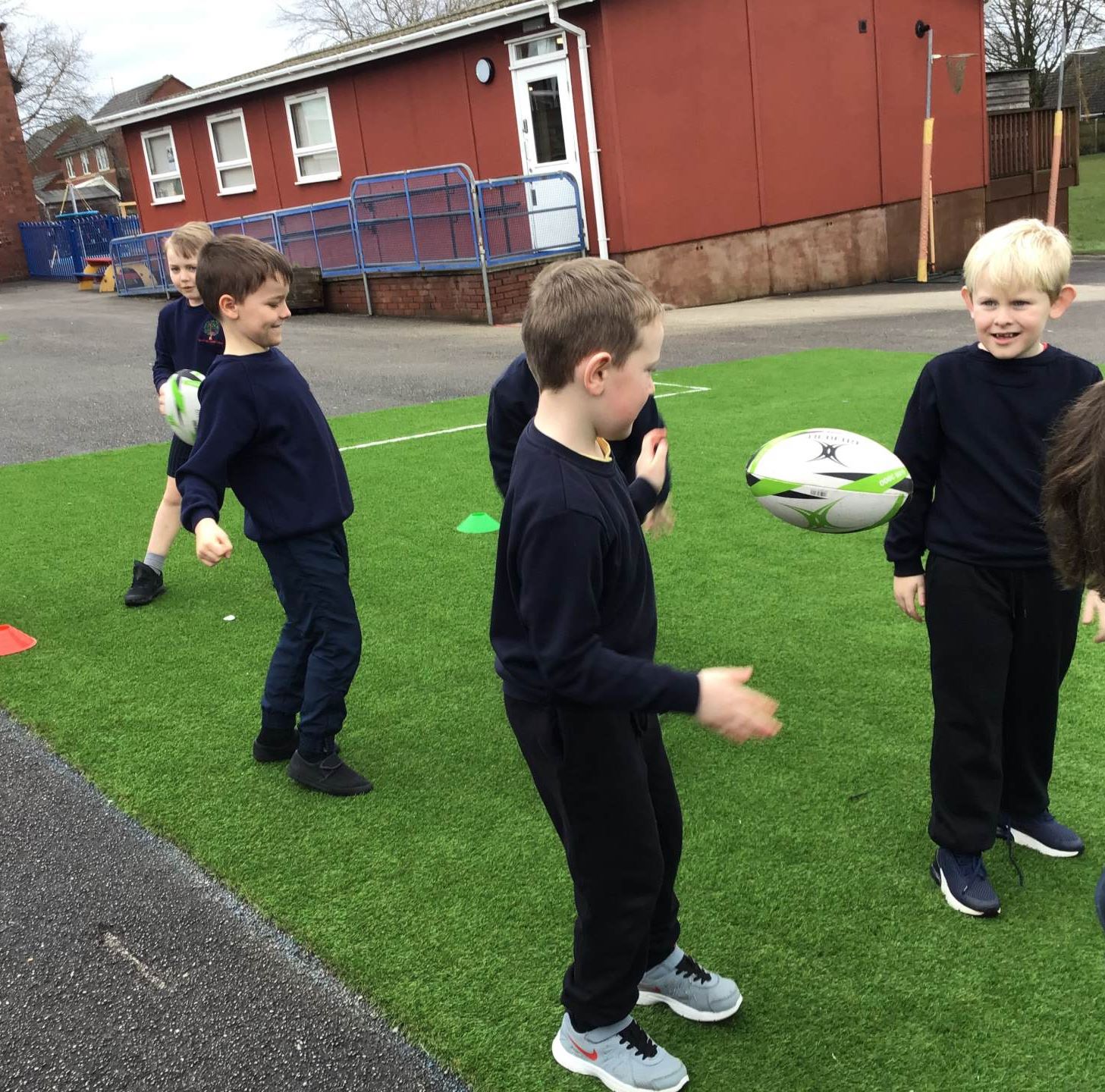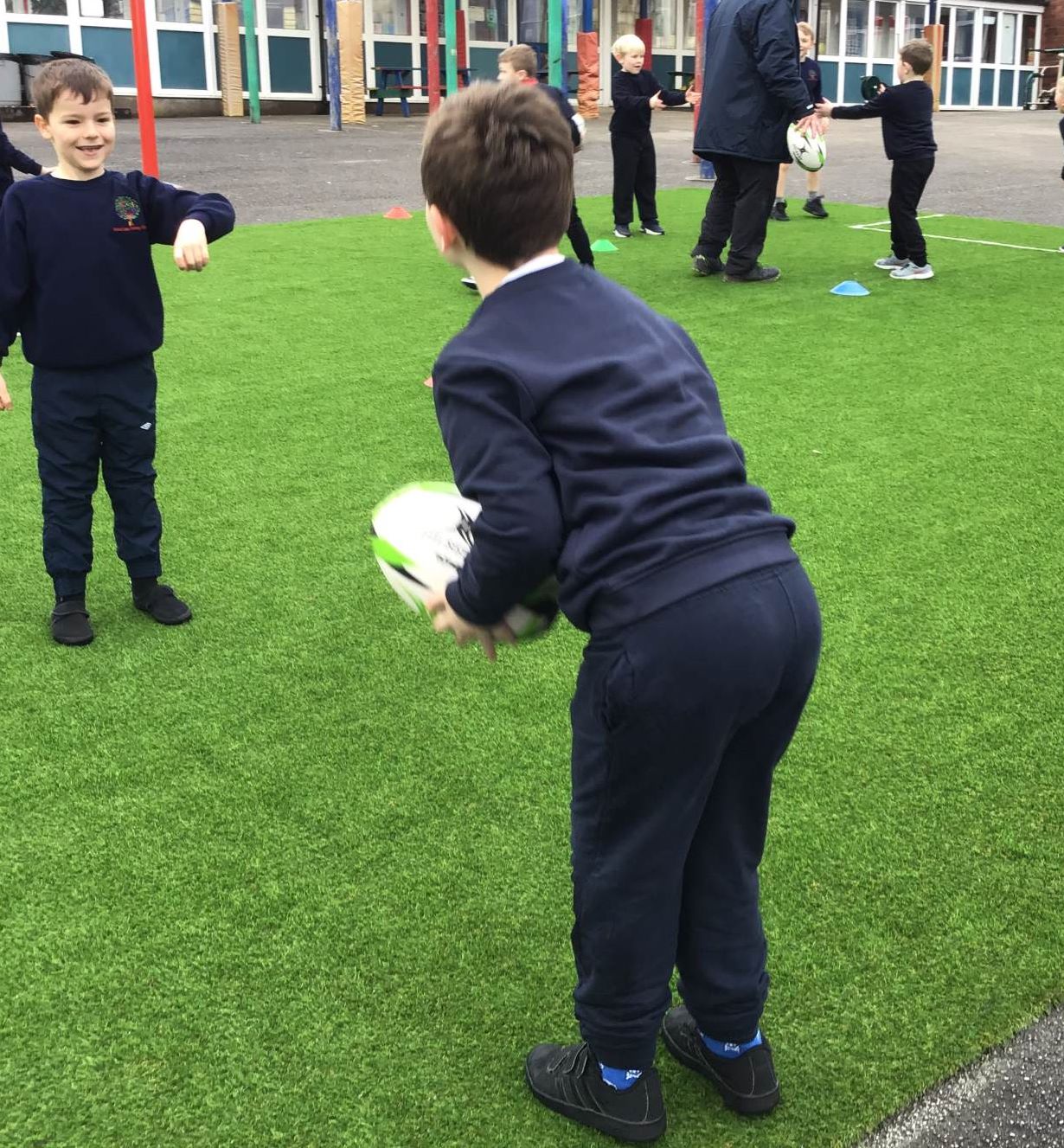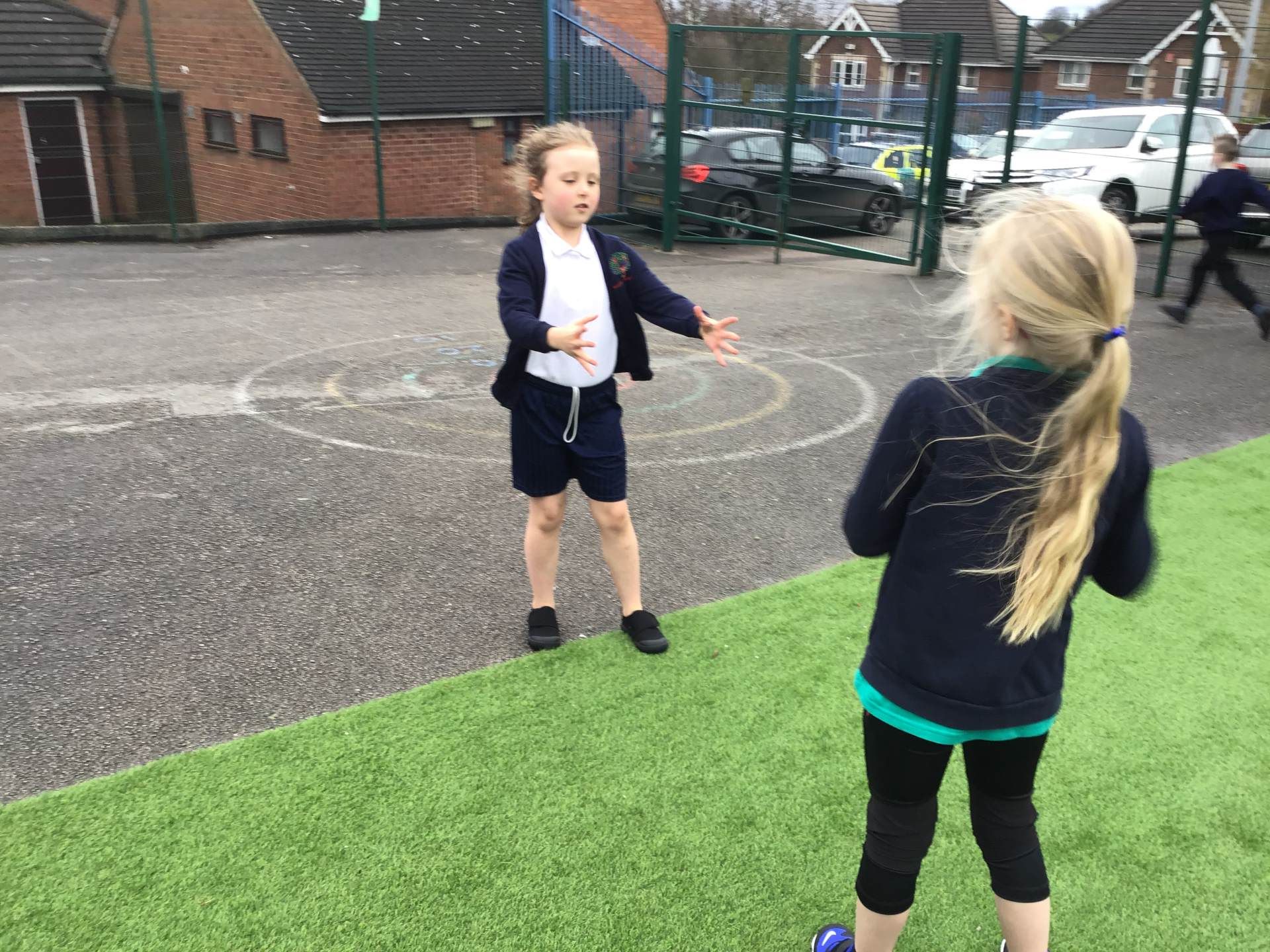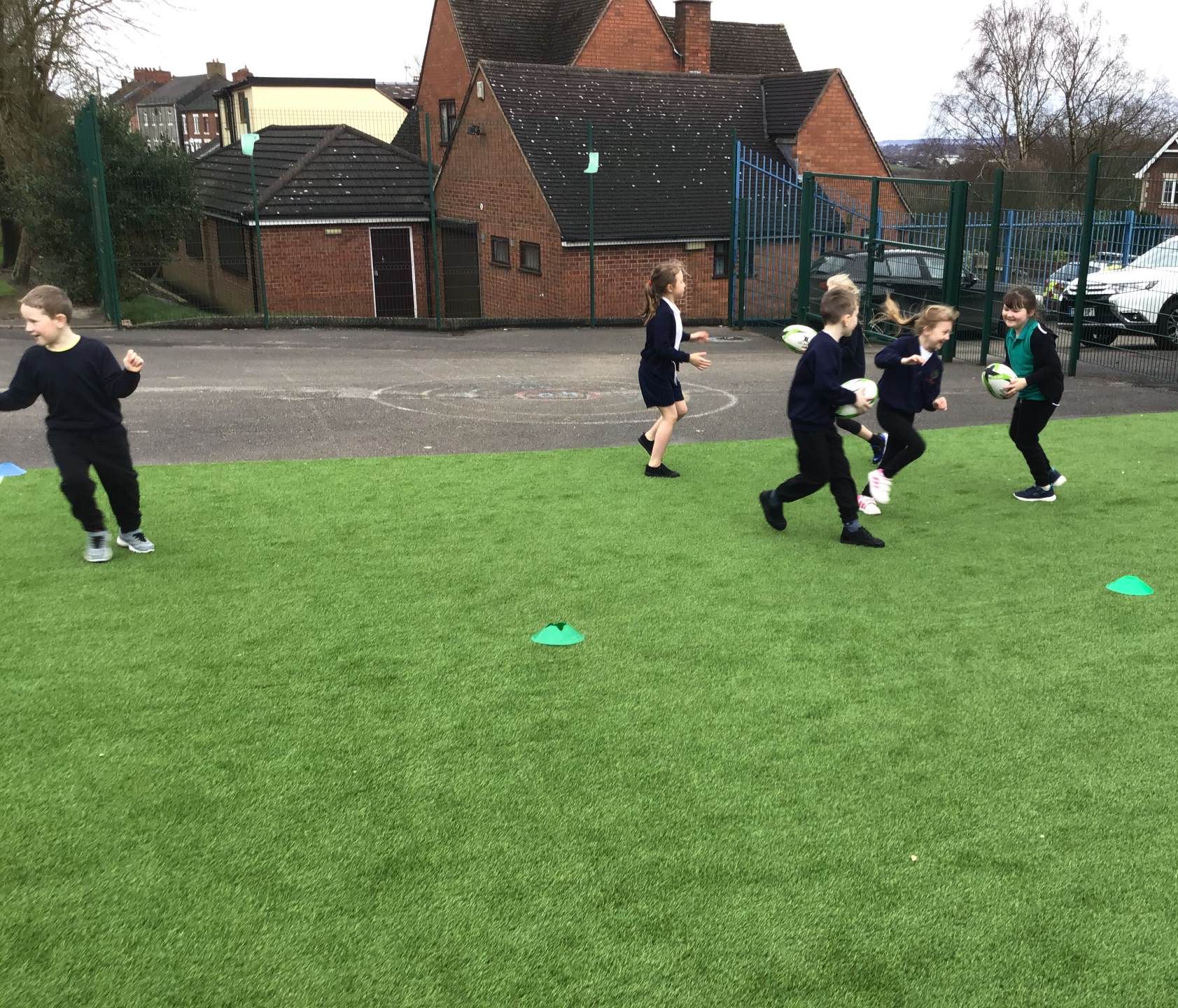 Board Games
As part of our treat for gaining the most post it notes for our school Kindness Tree, Acorns Class had an afternoon playing board games. Look at how much fun we had!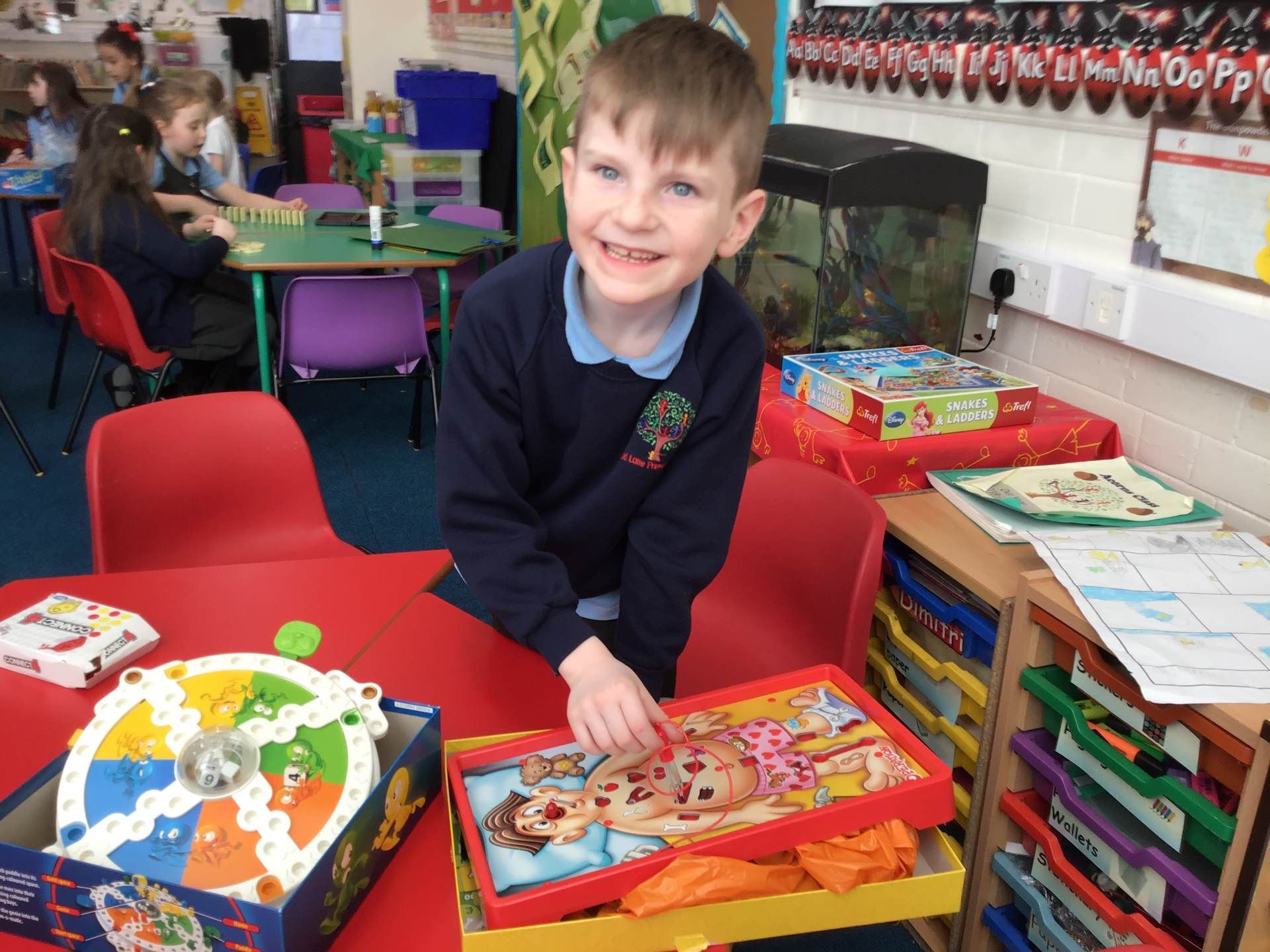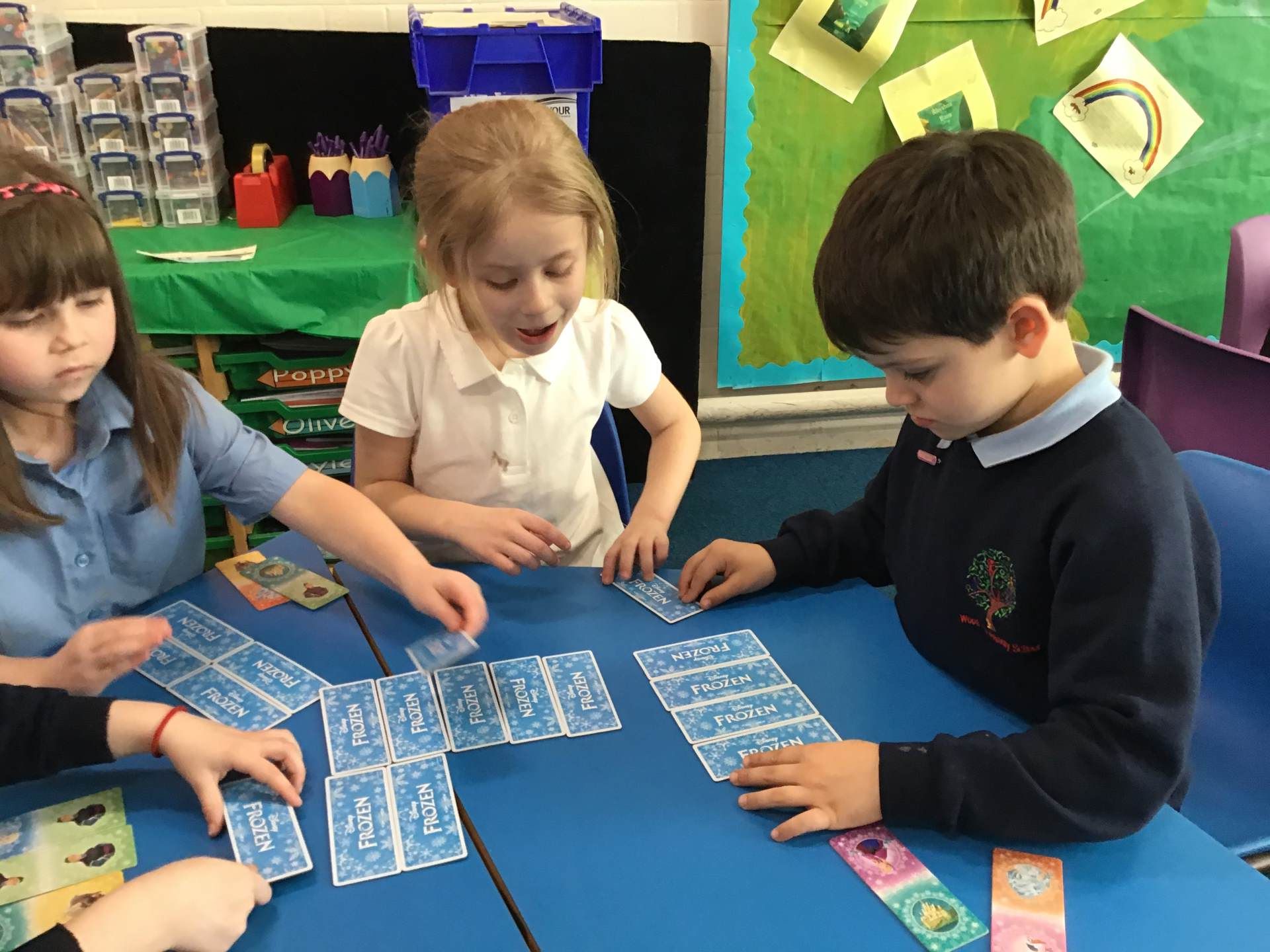 World Book Day 2020
This year our school dressed up as characters from poems. A lot of our children even wrote their own poems to go with their outfits. Well done to those children.
Look at some of our characters.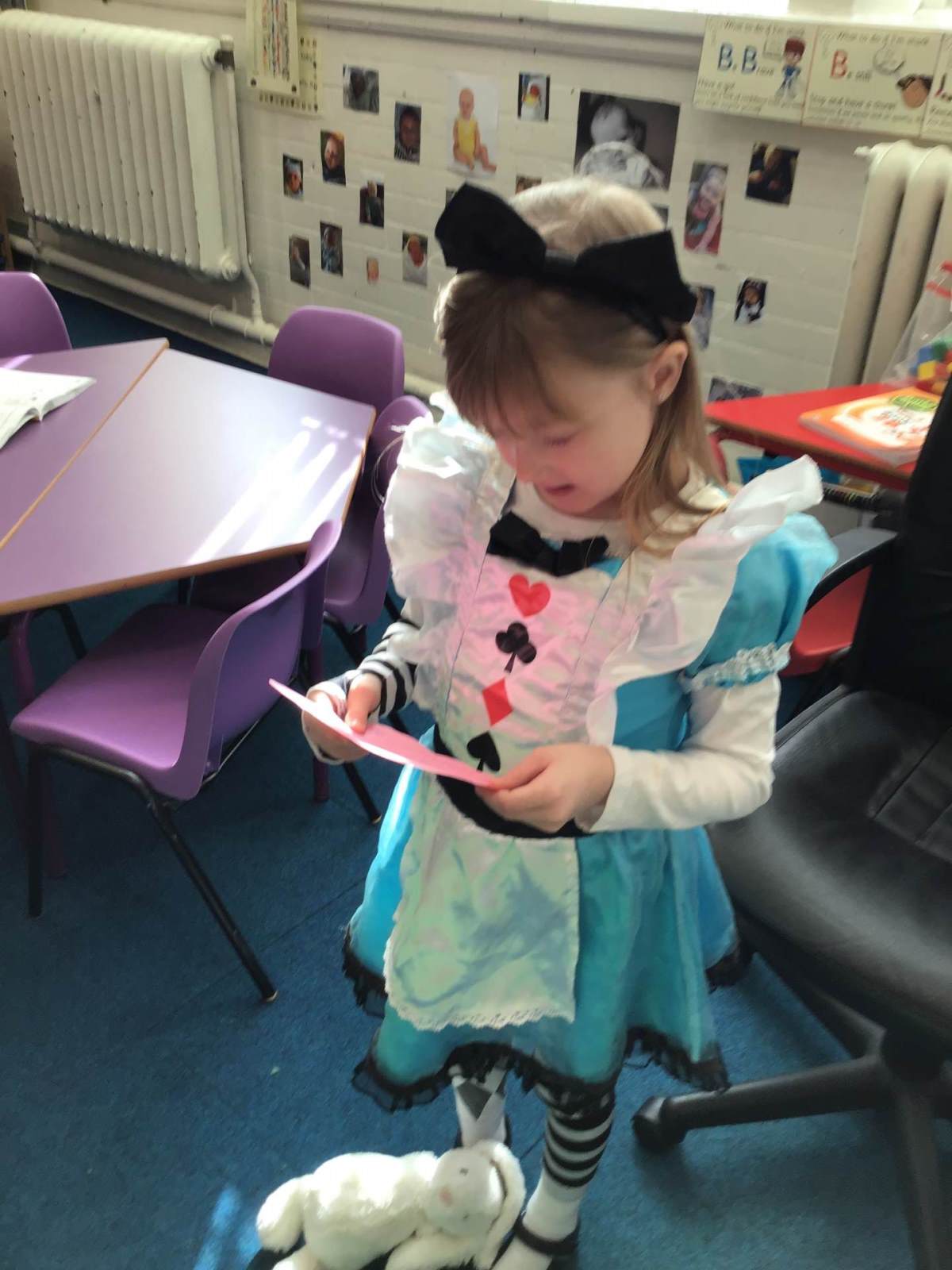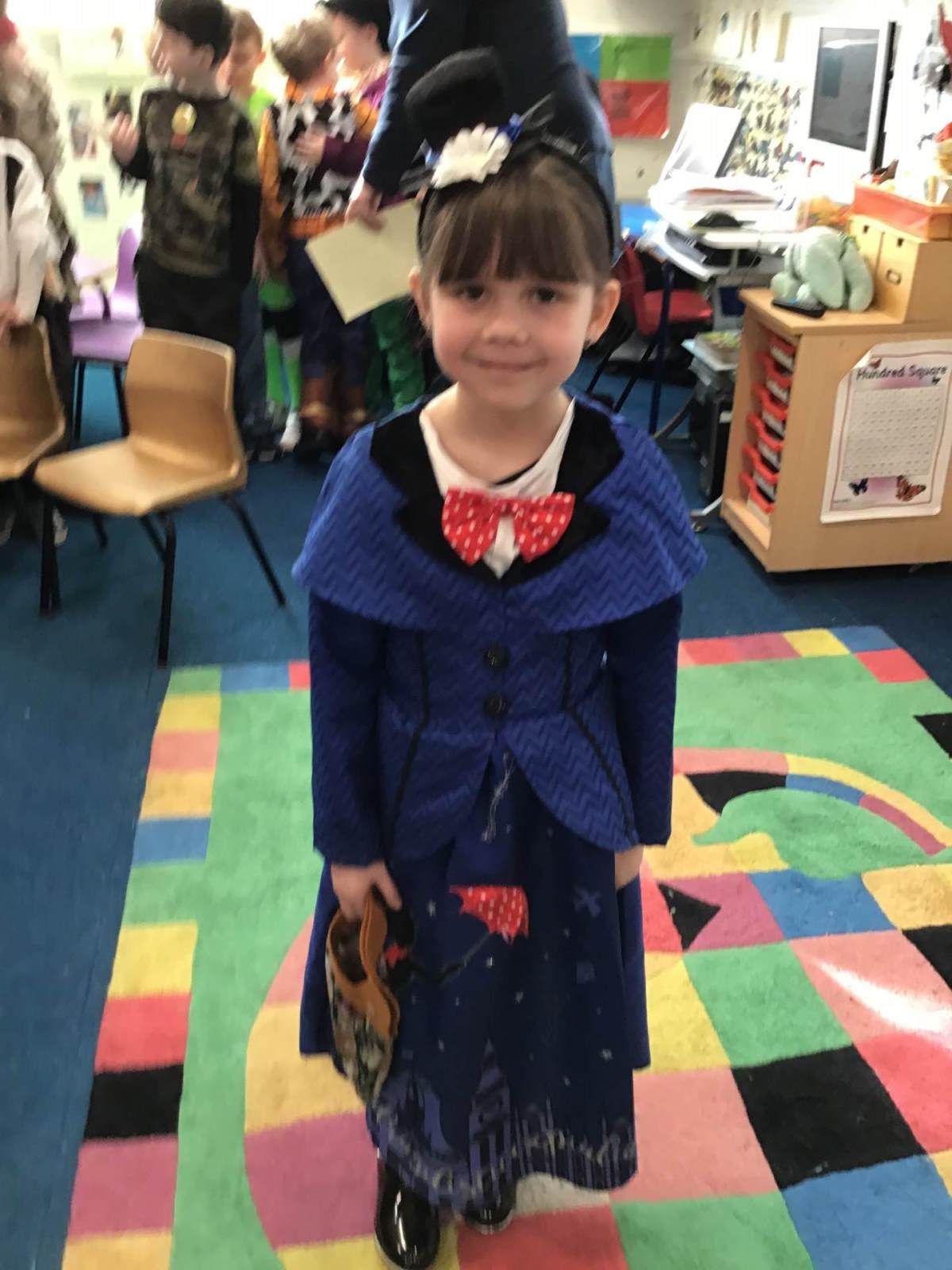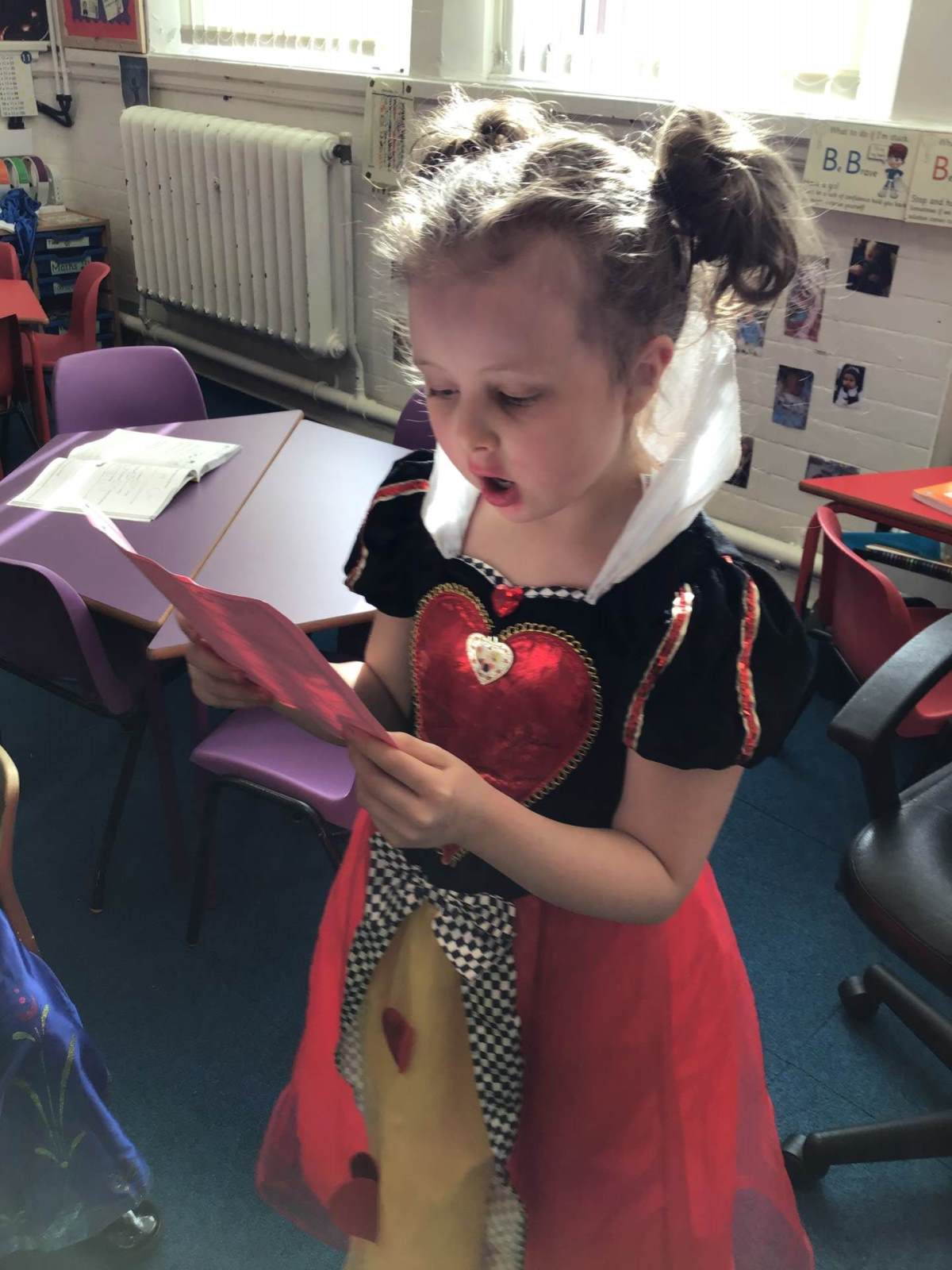 Planting Sunflowers.
As part of our topic on Growth we wrote instructions for planting sunflower seeds and then planted our own. We will need to remember to water them and hope they grow!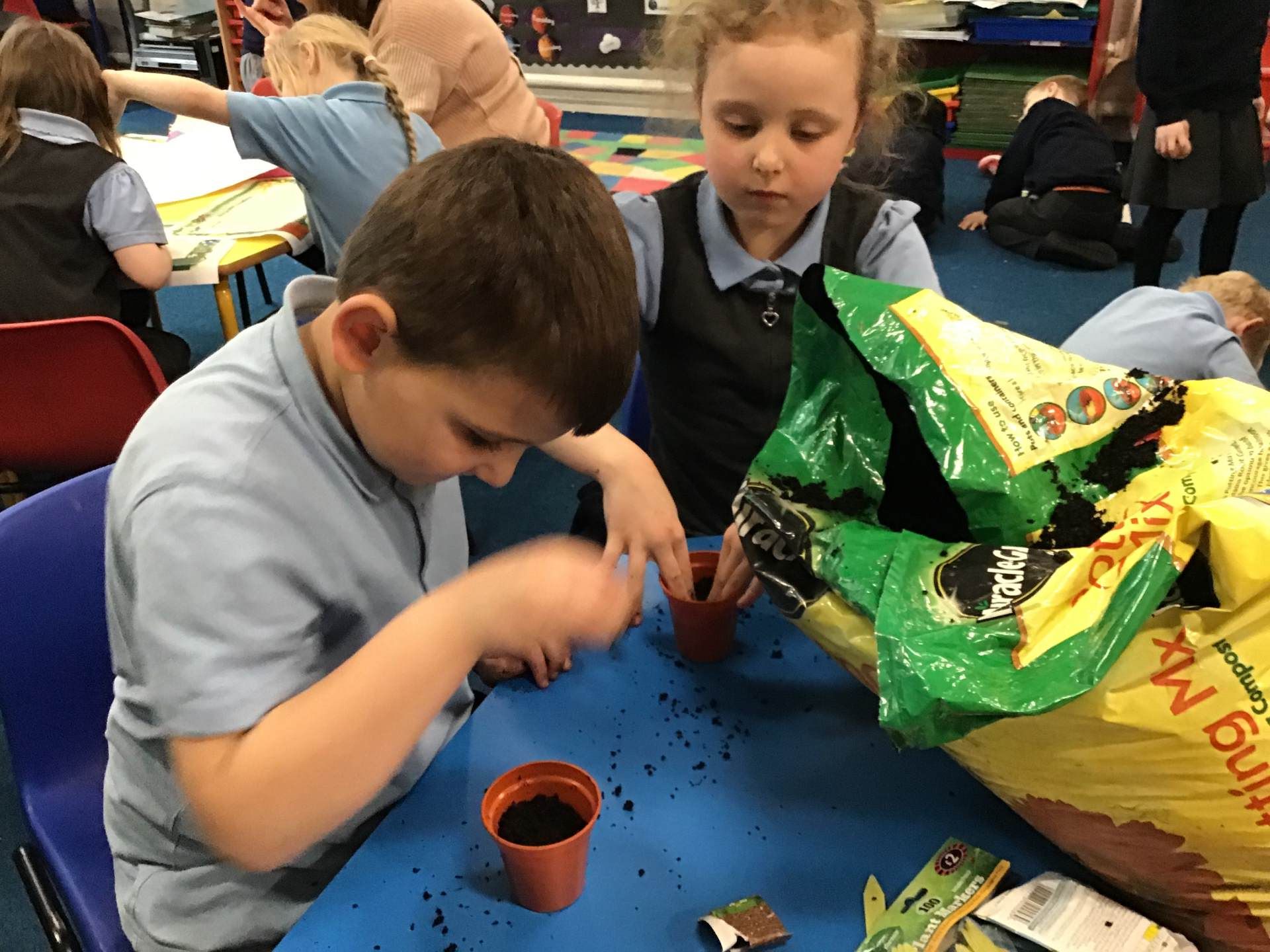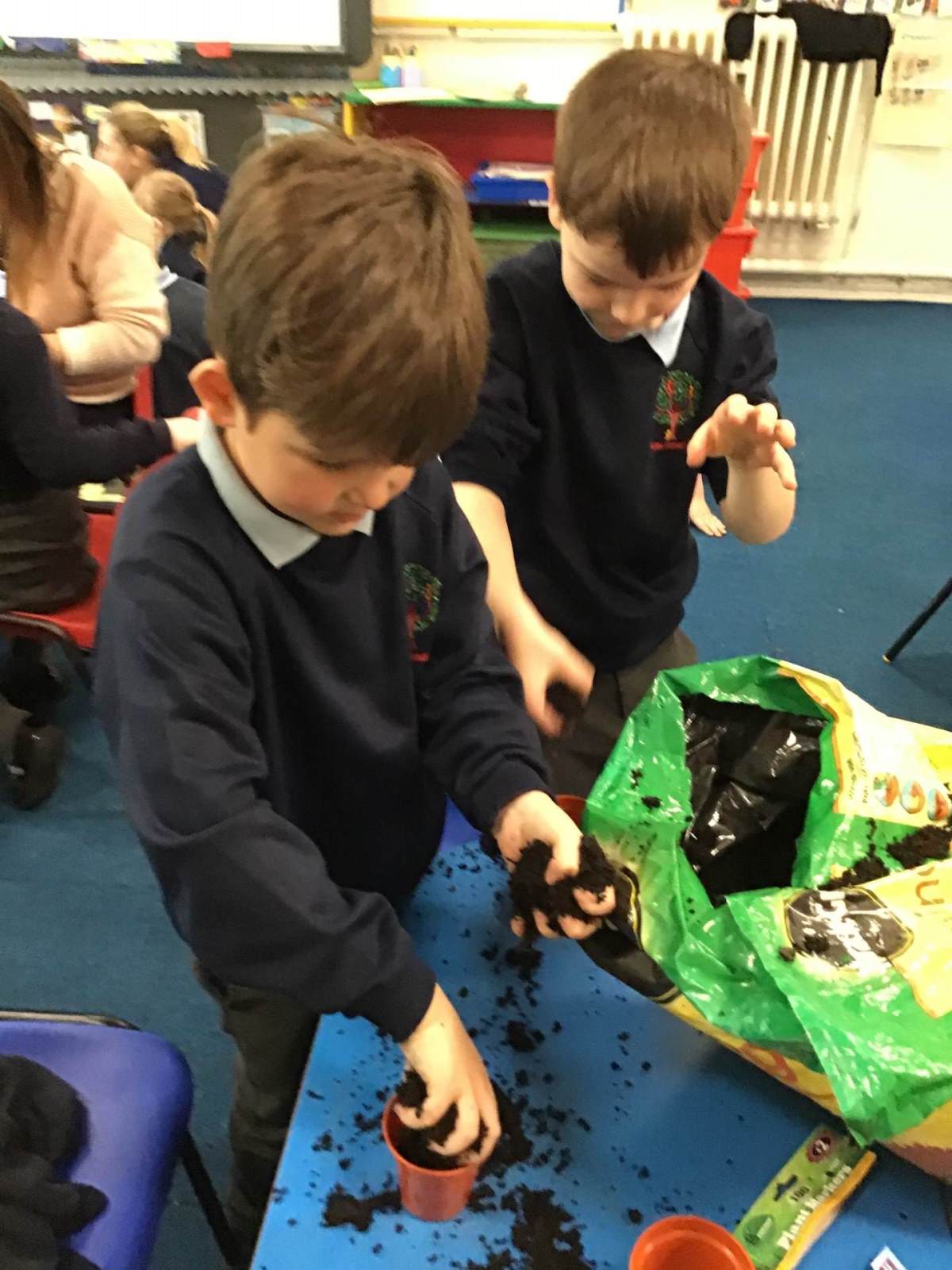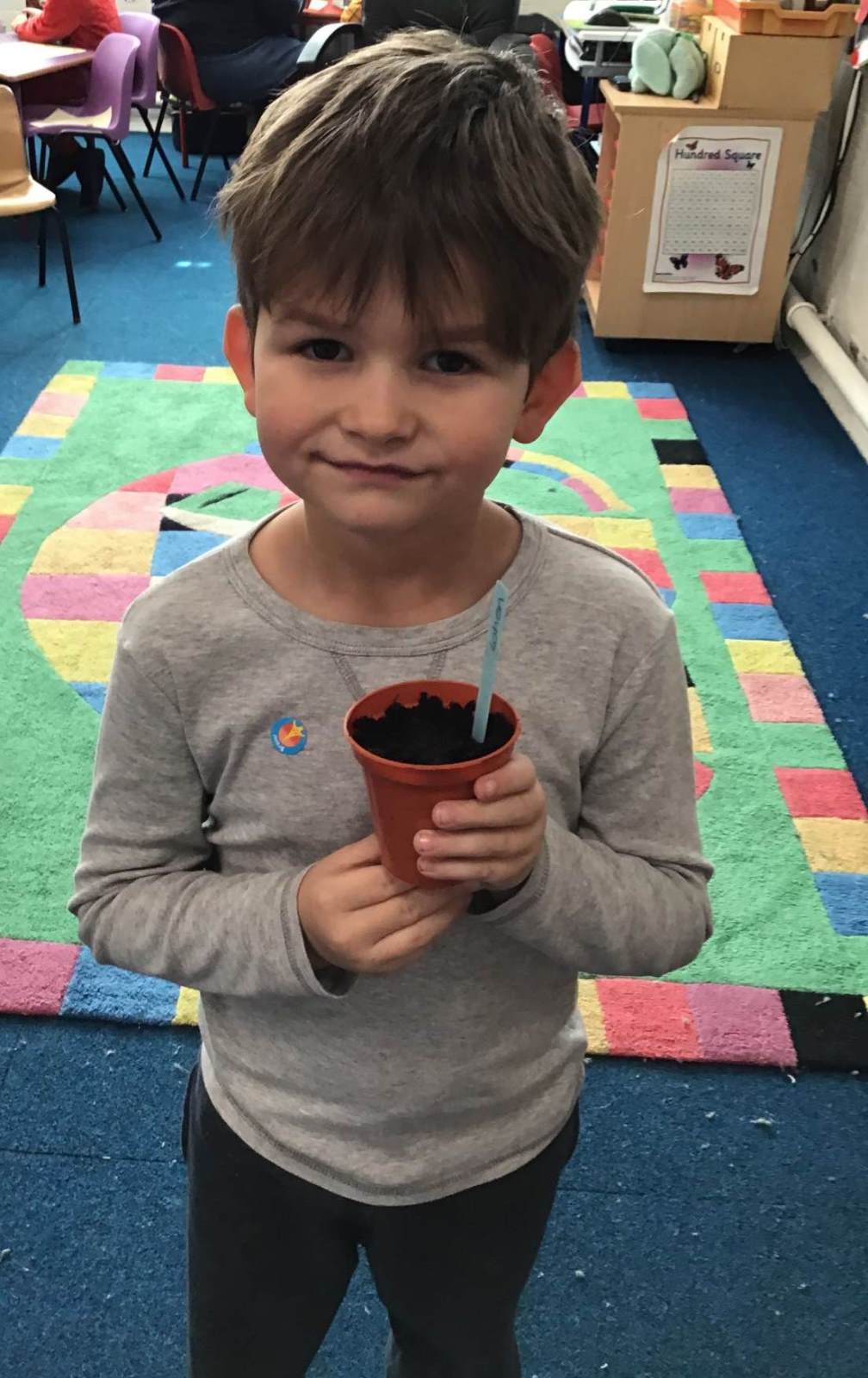 Hot seating the bear.
We are reading the book The Great Paper Caper and as part of this we asked the bear questions.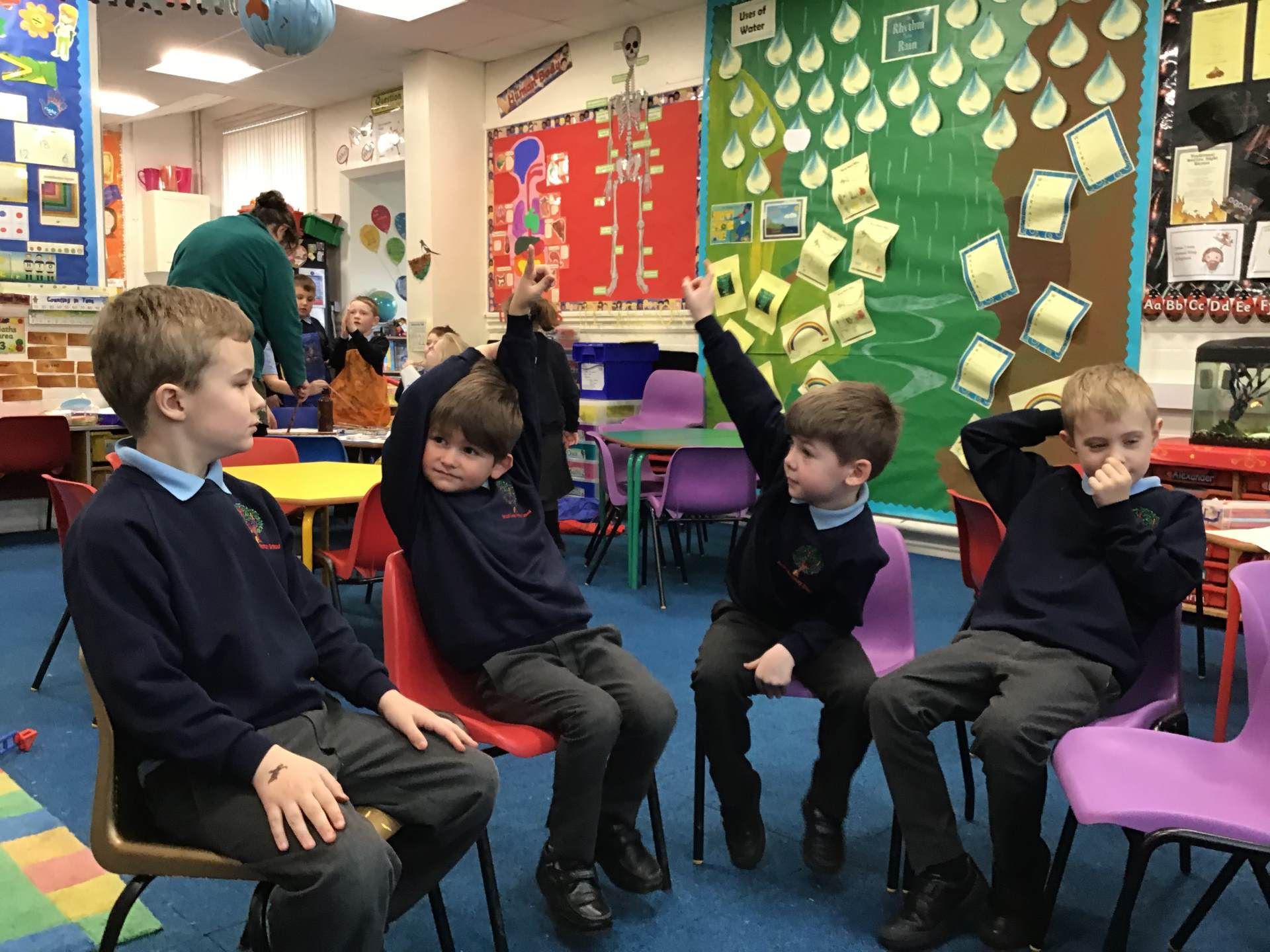 Science Experiment - Liquids, solids and gases
We looked at liquids, solids and gases and sorted pictures into the correct category. Then we carried out an experiment about the quickest way to melt ice. We made a prediction and then carried out the experiment.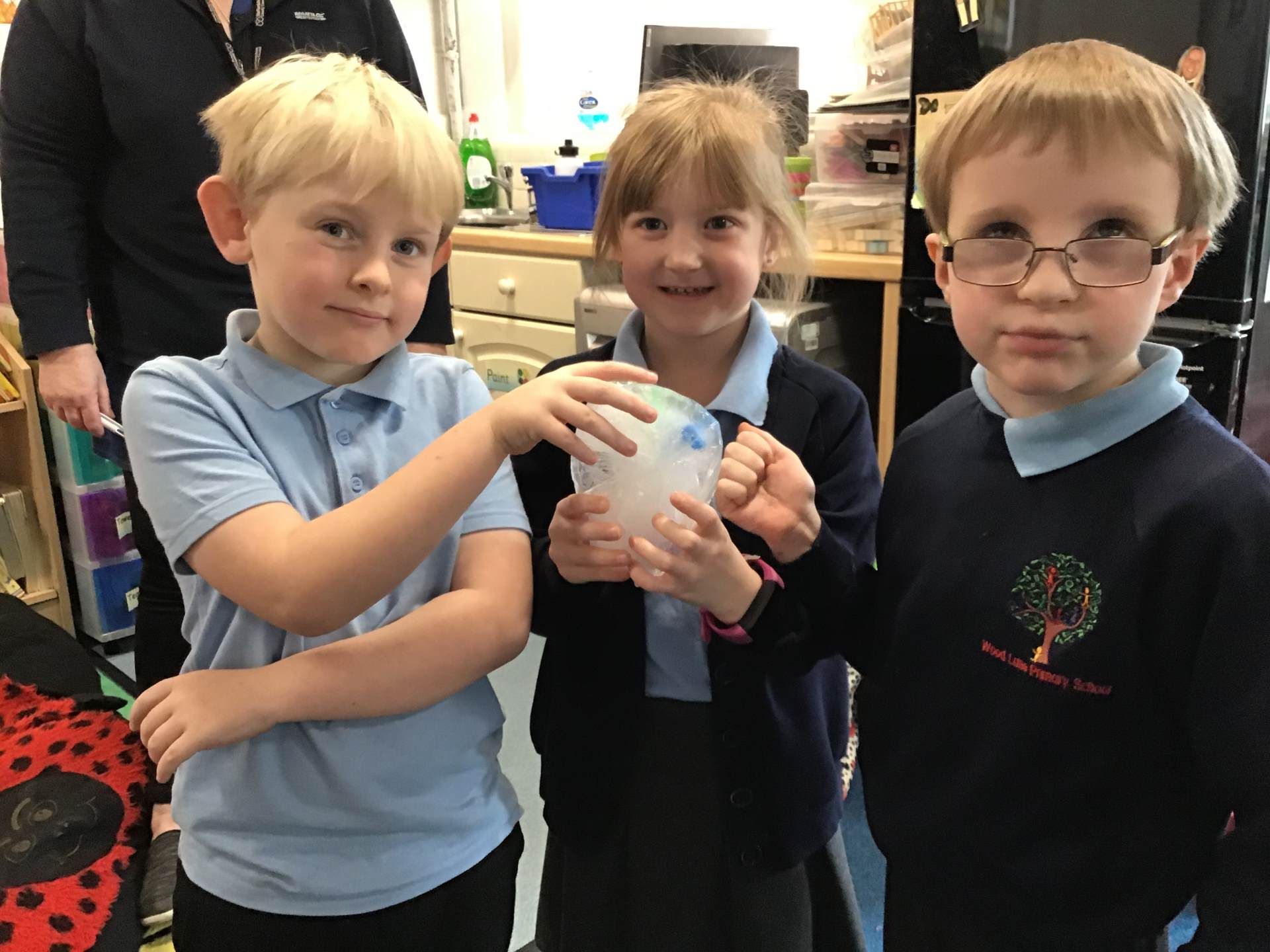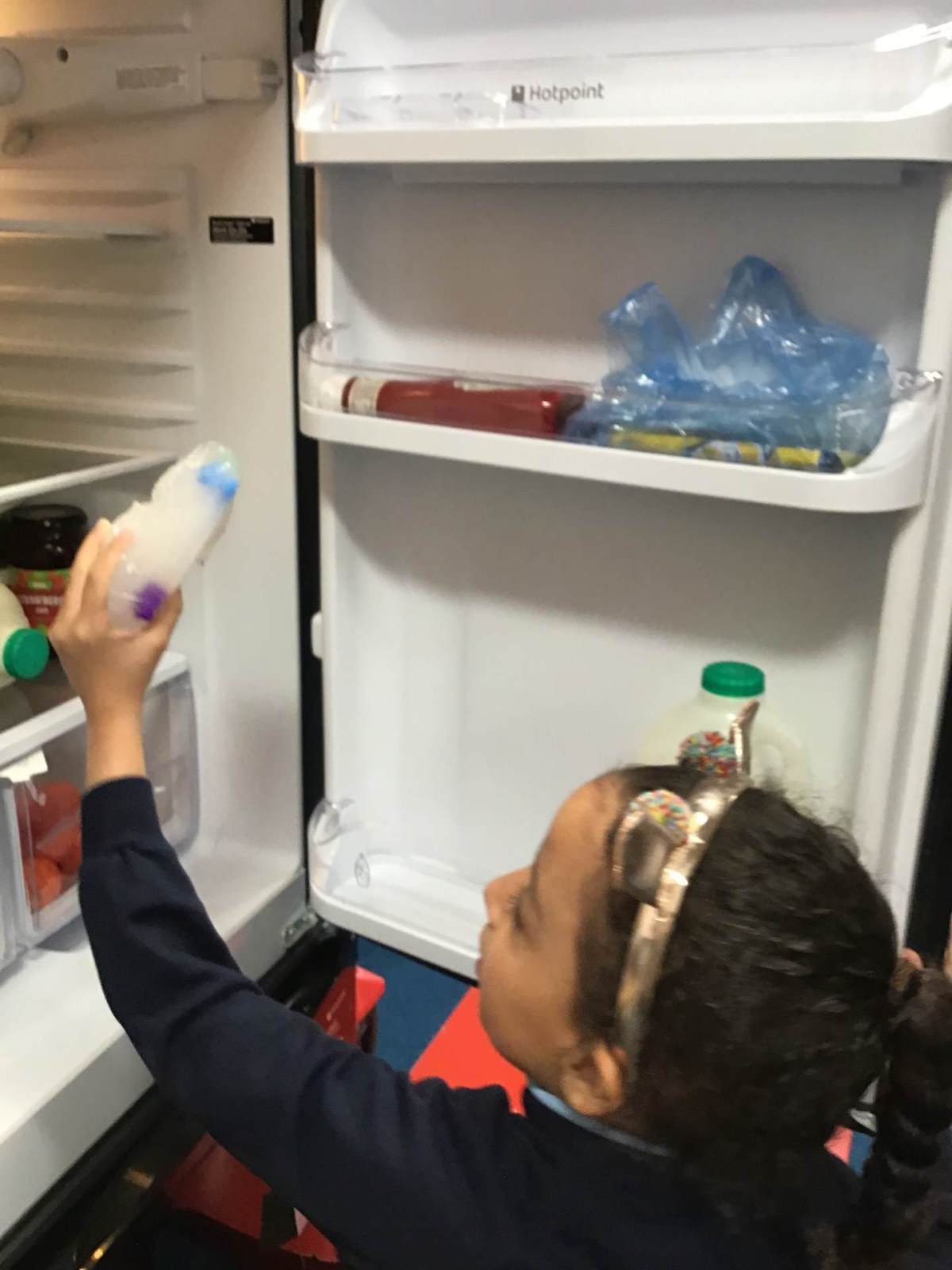 Patterns with 2D shapes - Year 2
In Maths this week Year 2 have been looking at shape, 2D and 3D shapes.
They created patterns using 2D shapes.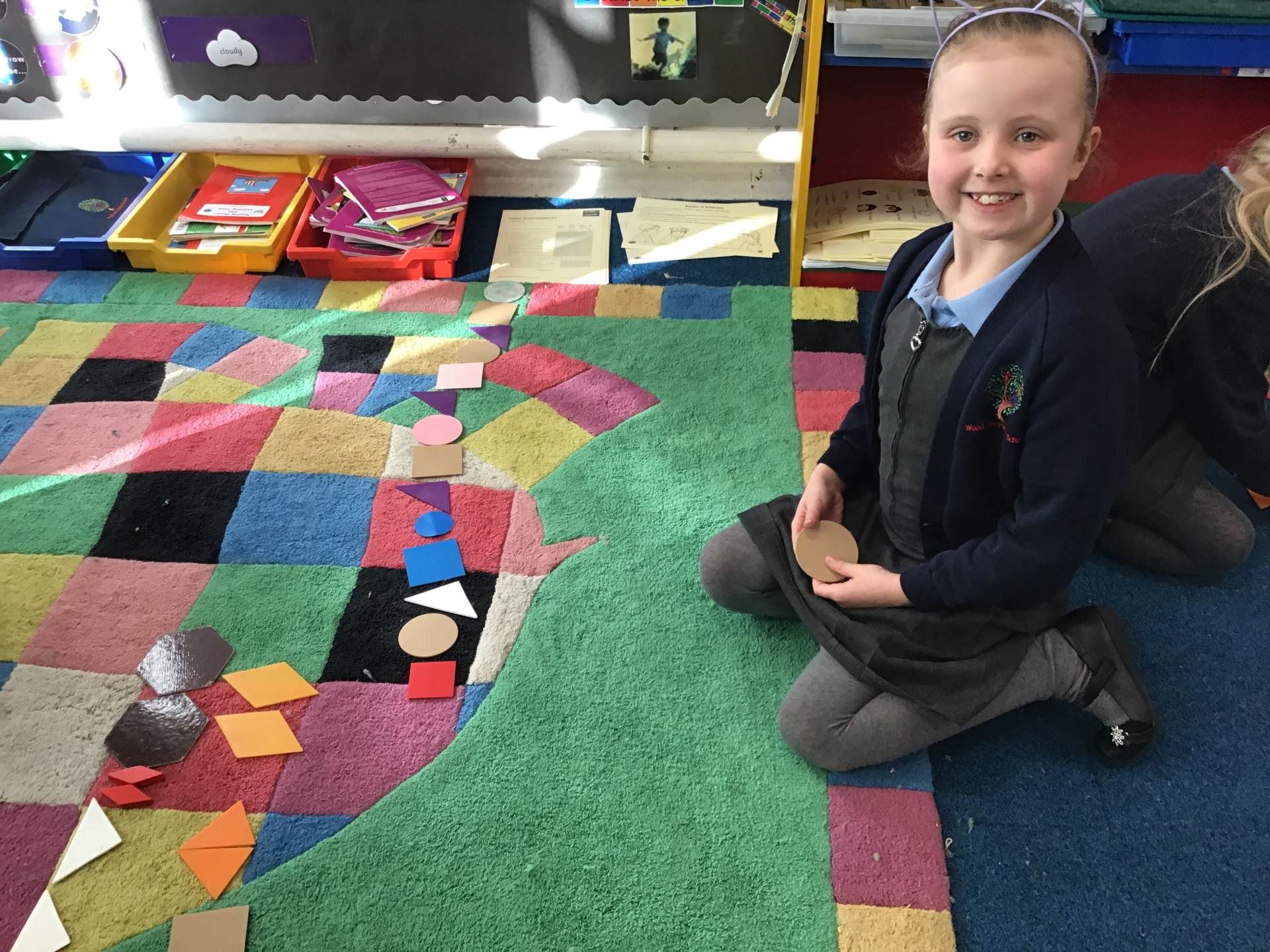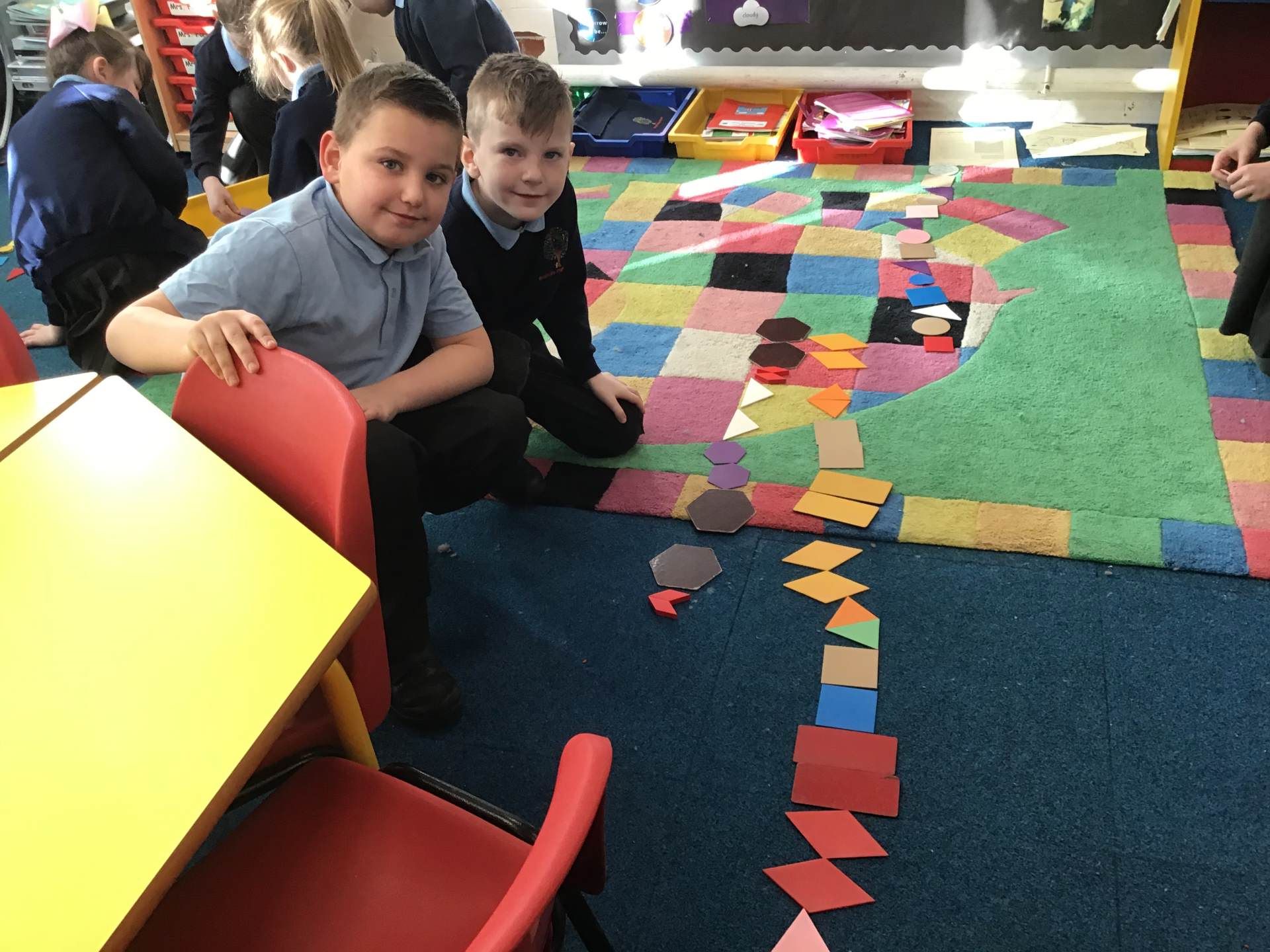 Sharing Afternoon - Trees and Roots.
This week we held our second sharing afternoon. Our topic this time was Trees and Roots an d the projects were all amazing. The children did a brilliant job talking about their own projects and were very confident.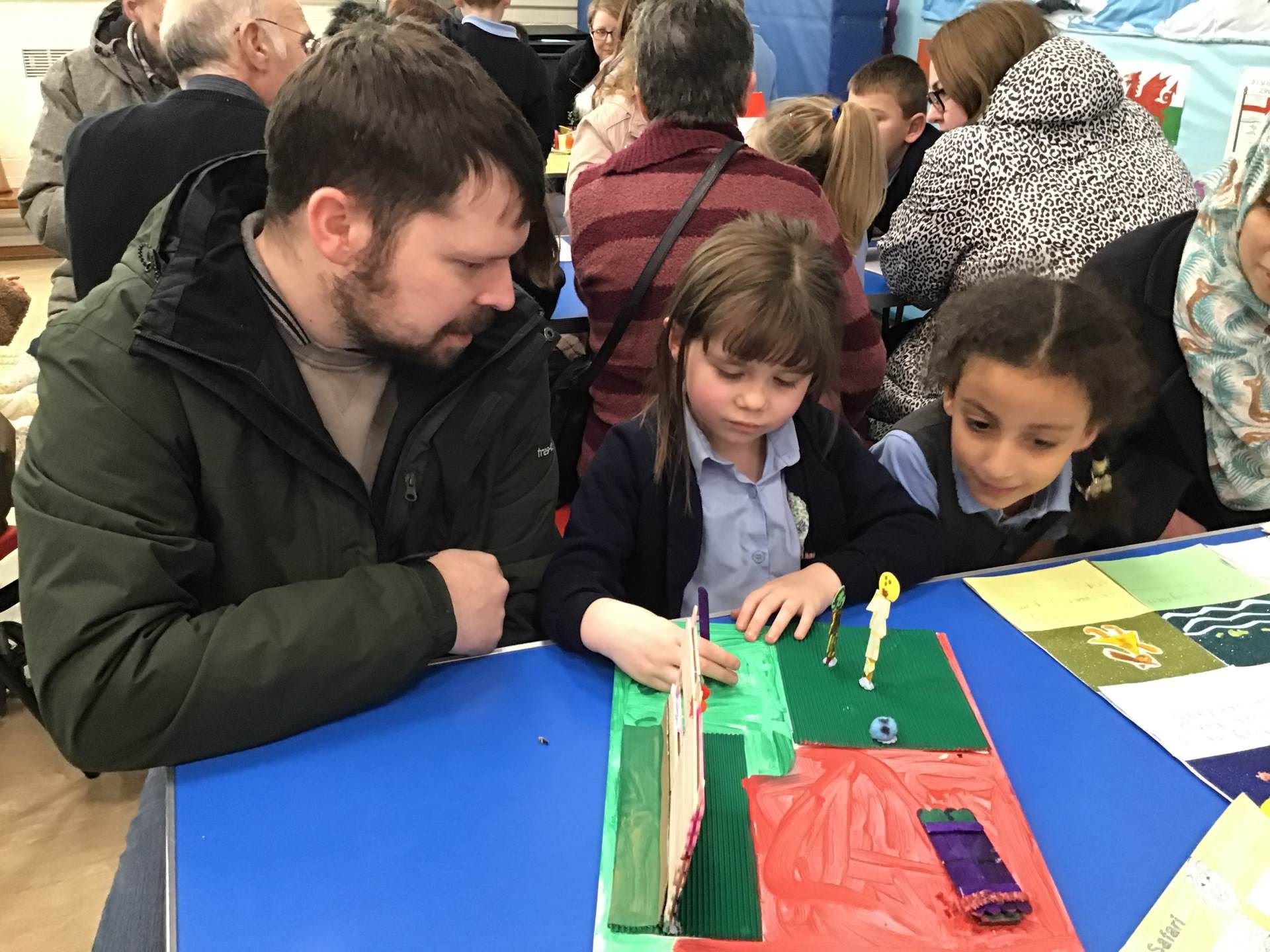 SNOW!
This week saw the first 'flutters' of snow. What else could we do but to go out and play!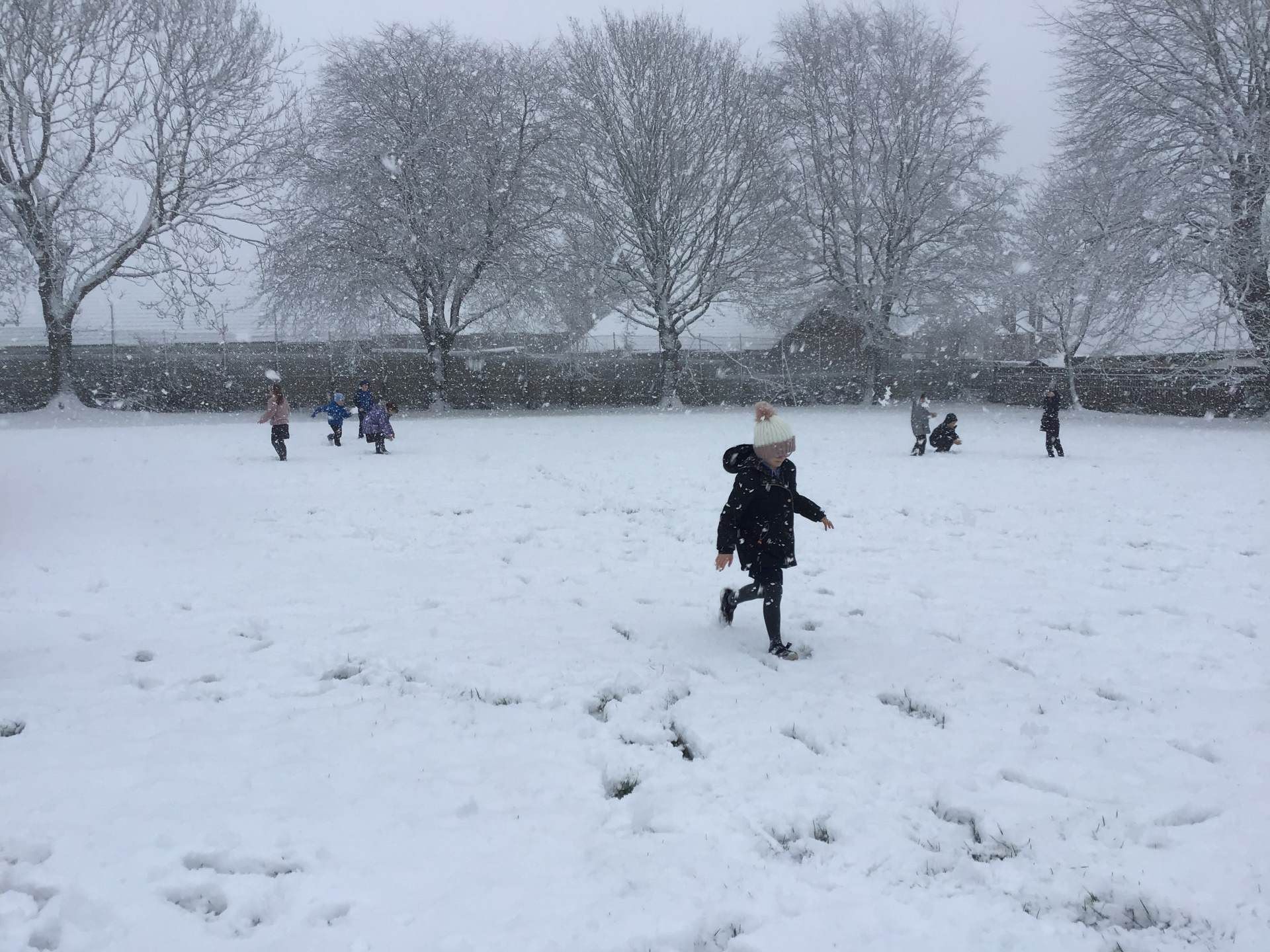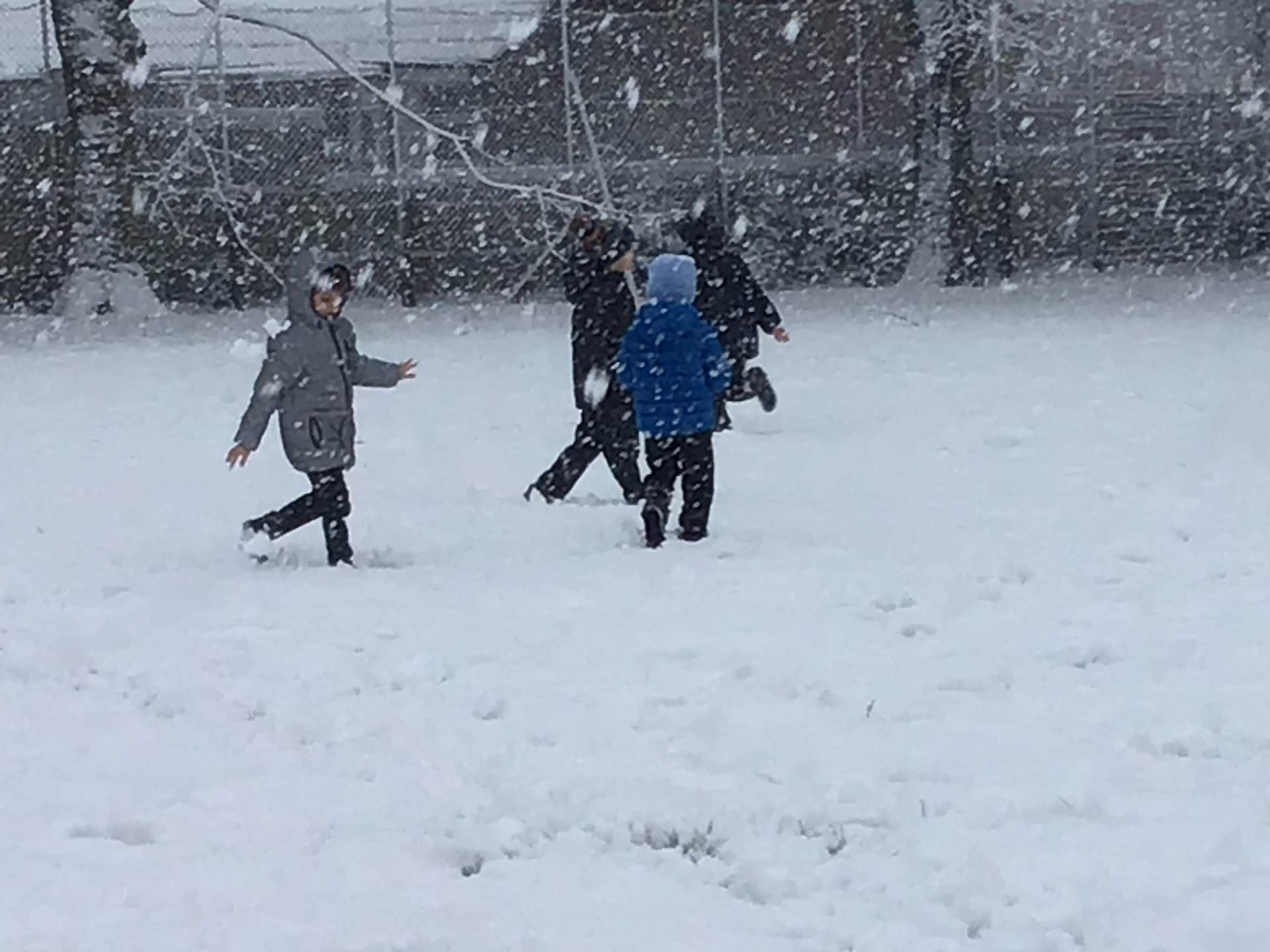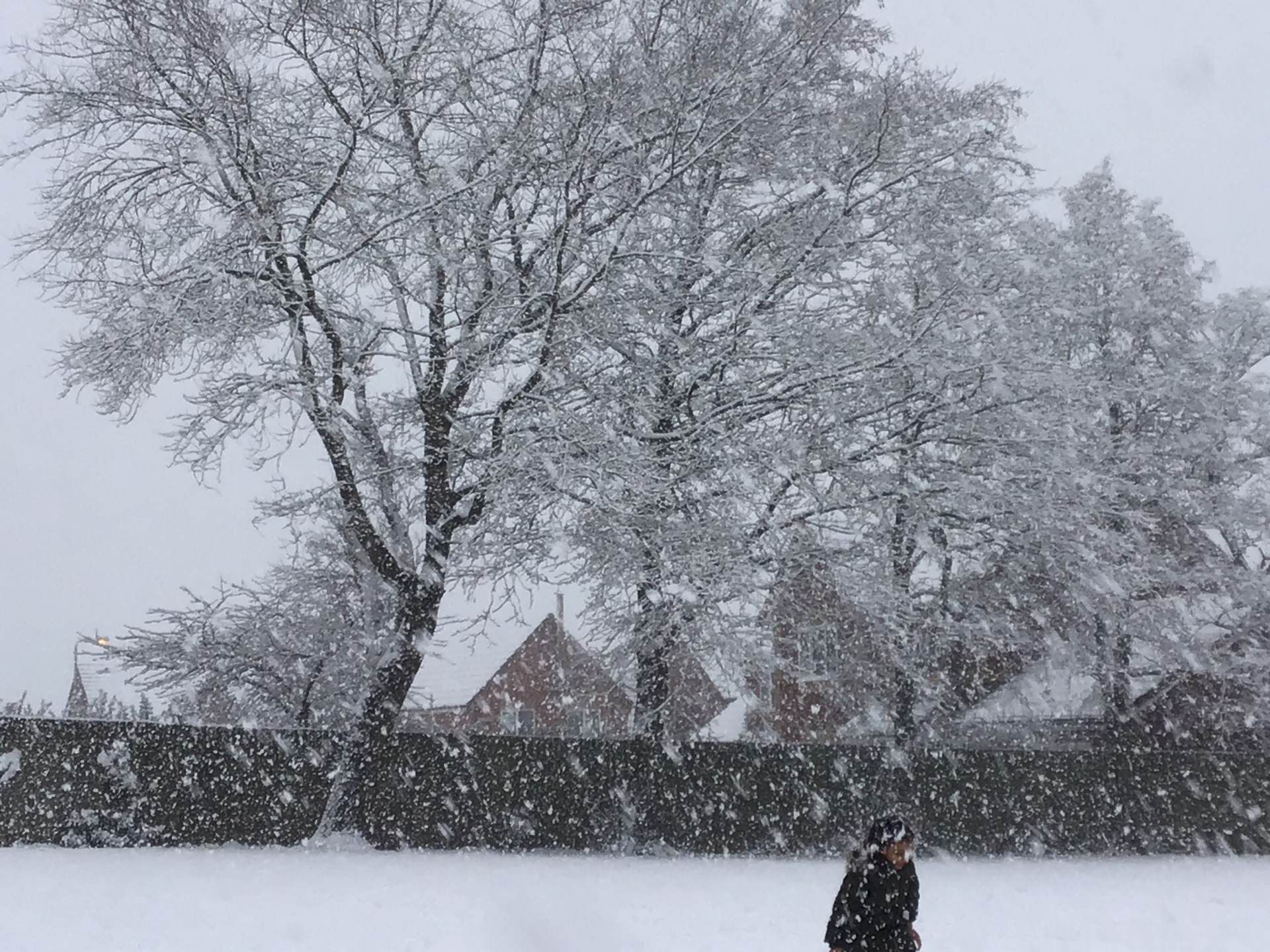 English - The Rhythm of the Rain
In English this week we used laptops to research the differences between streams, rivers and oceans. Then we used this information to create a non-fiction booklet.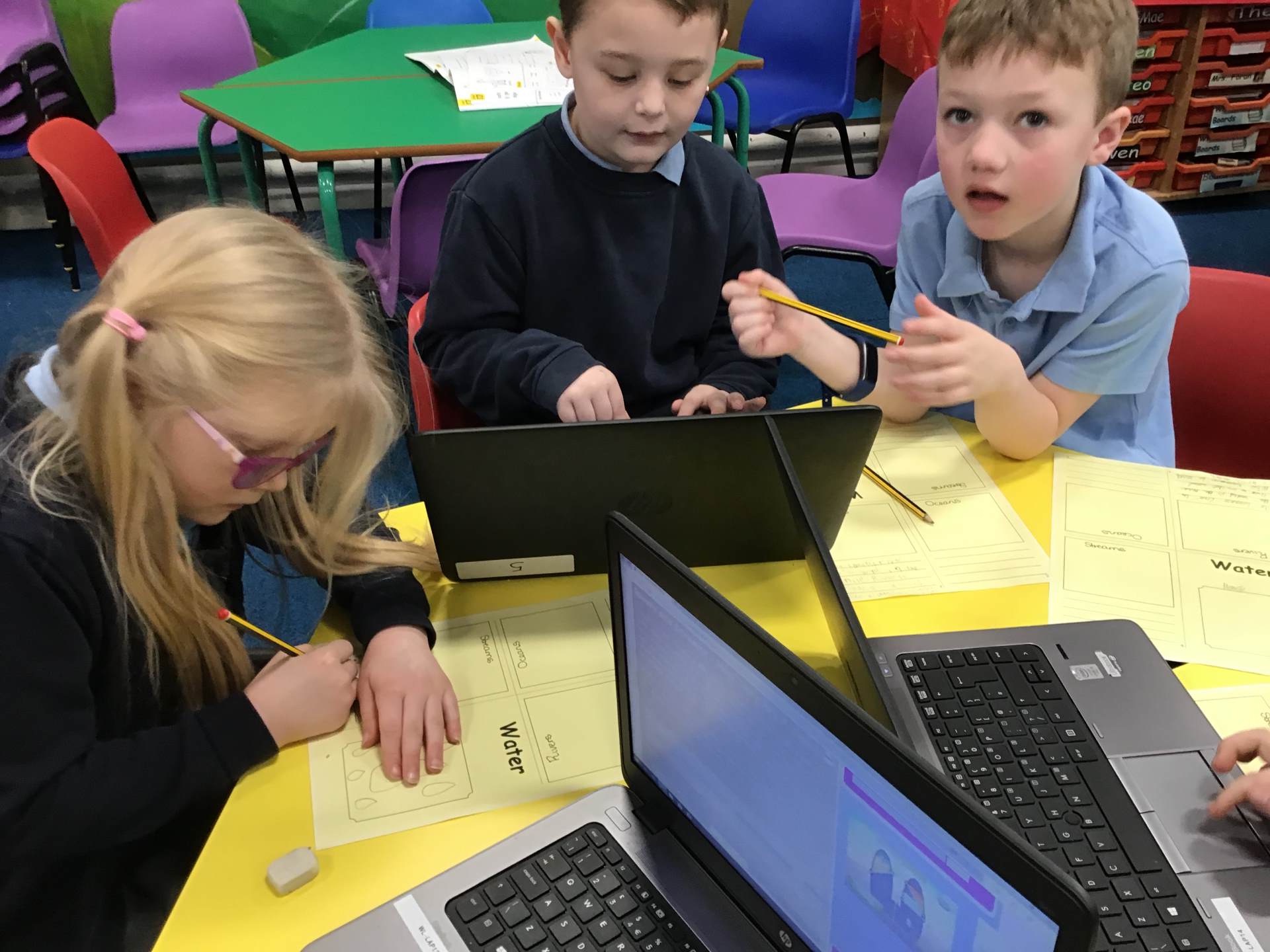 We also wrote poems about waterfalls.
Maths - Length and height.
In maths this week Year 2 have been looking at measuring using rulers and metre sticks.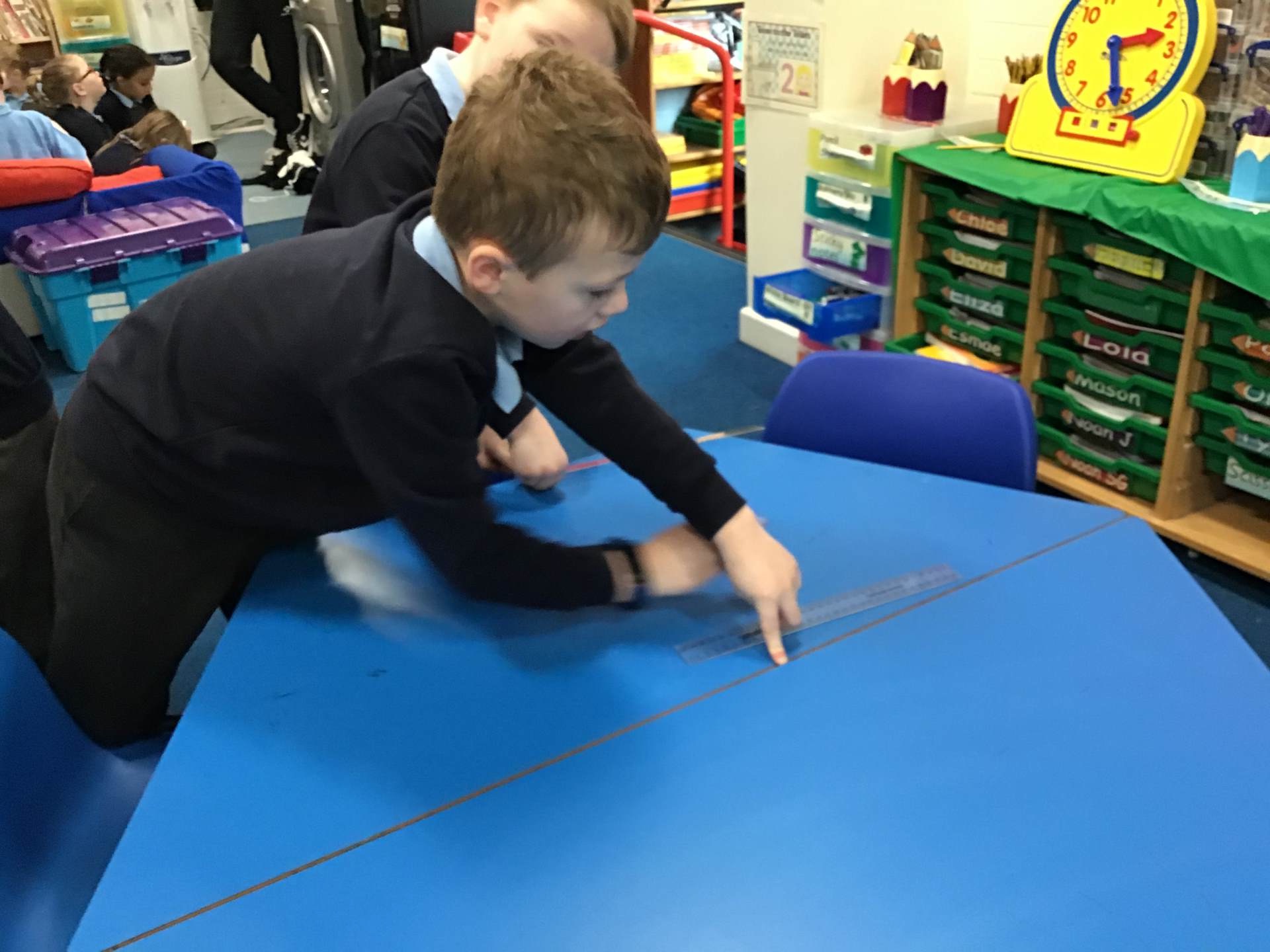 Chinese New Year 2020 - The Year of The Rat.
This week we learned about Chinese New Year. We discussed the story behind it and how people celebrated it. We also made our own lantern.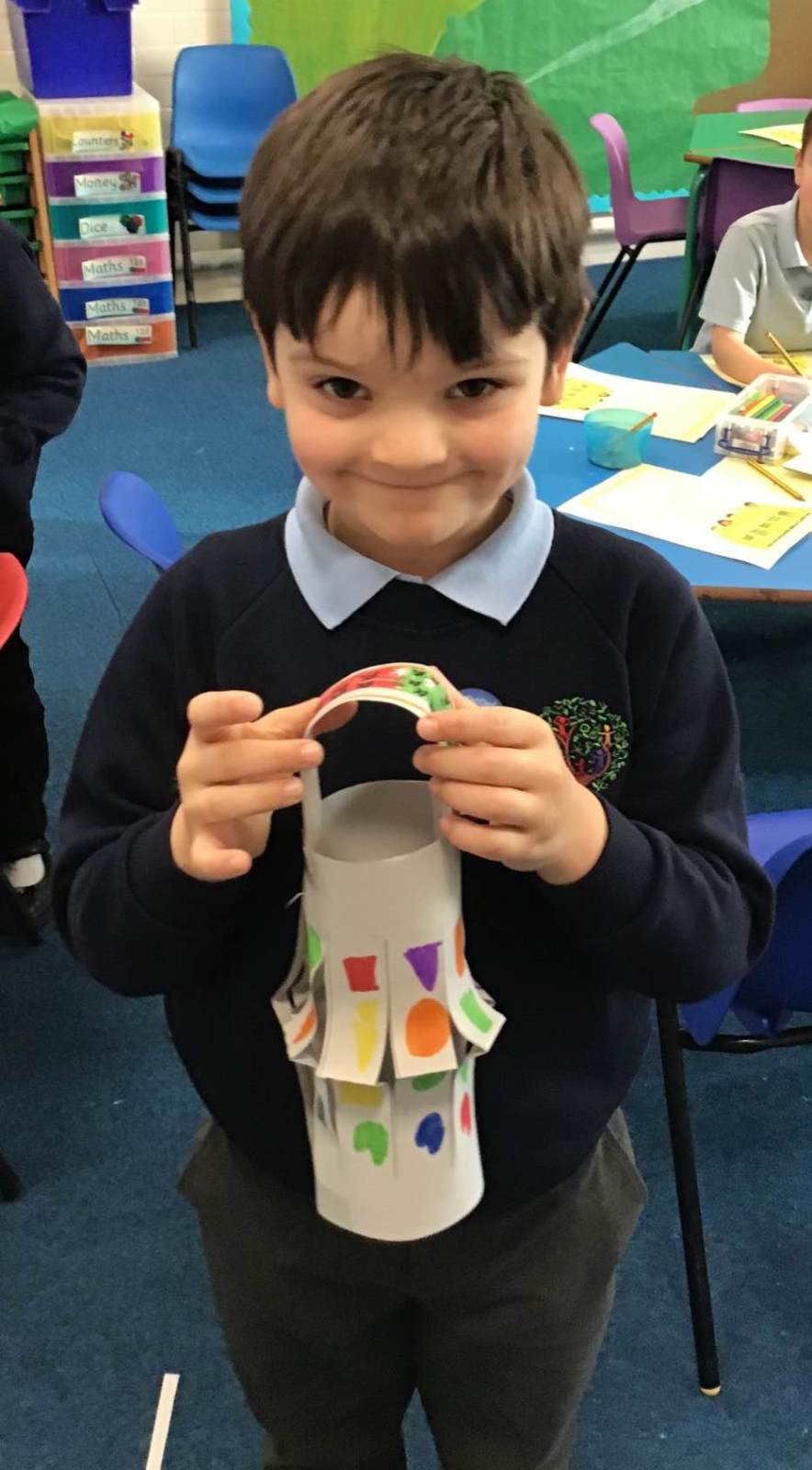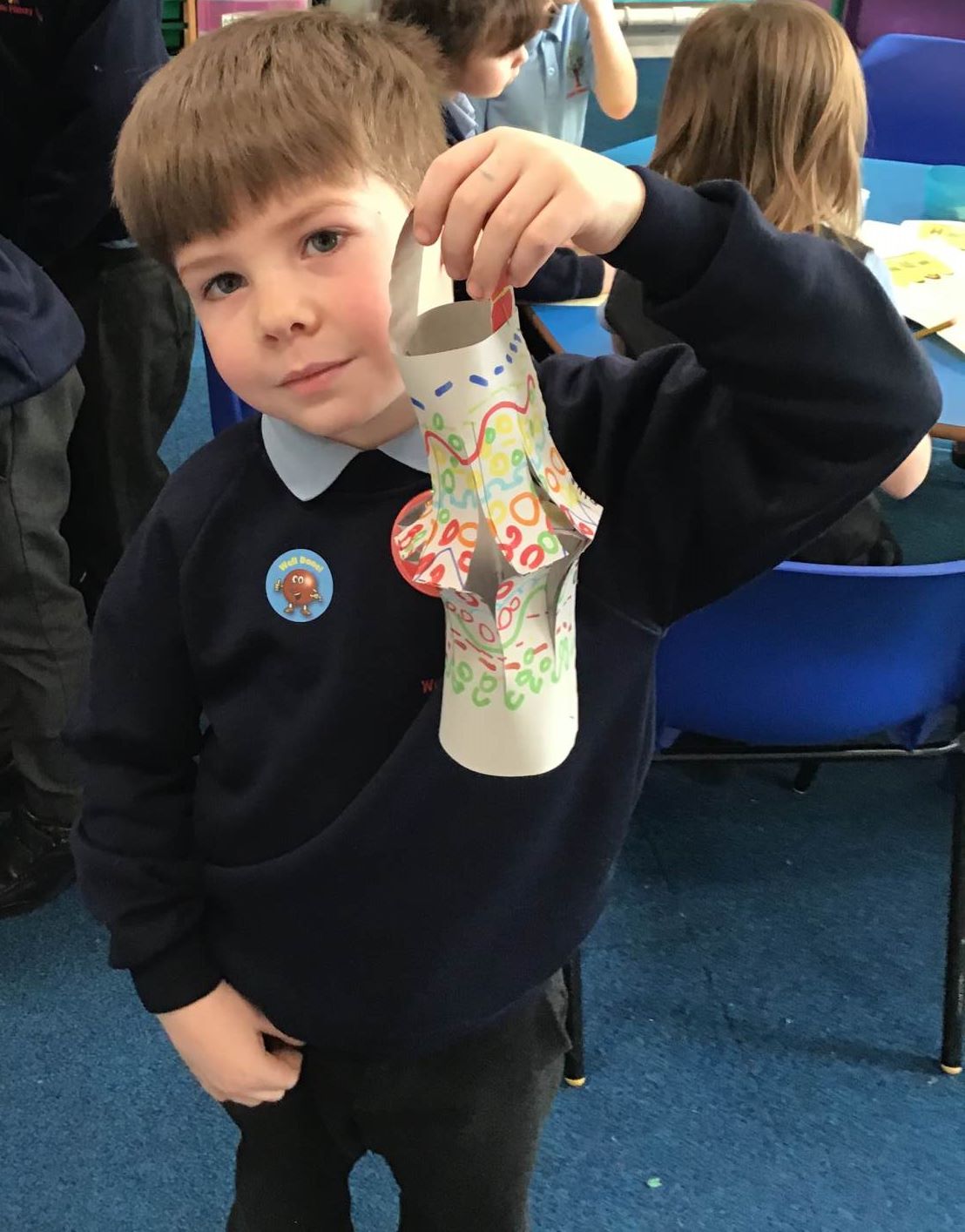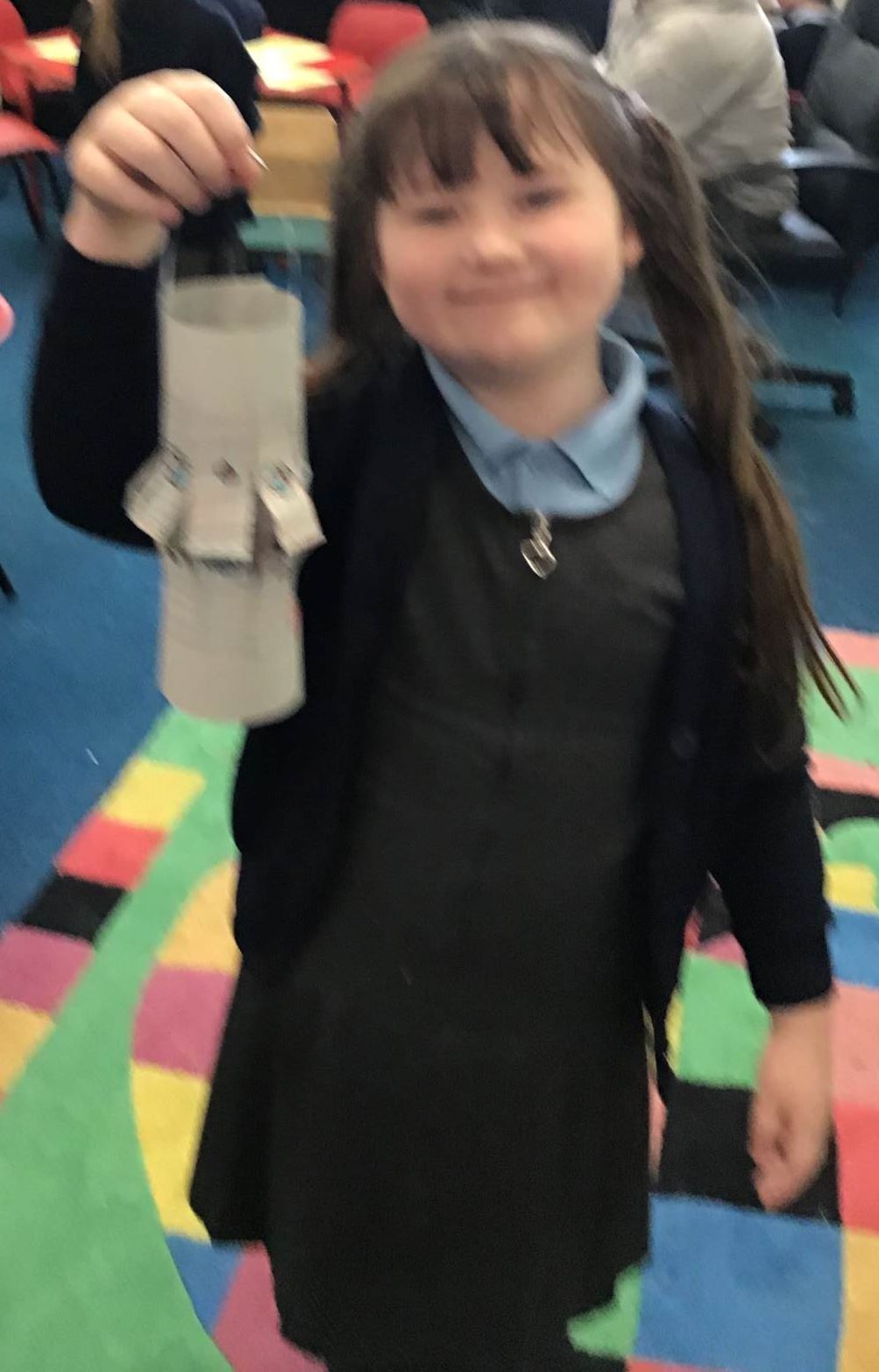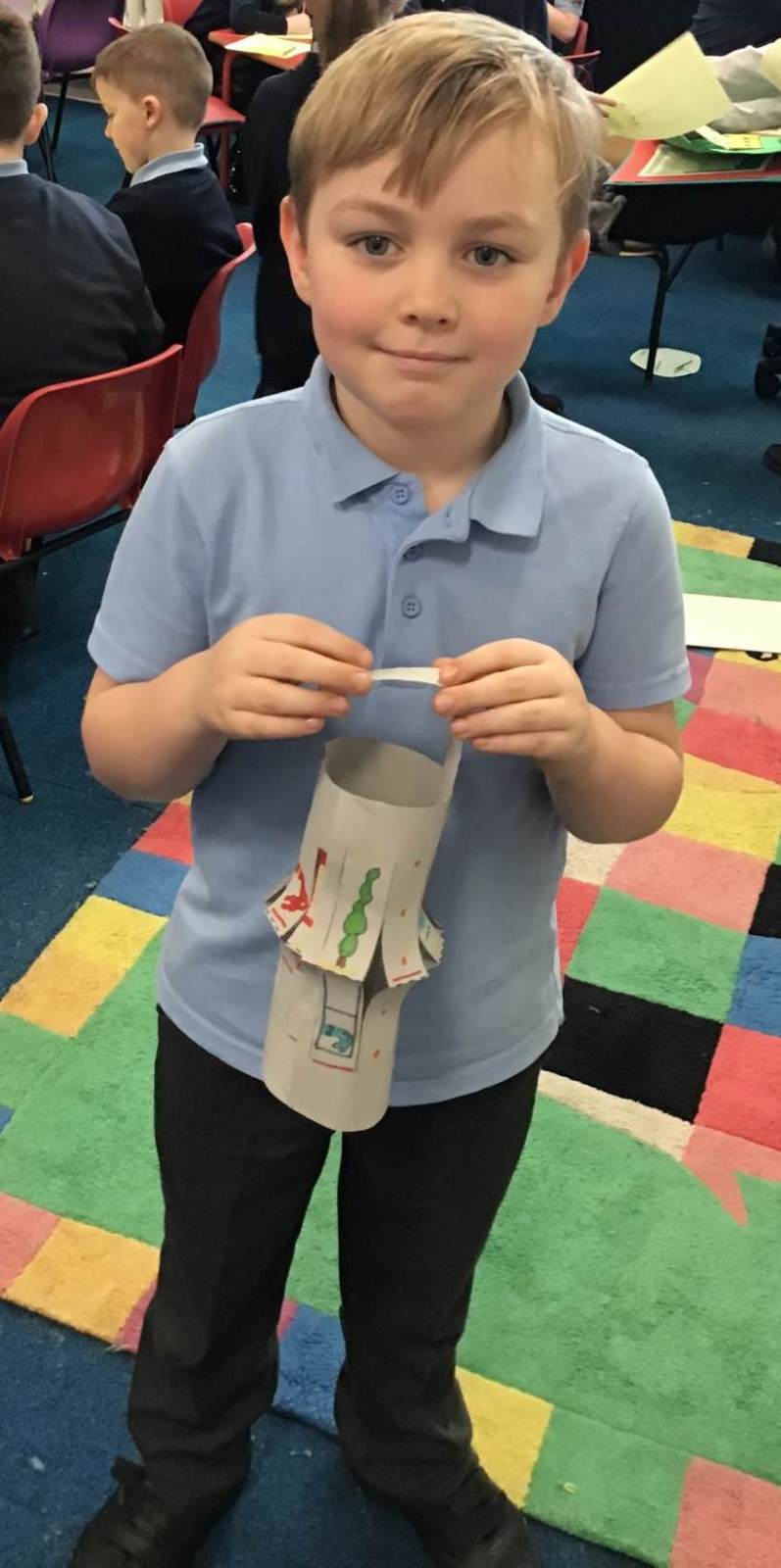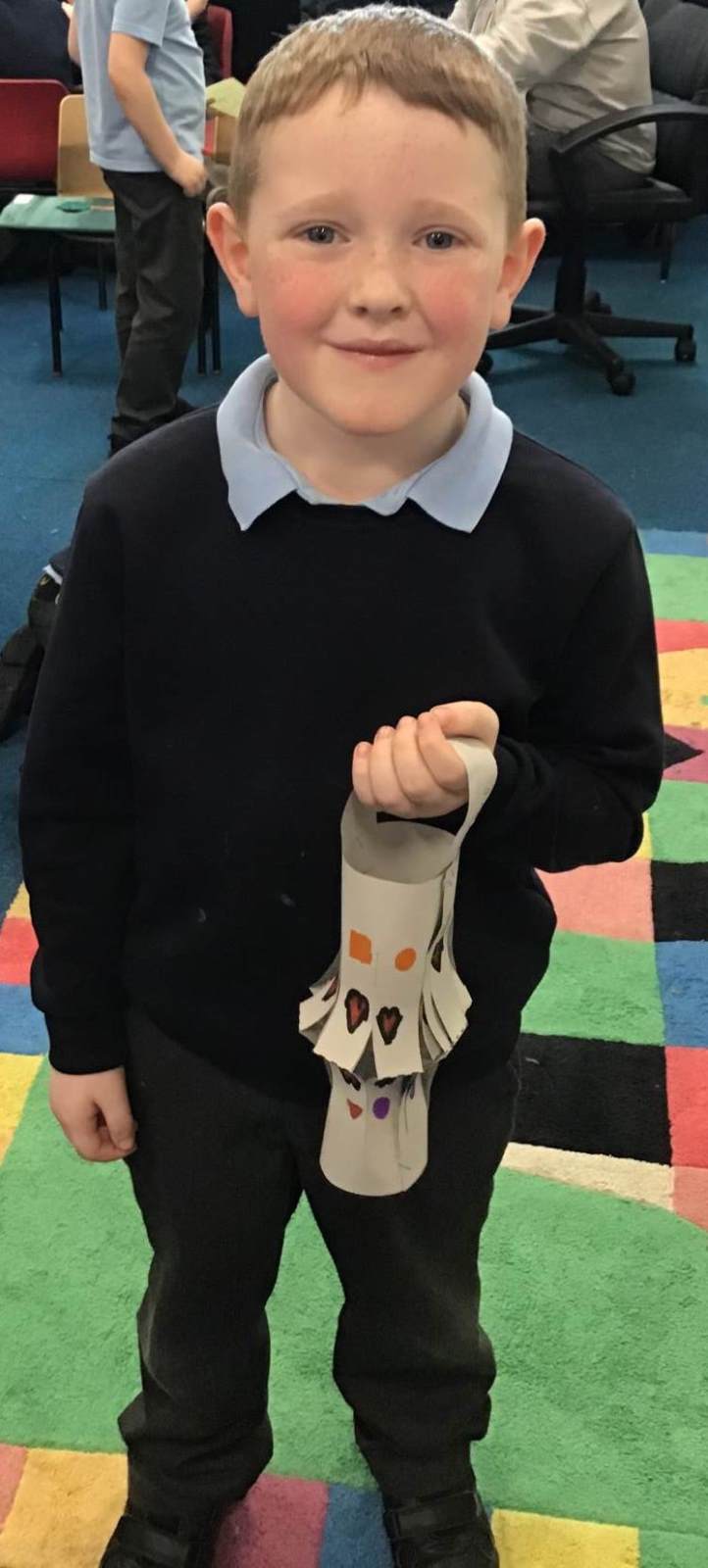 English
This week in English we have looked at where our special place is and why.
We also looked at using inverted commas in sentences.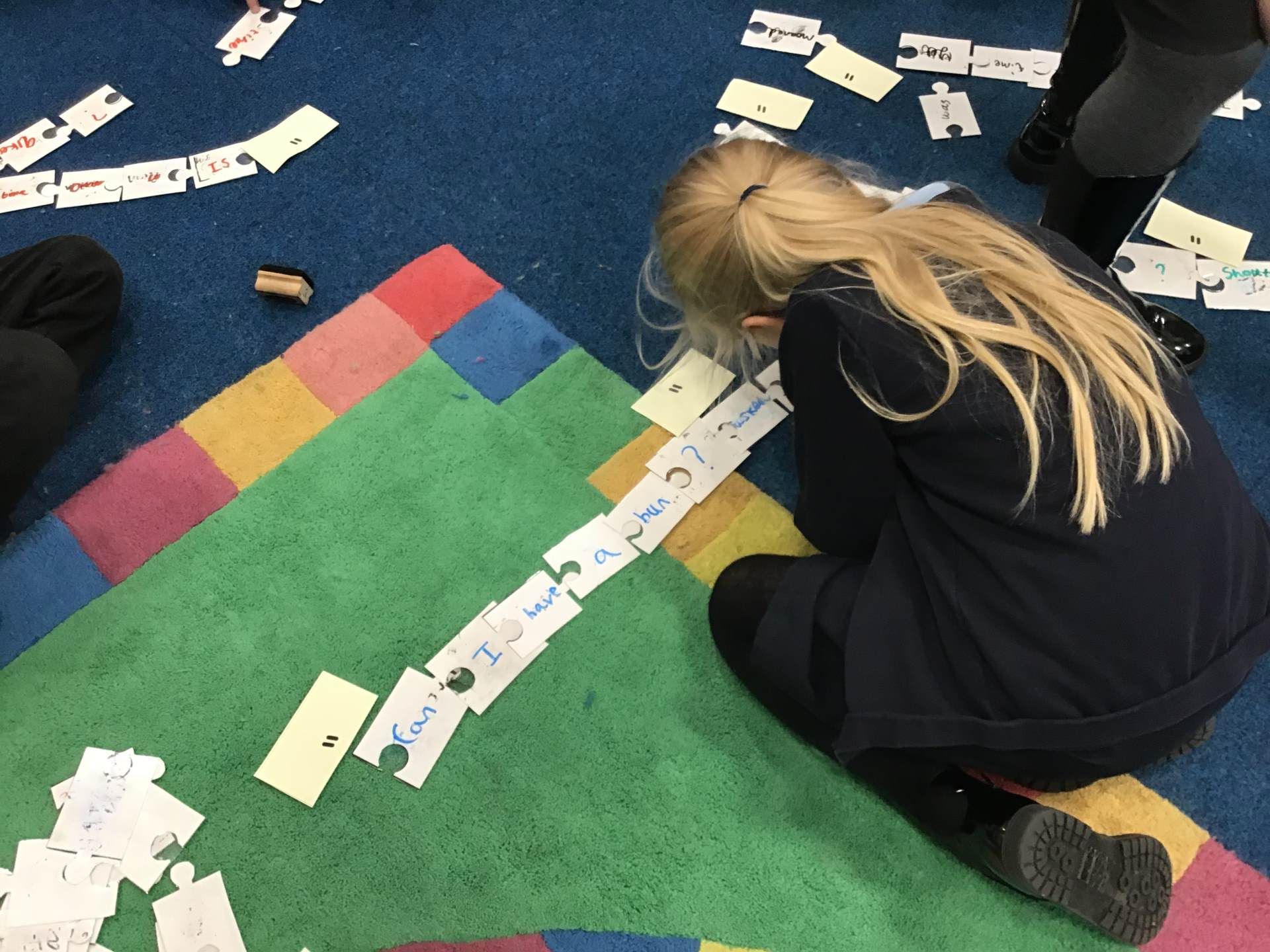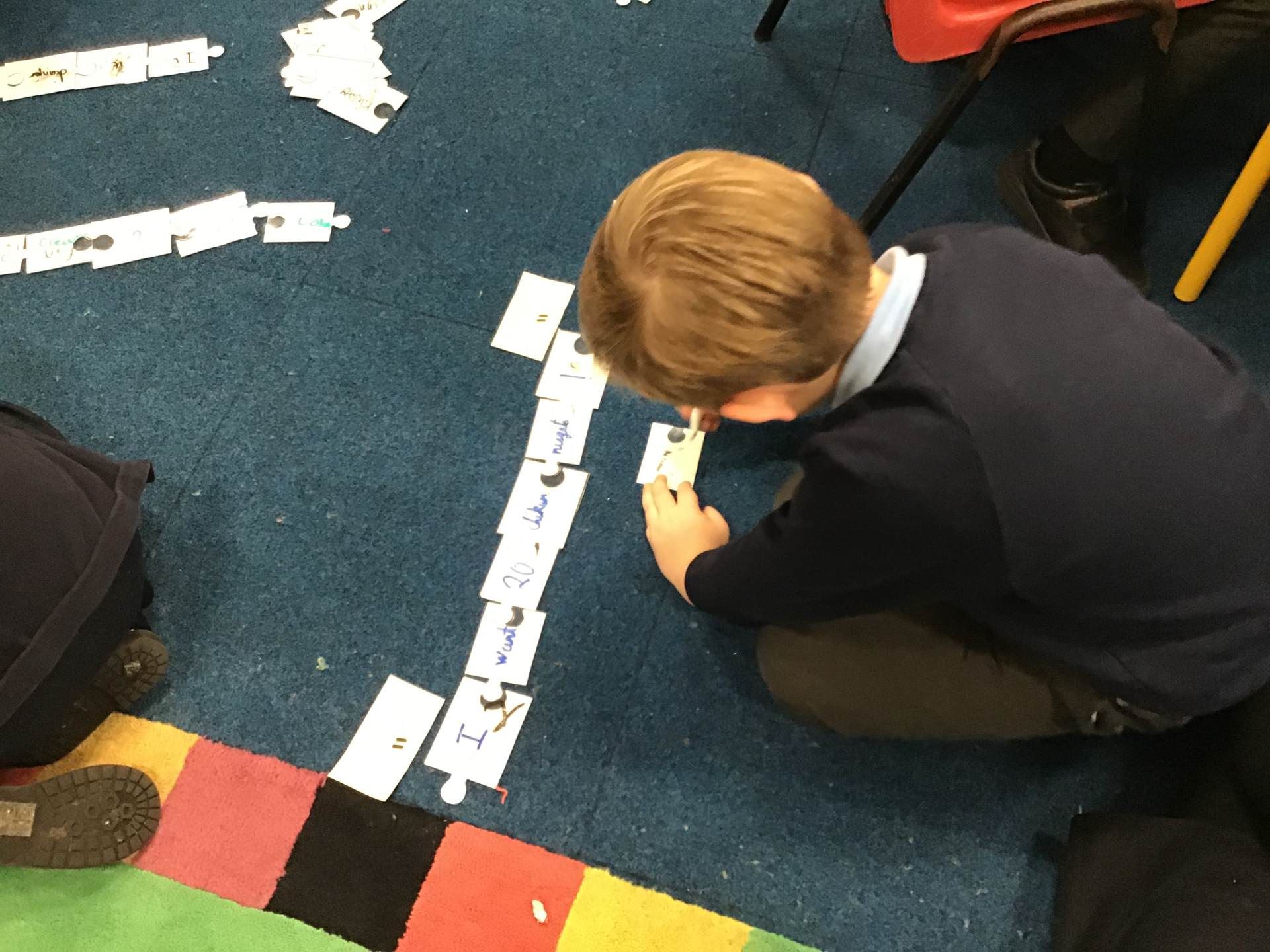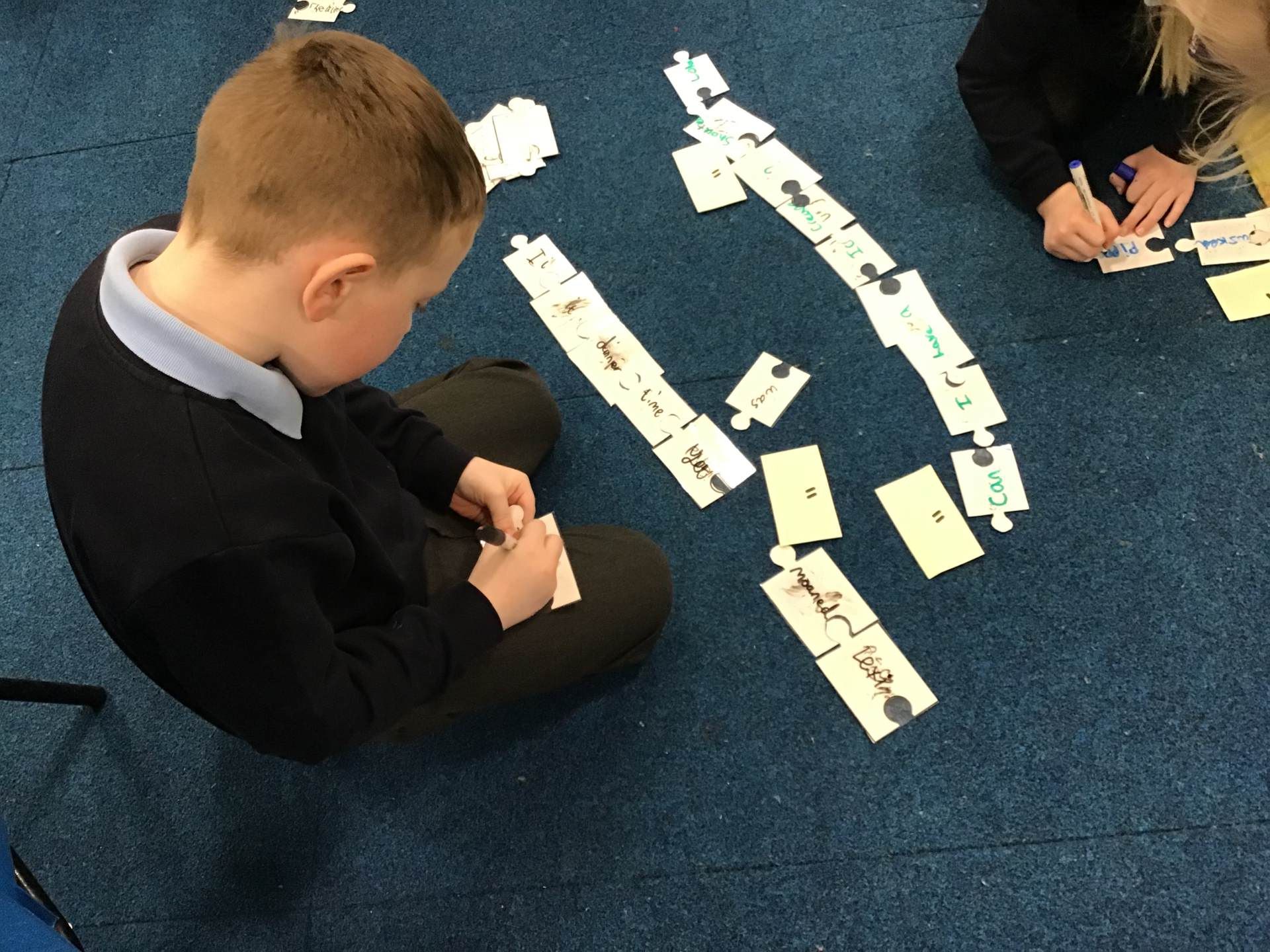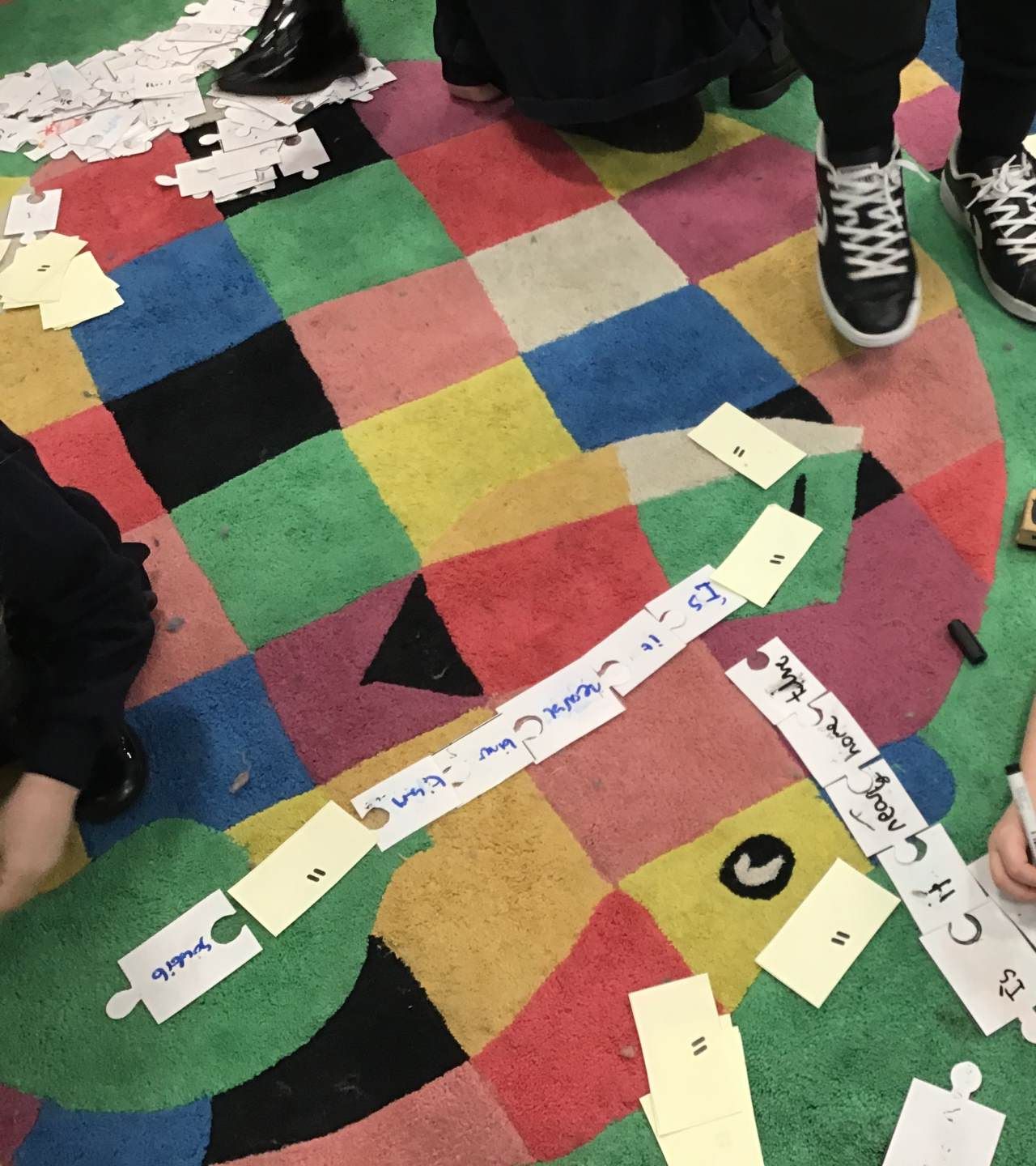 We played the alphabet fishing game.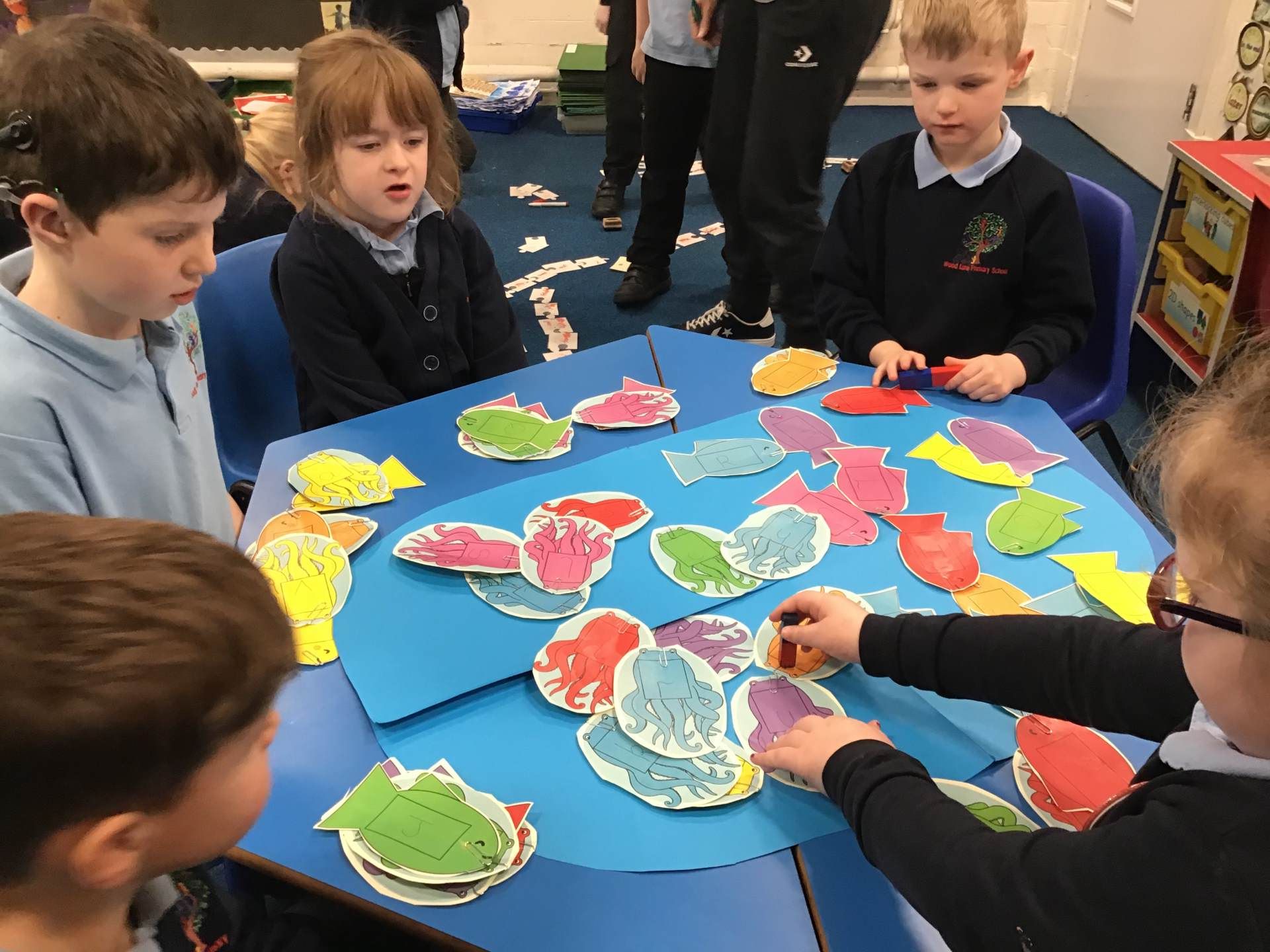 Balancing, jumping and travelling on the equipment.
In PE this week we have looked at different ways to travel, how to jump safely and practising our balancing skills.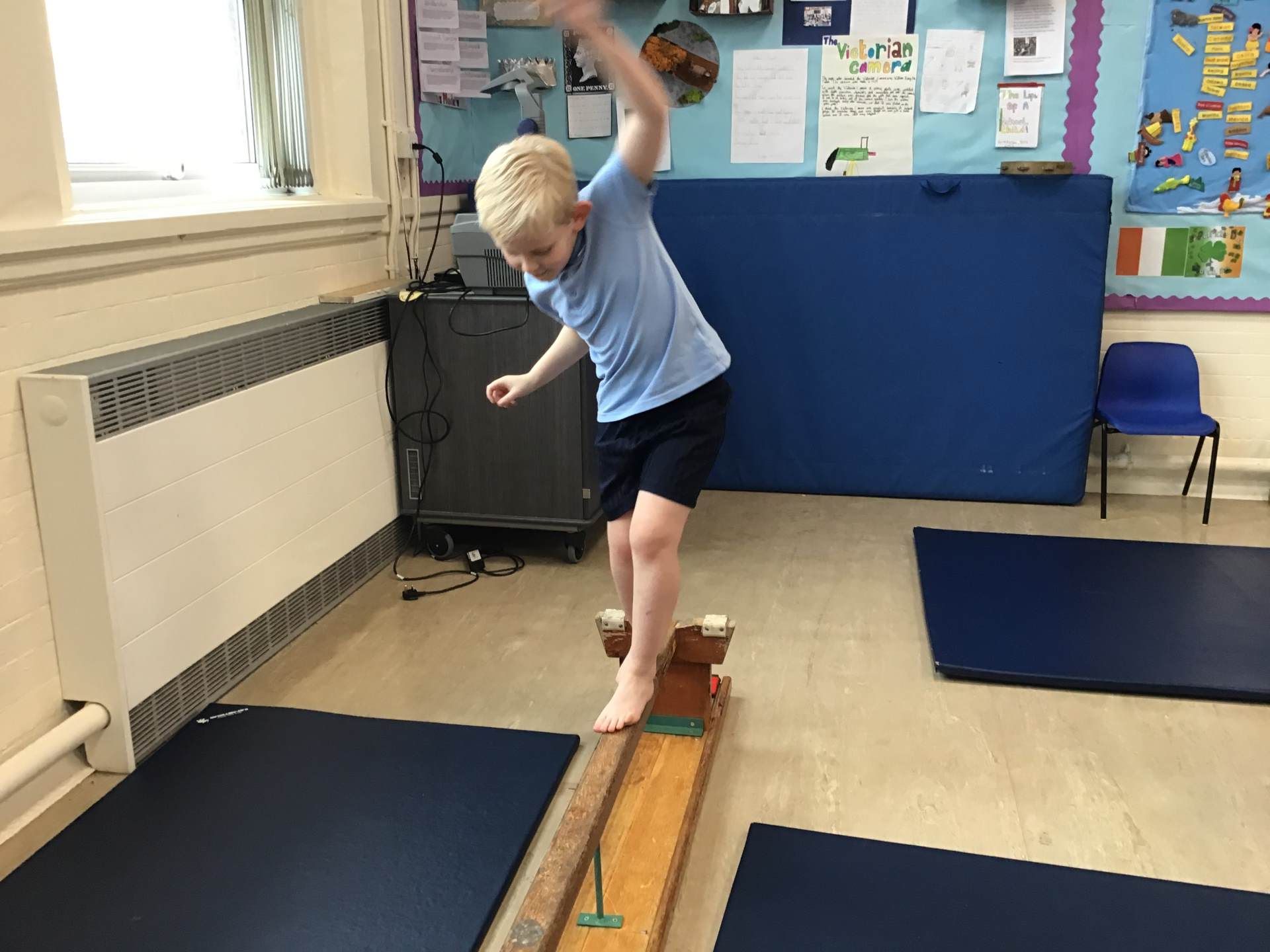 Science - The Body
In Science we looked at the skeleton and inside the body.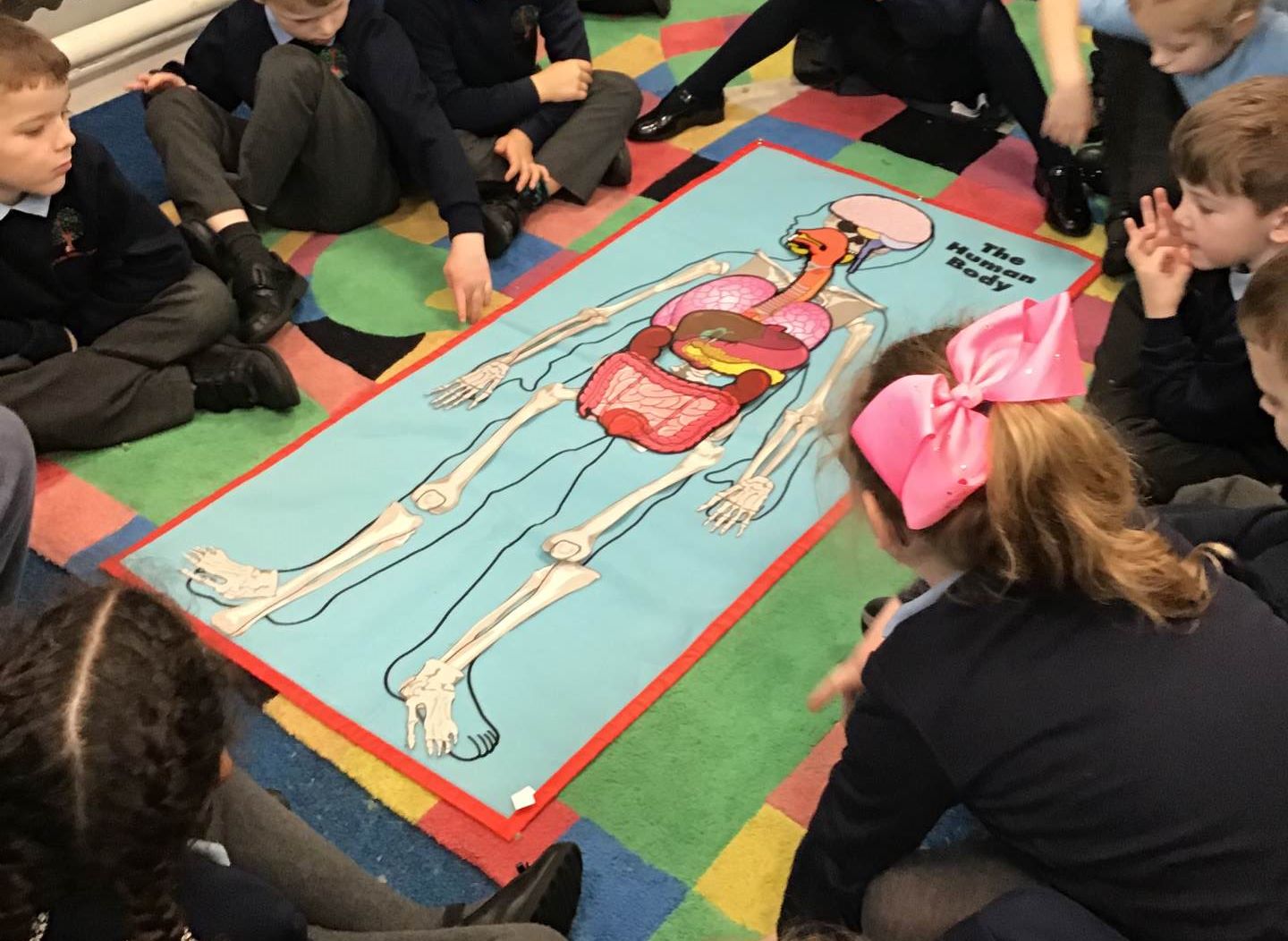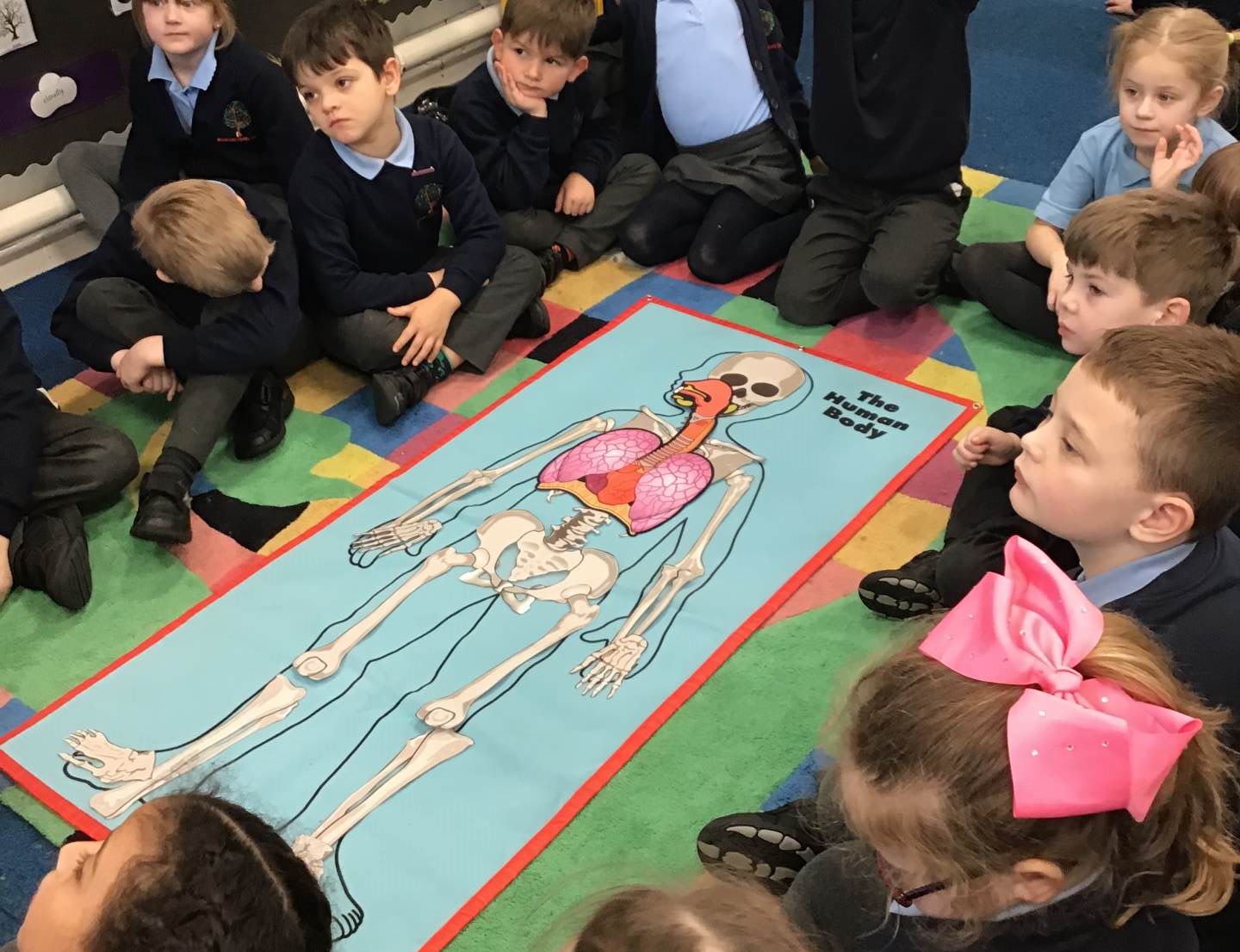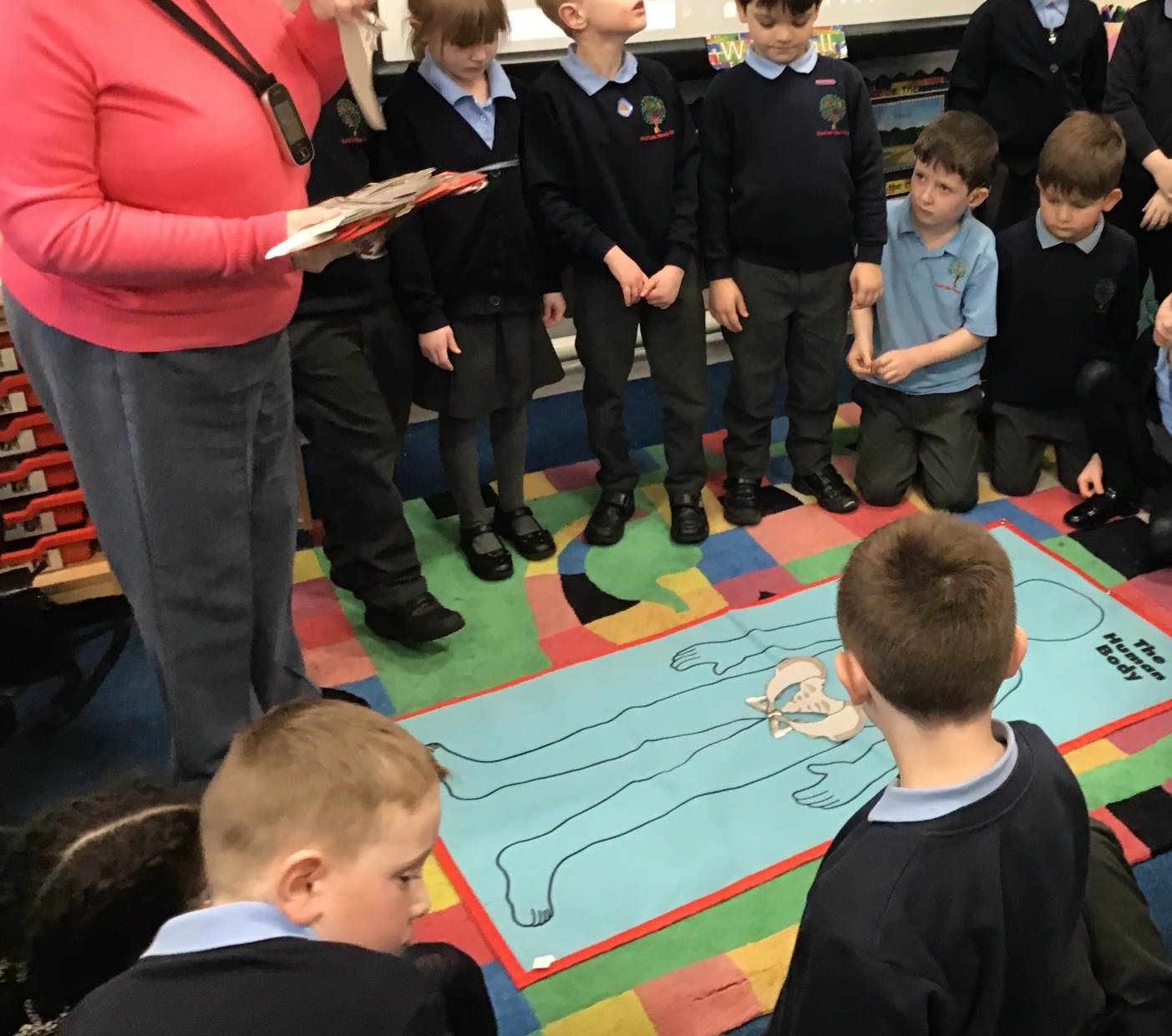 Stoke 7s
On Monday 13th January Stoke City Football Club came to visit. We had a whole school assembly so that they could talk to us about what they do.
After the assembly the Year 2 children were asked to stay behind and were given a bag of goodies. They were also offered two free tickets to go to a match.
Thank you Stoke City!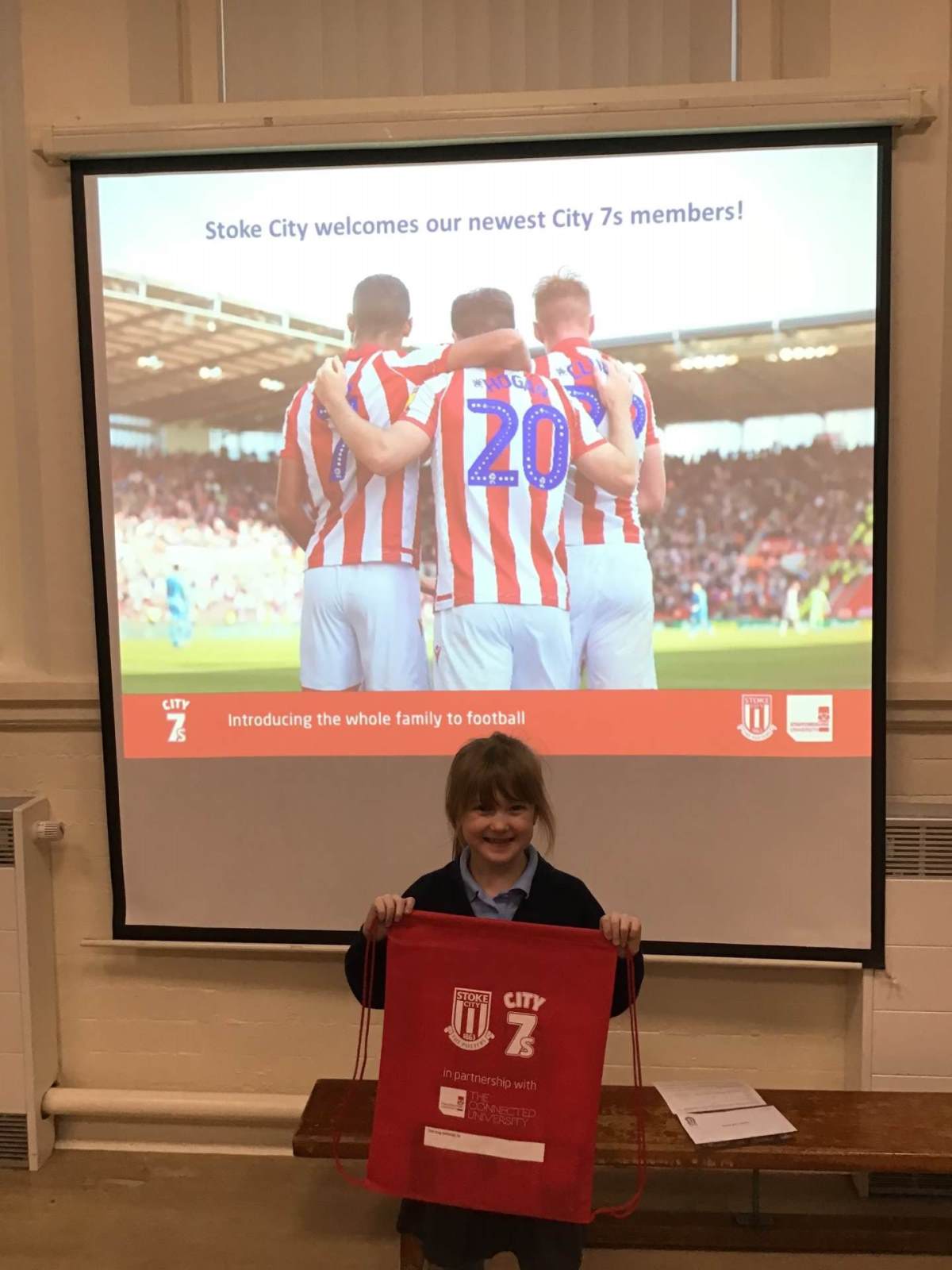 Science experiment - making a rain cloud.
We talked about the rain and what happens. We made a hypothesis about what was going to happen when we added drops to the 'rain cloud.' Look and see!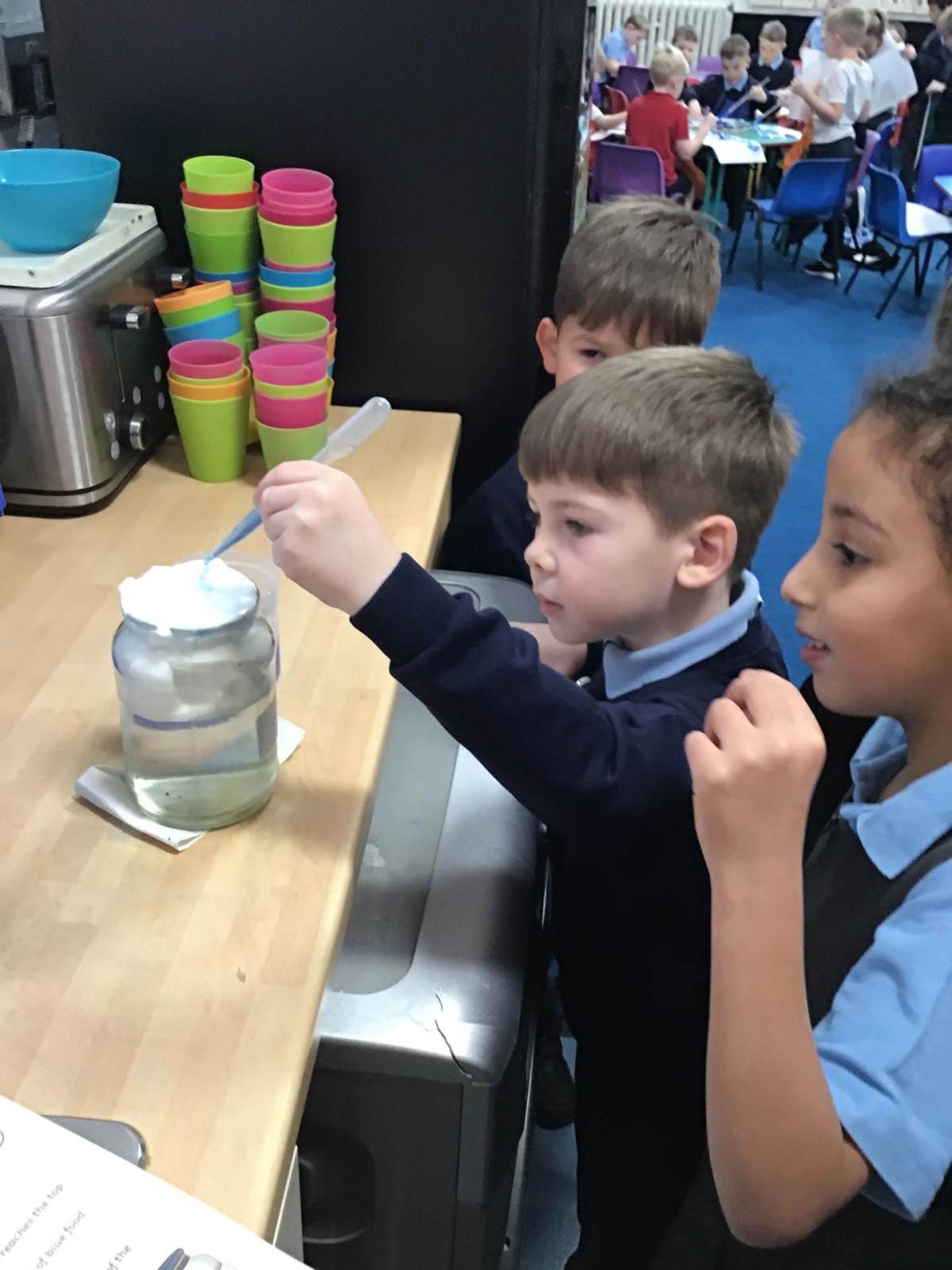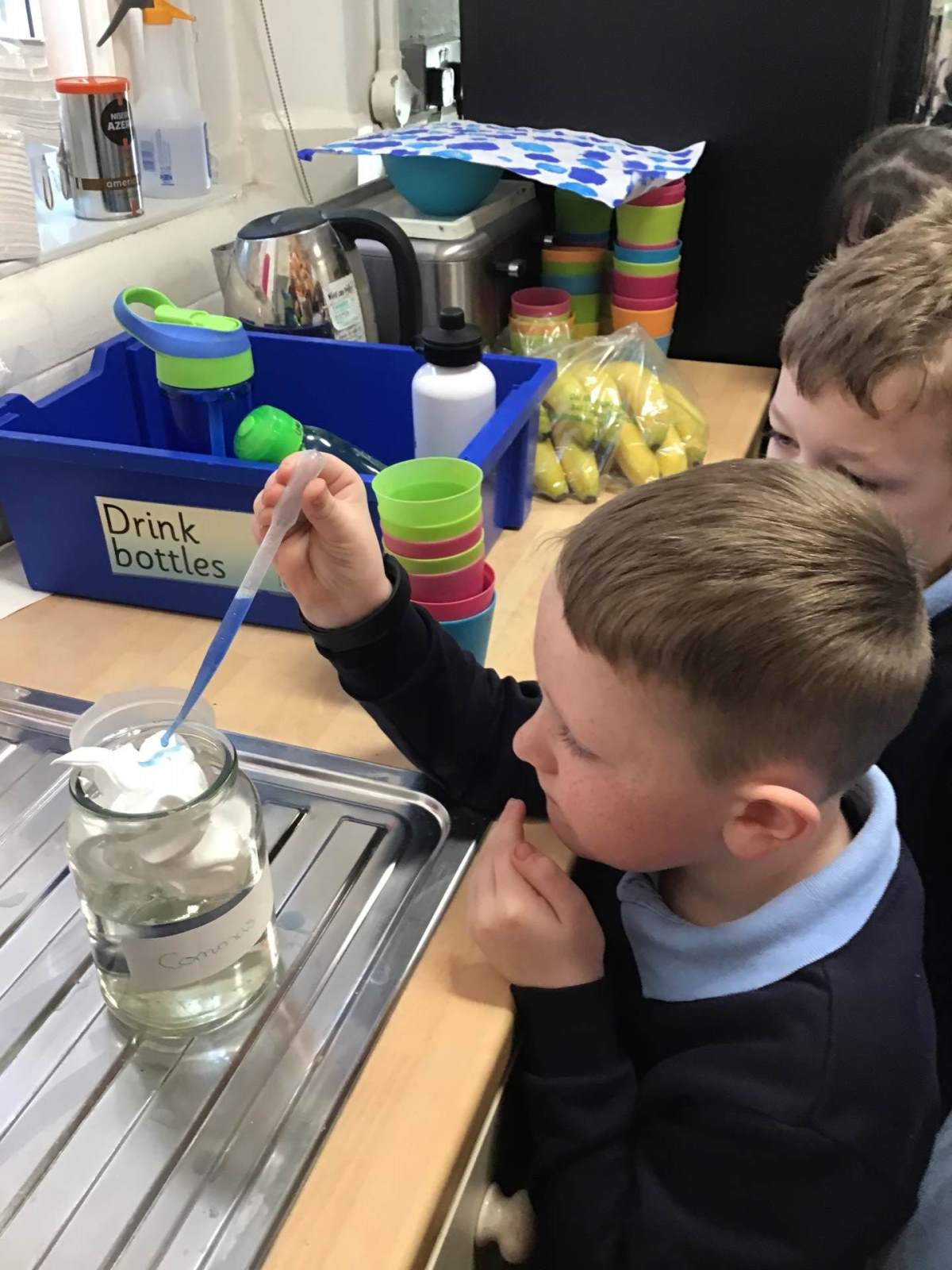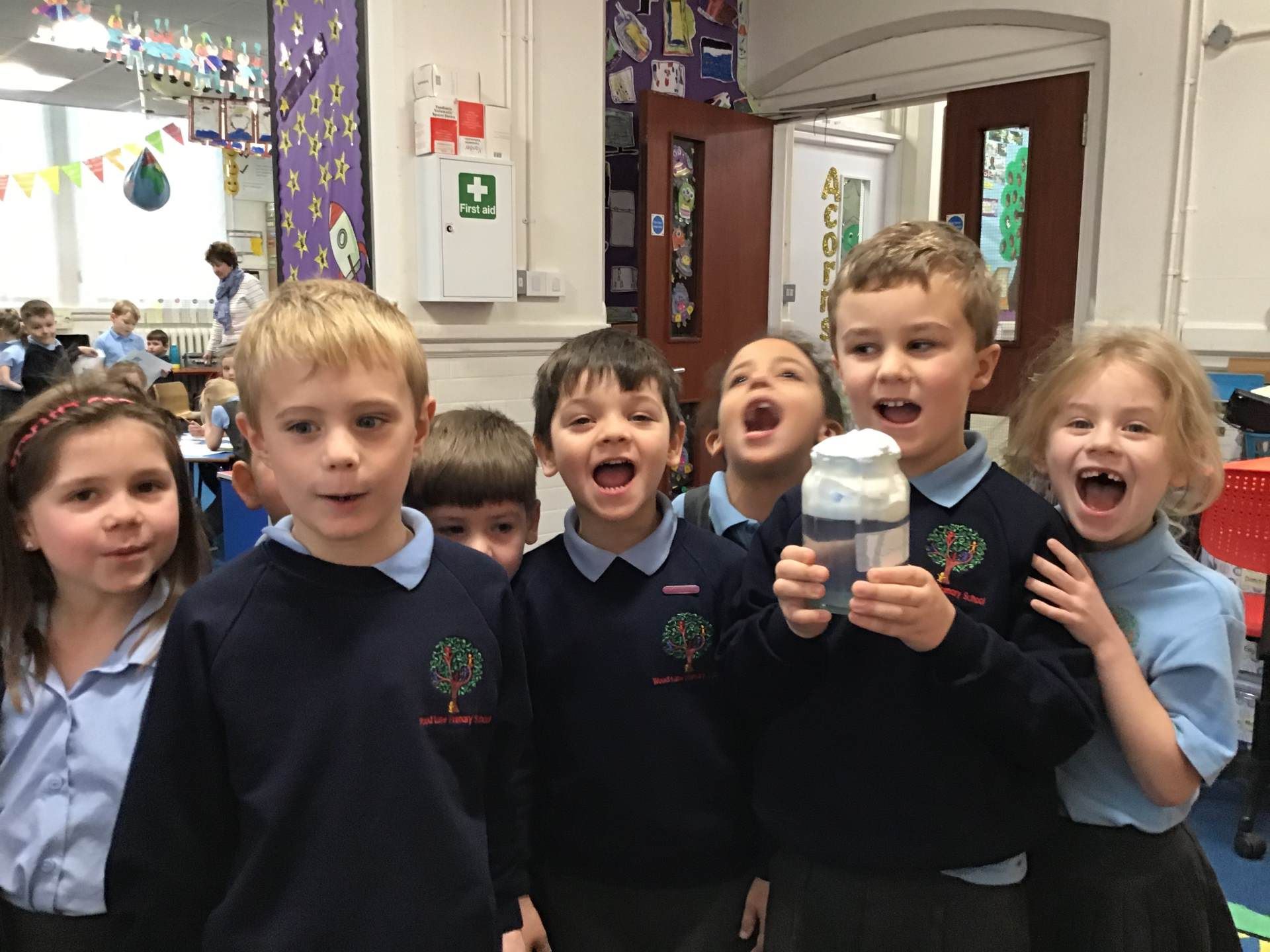 Musical Rain
We have been studying the rain this week and made rain sounds using different instruments.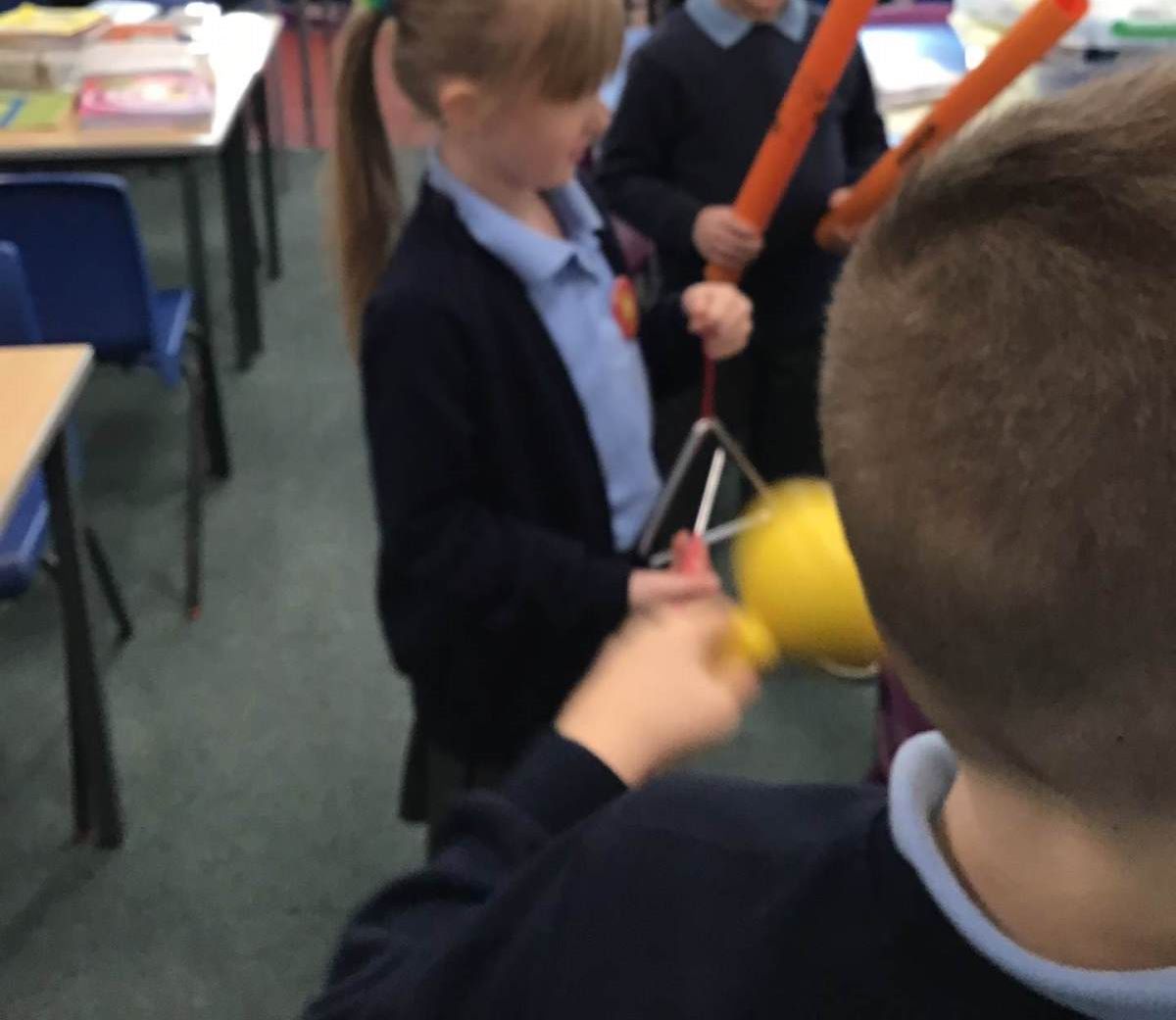 Rain pictures.
We created pictures by painting dots onto paper and taking them out in the rain to see what happened when they got rained on.
Balancing
In PE we have been looking at balancing. We have moved onto using the equipment.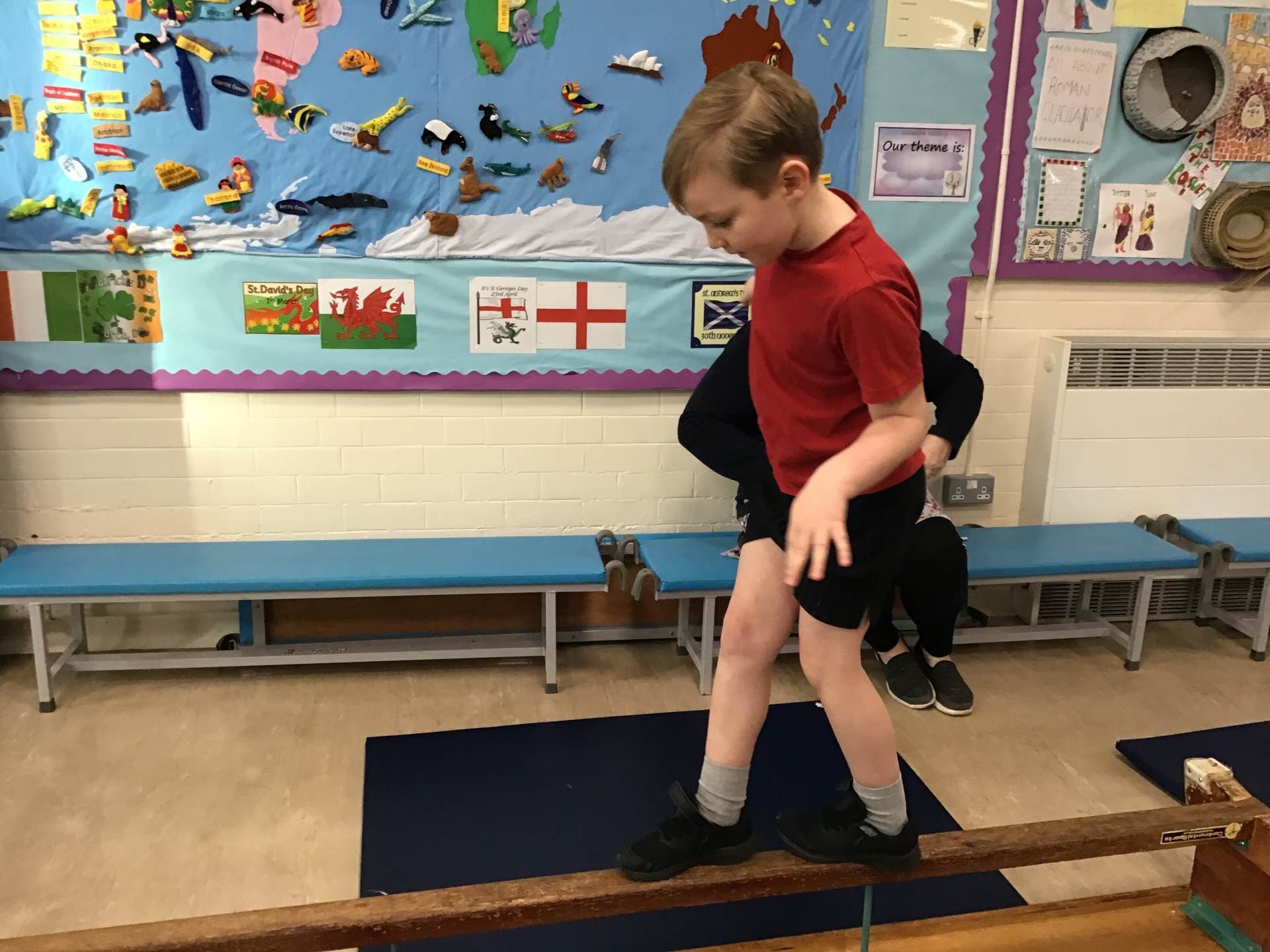 Mrs Stanley's Birthday.
On Tuesday 7th January we celebrated Mrs Stanley's birthday with her. We surprised her with a cake and sang happy birthday to her. We all go to share her cake at the end of the day!!!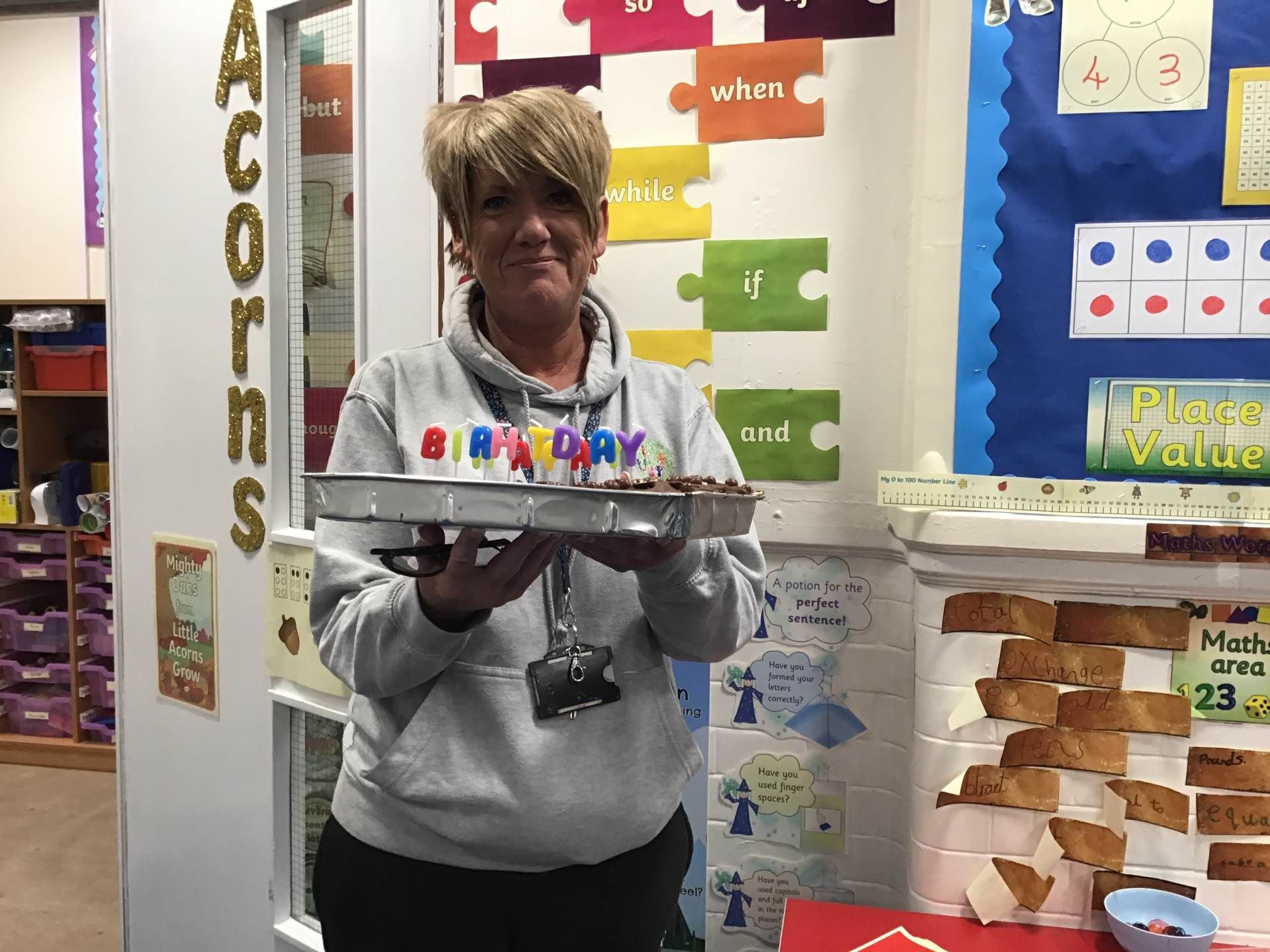 Hot seating the little boy.
As part of our topic this term we are reading The Rhythm of the Rain. We looked at the front cover and discussed who we thought the little boy was. We then used question words to ask the little boy questions.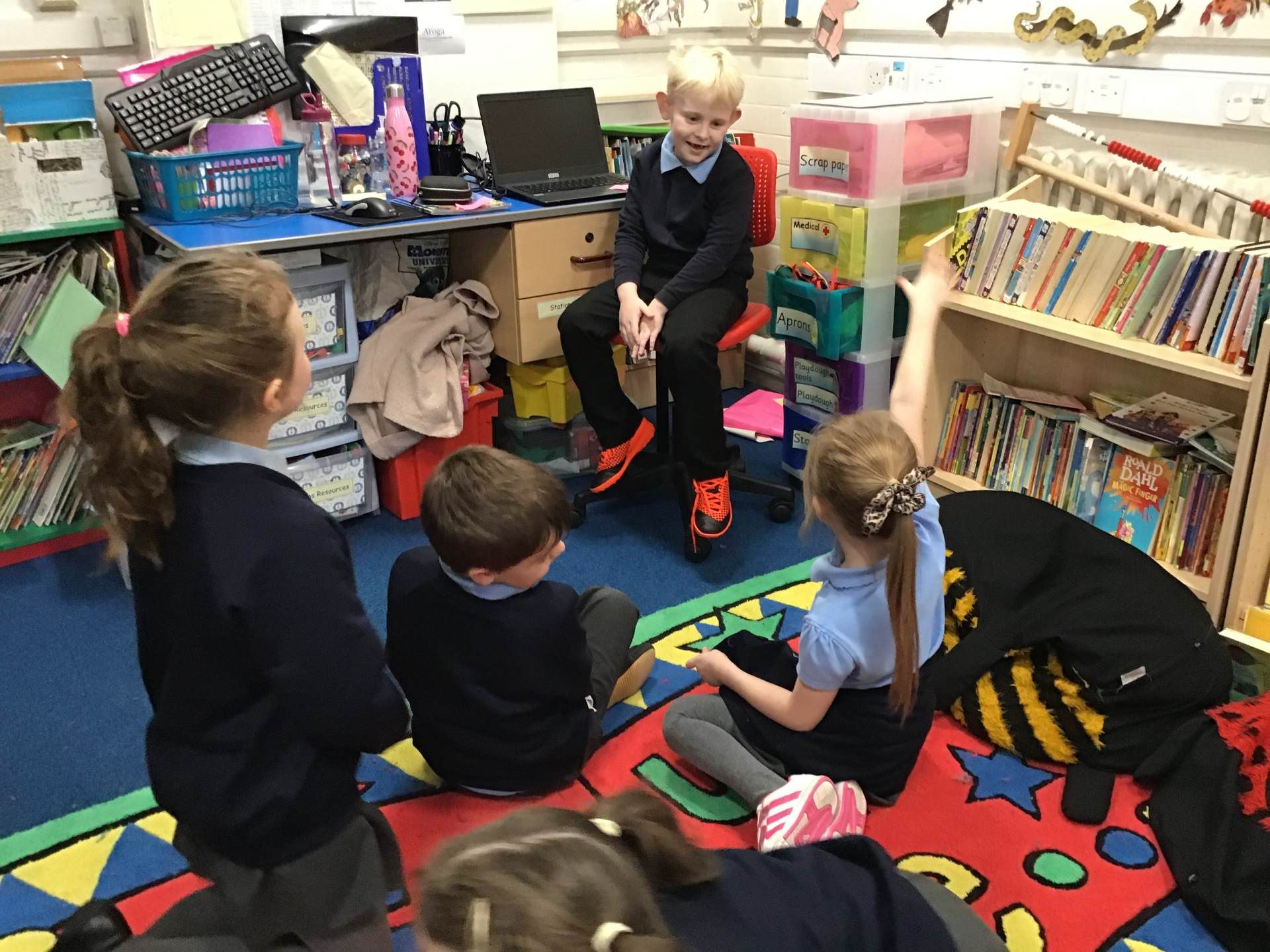 Christmas Party 2019
In Acorns Class we love to party!!! We played Pass the Parcel , Musical Bumps and Musical Statues, leaving time at the end for a dance competition.
Look at how much fun we had.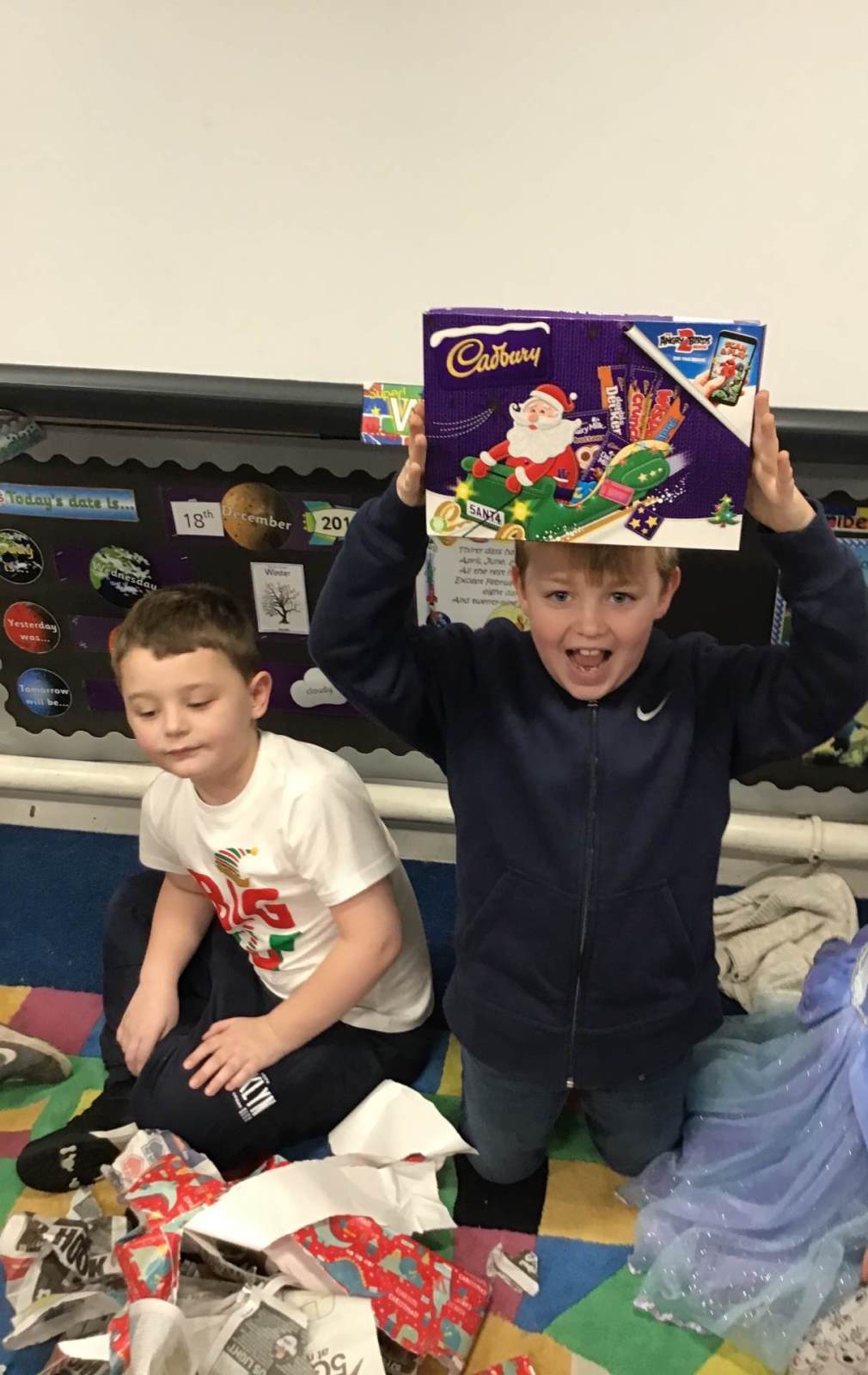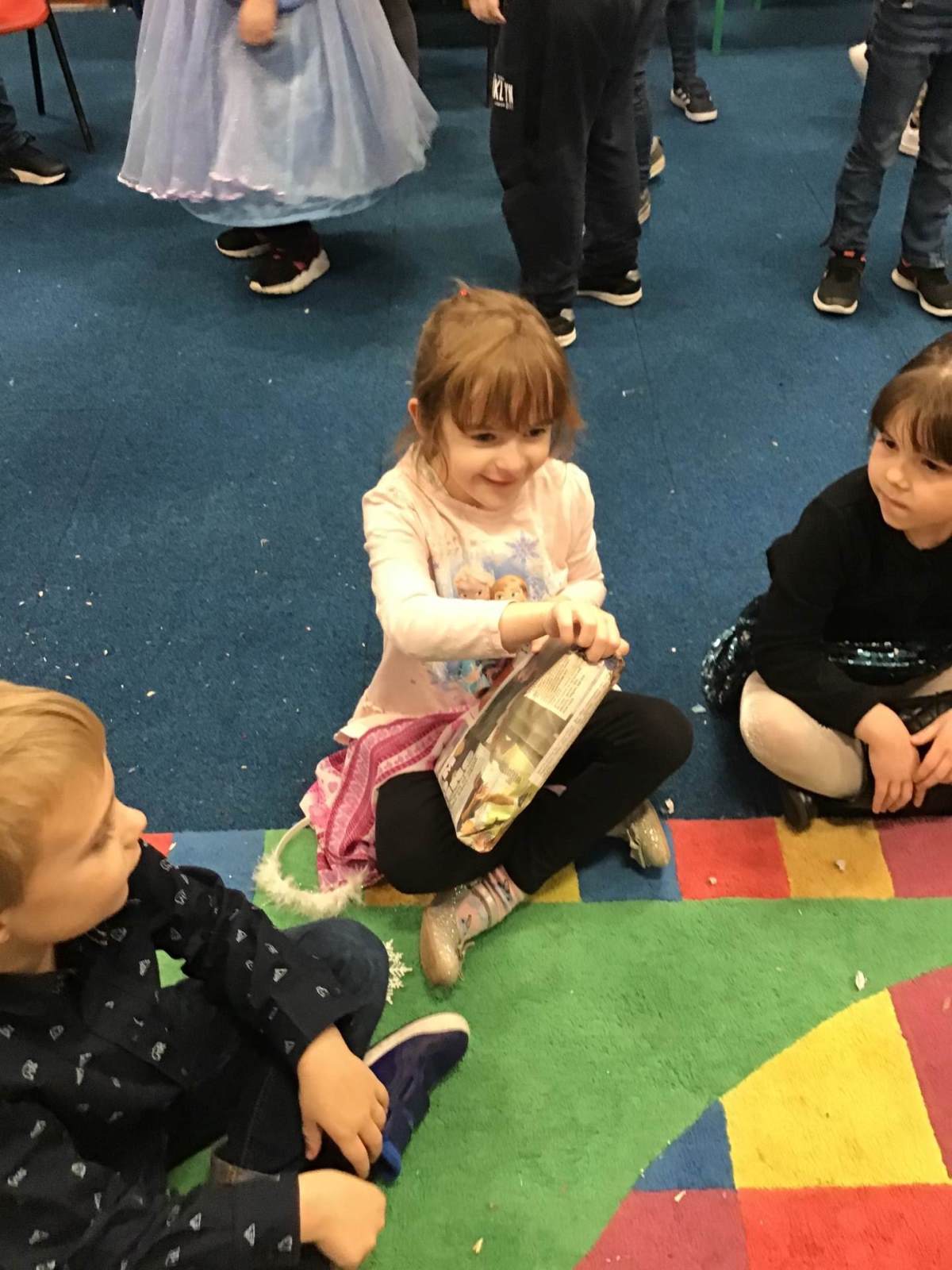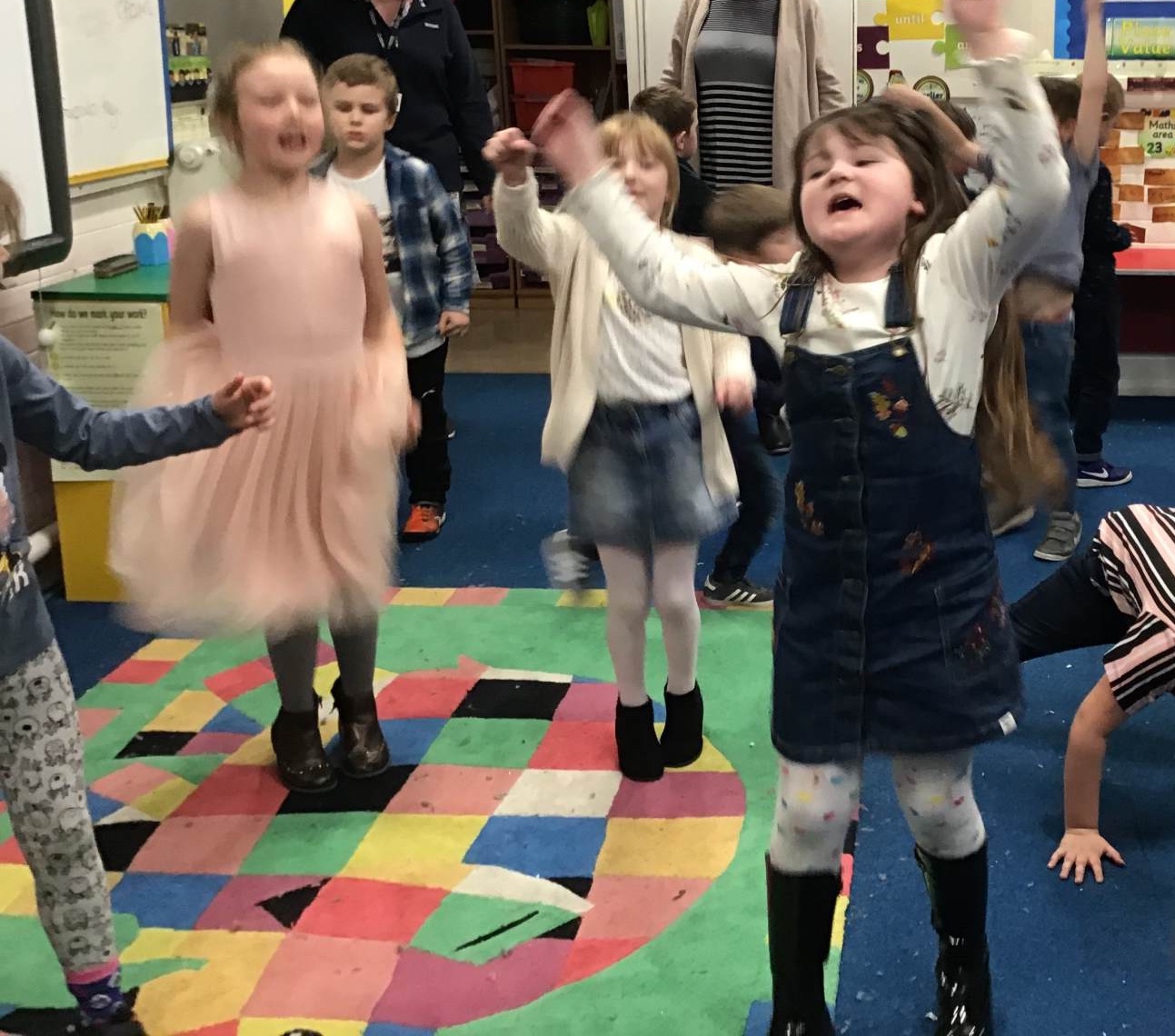 Opening Presents
Acorns Class each received a gift from the adults in our room.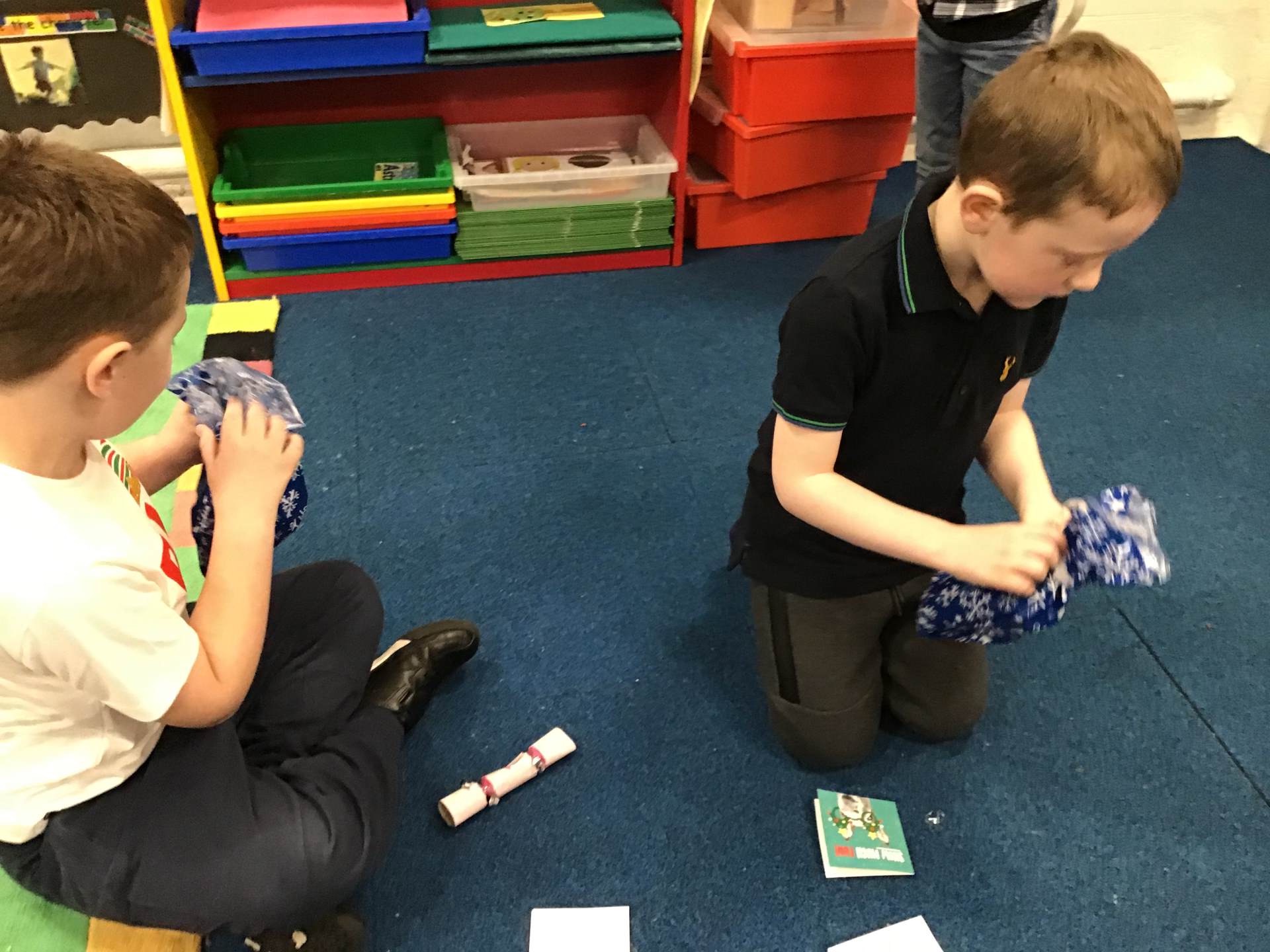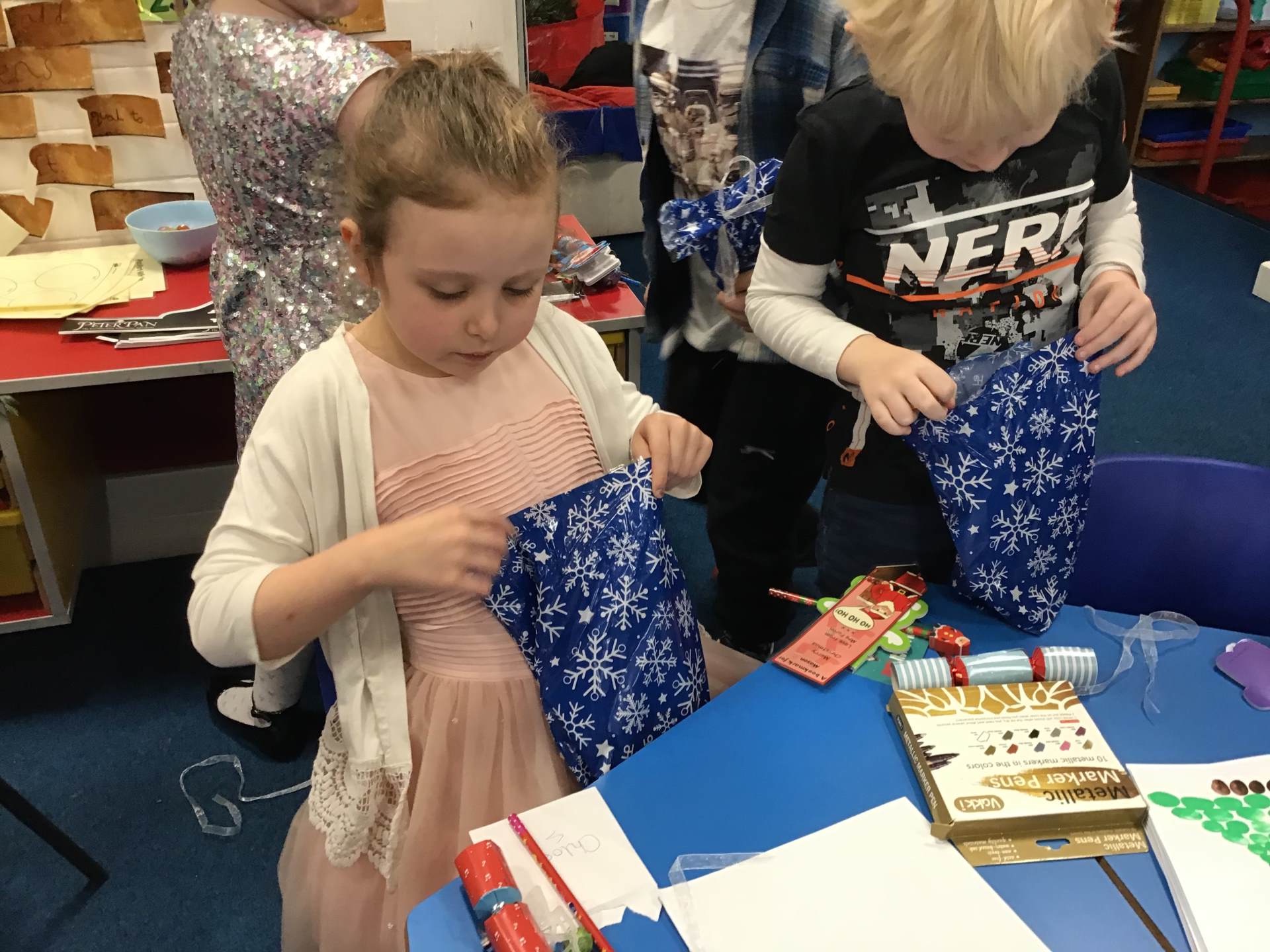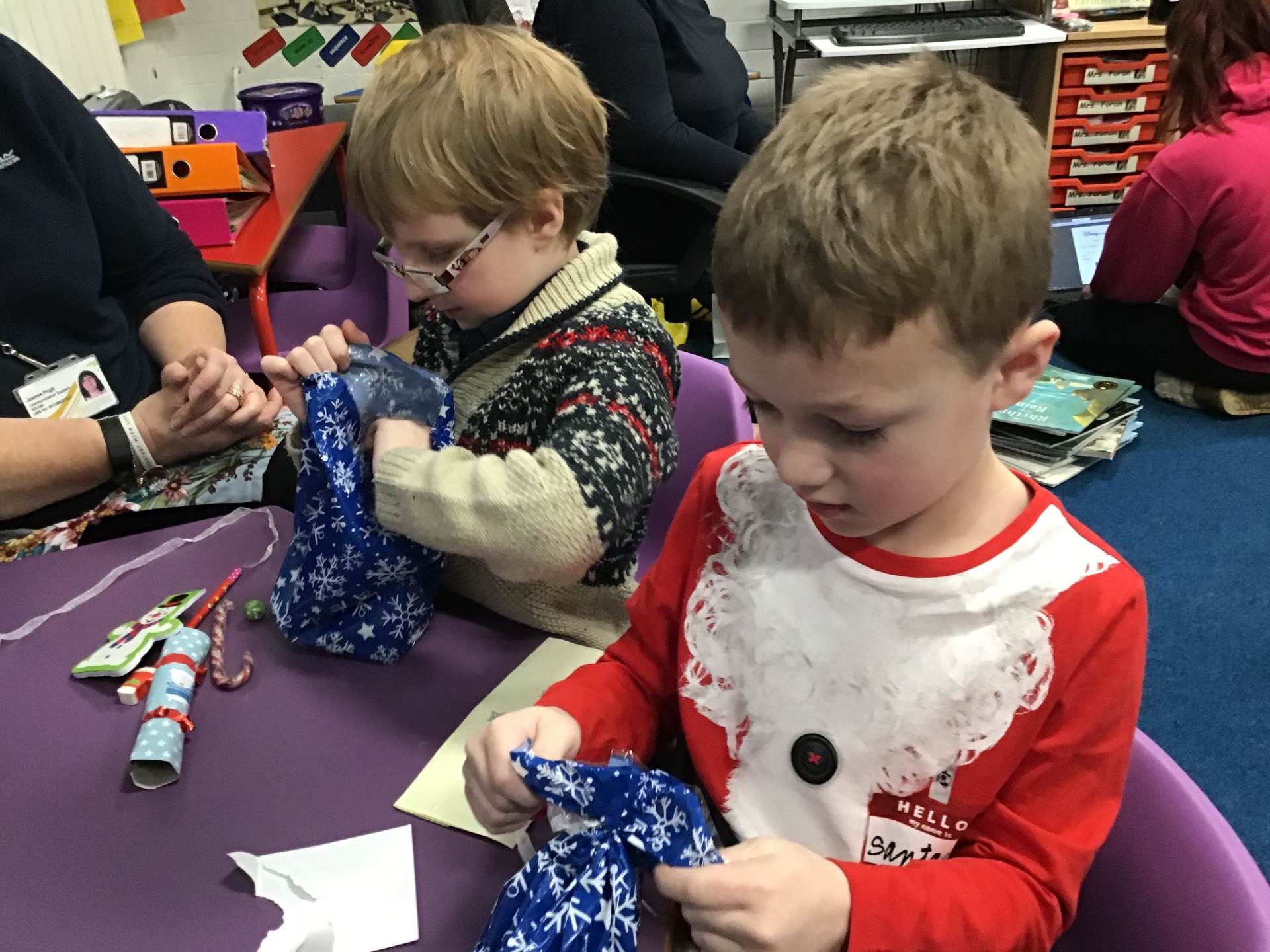 Trip to Hawkstone Park to see Santa.
On Wednesday 18th December, Acorns Class and Reception children went to see Santa. We went to Hawkstone Park and absolutely loved it. After travelling on the coach for a while we arrived, had lunch and were then transported by a 4 x 4 car up the mountains to the secret caves!!! We then walked through the special caves talking to the elves as we went and even playing some games with them. It was then time to see the man himself, Santa!! How magical it was!
After a long day we climbed back onto the coach to travel back to school to tell everyone all about our adventures!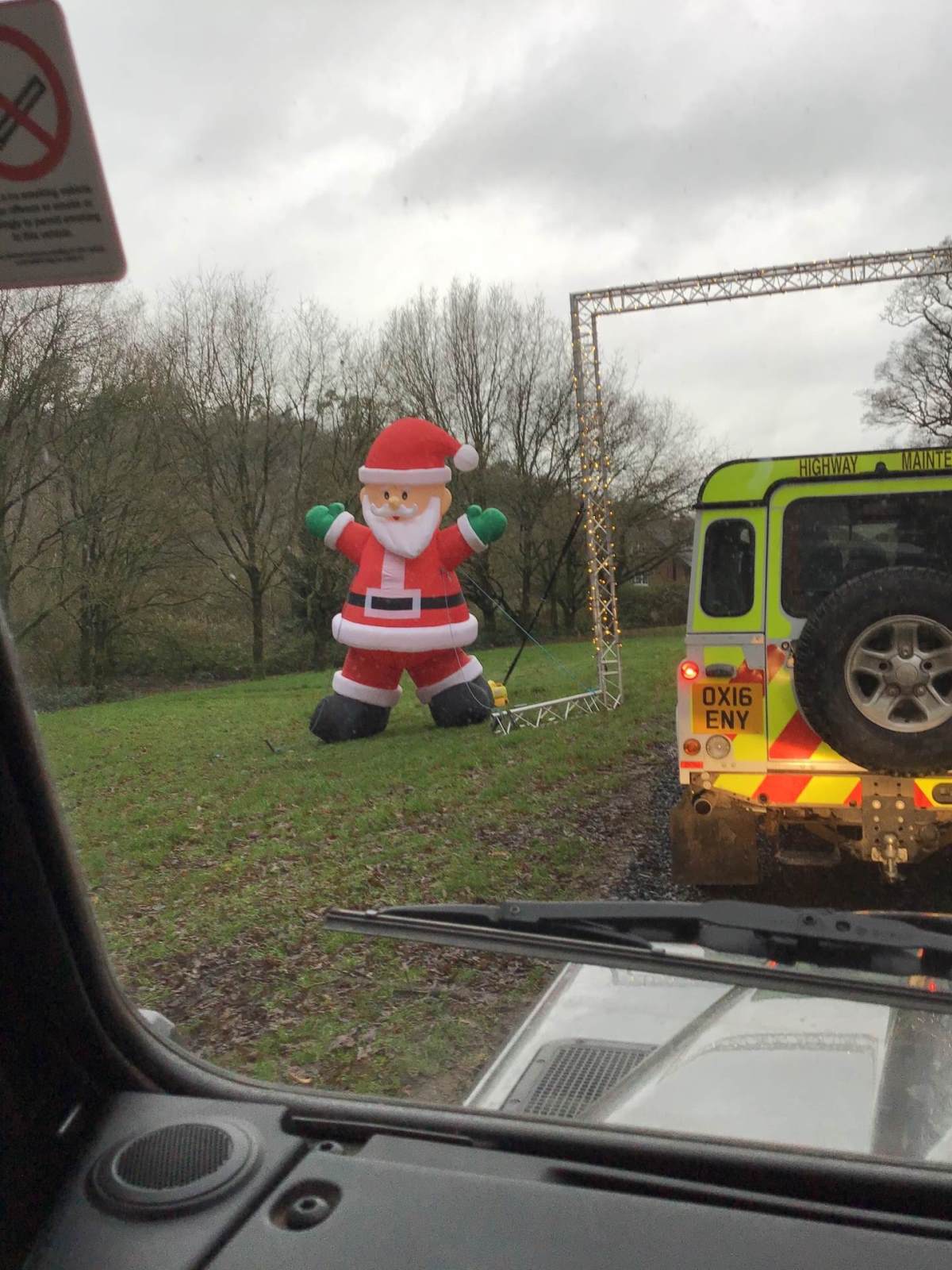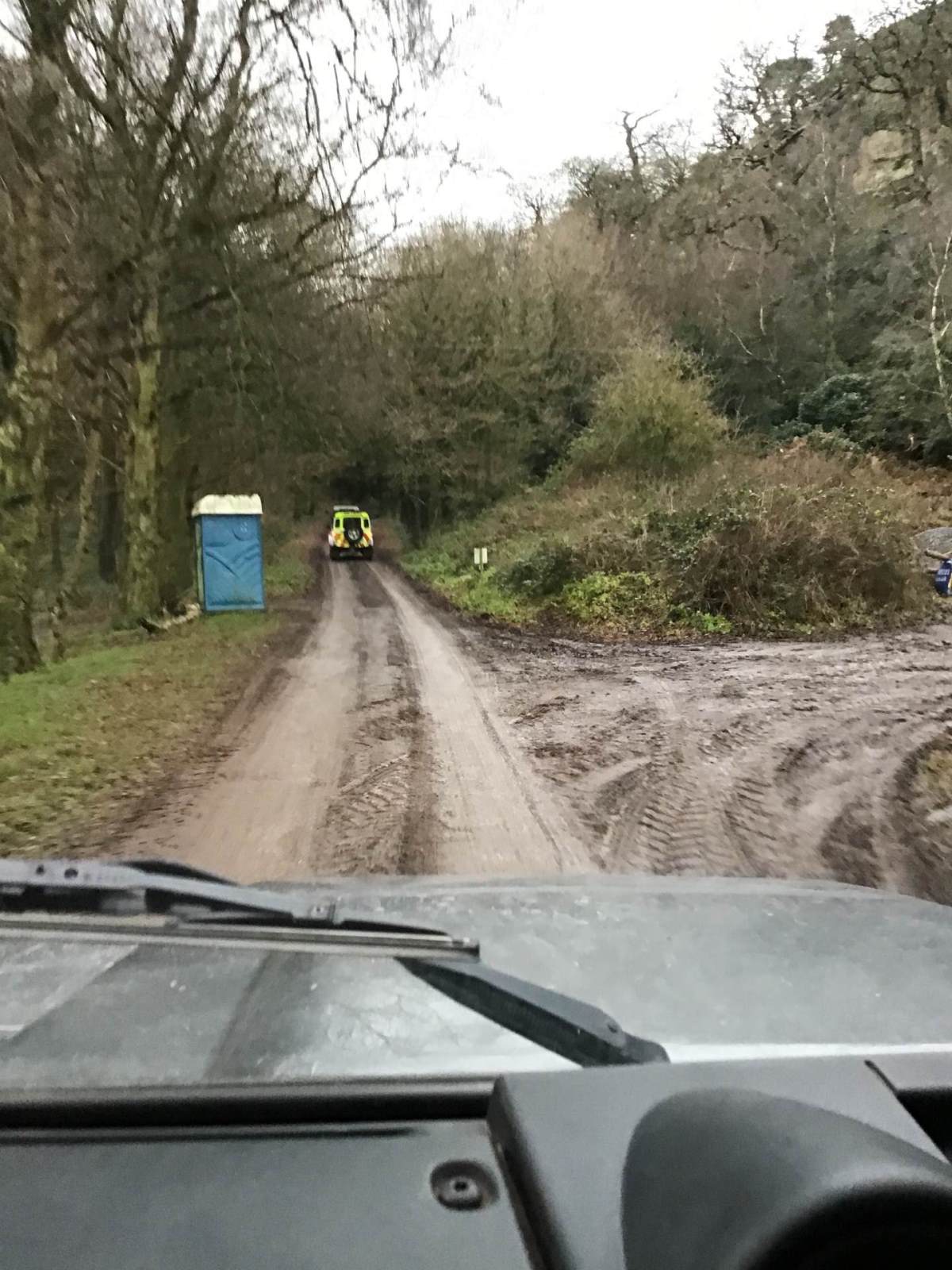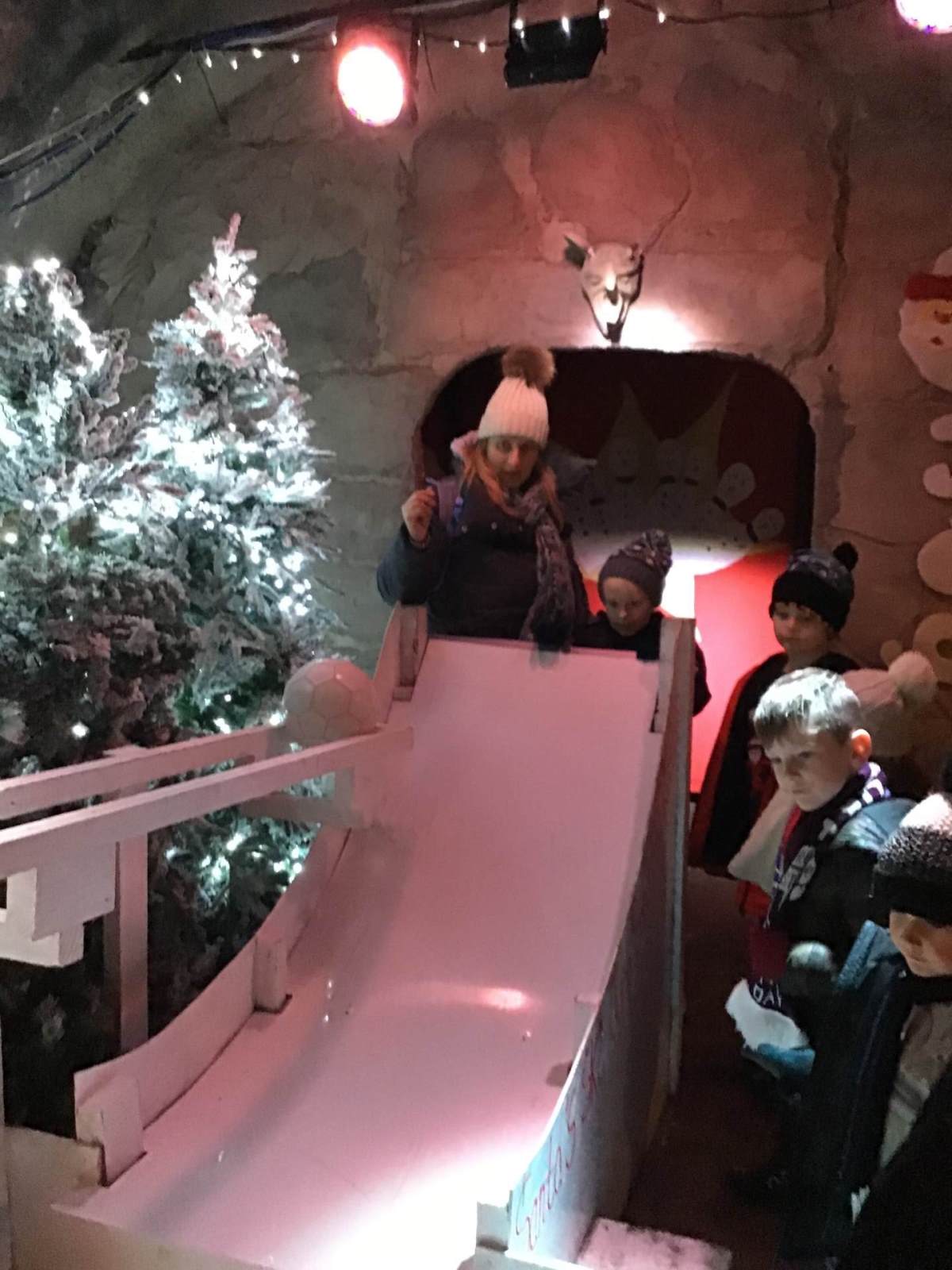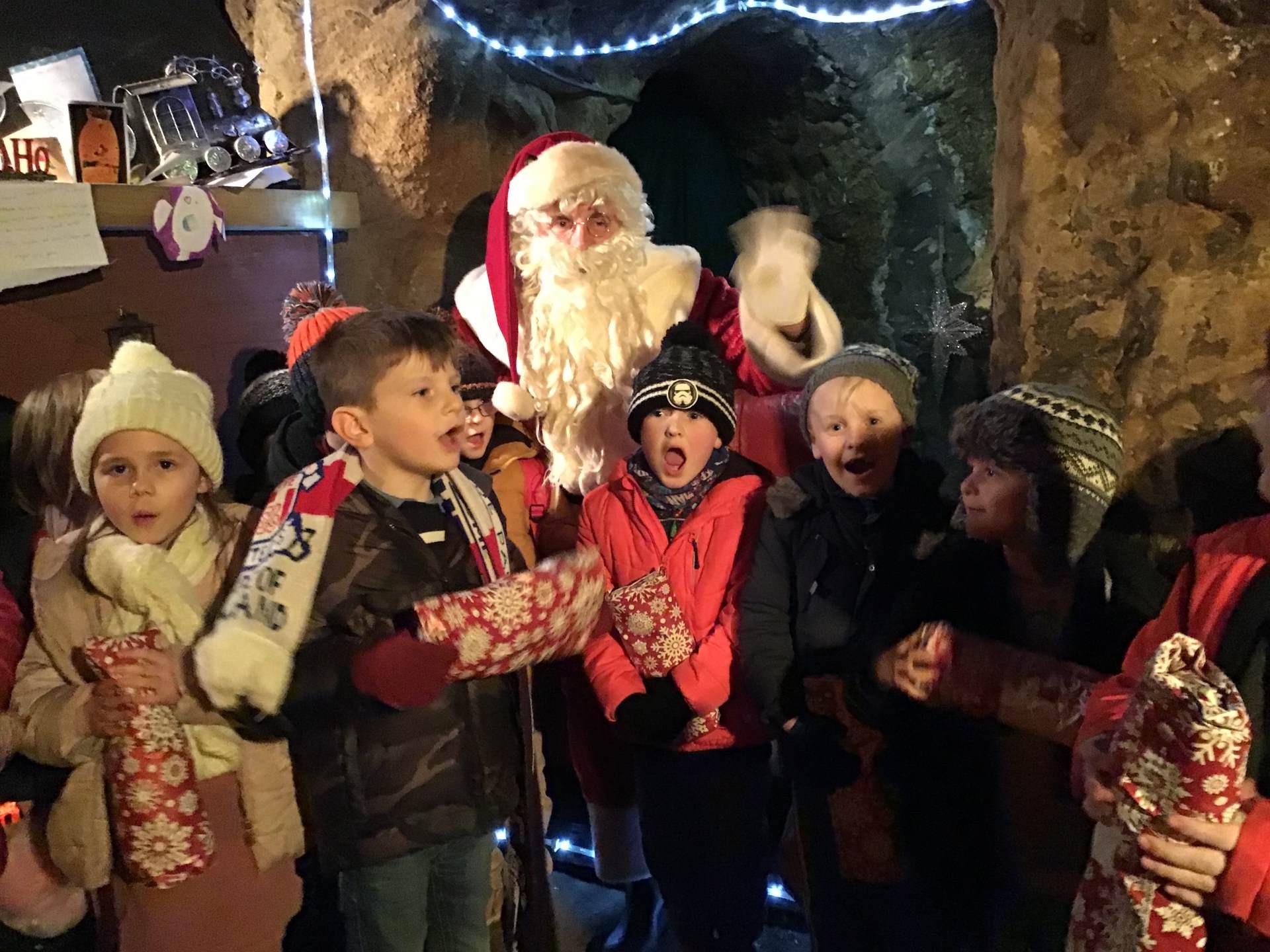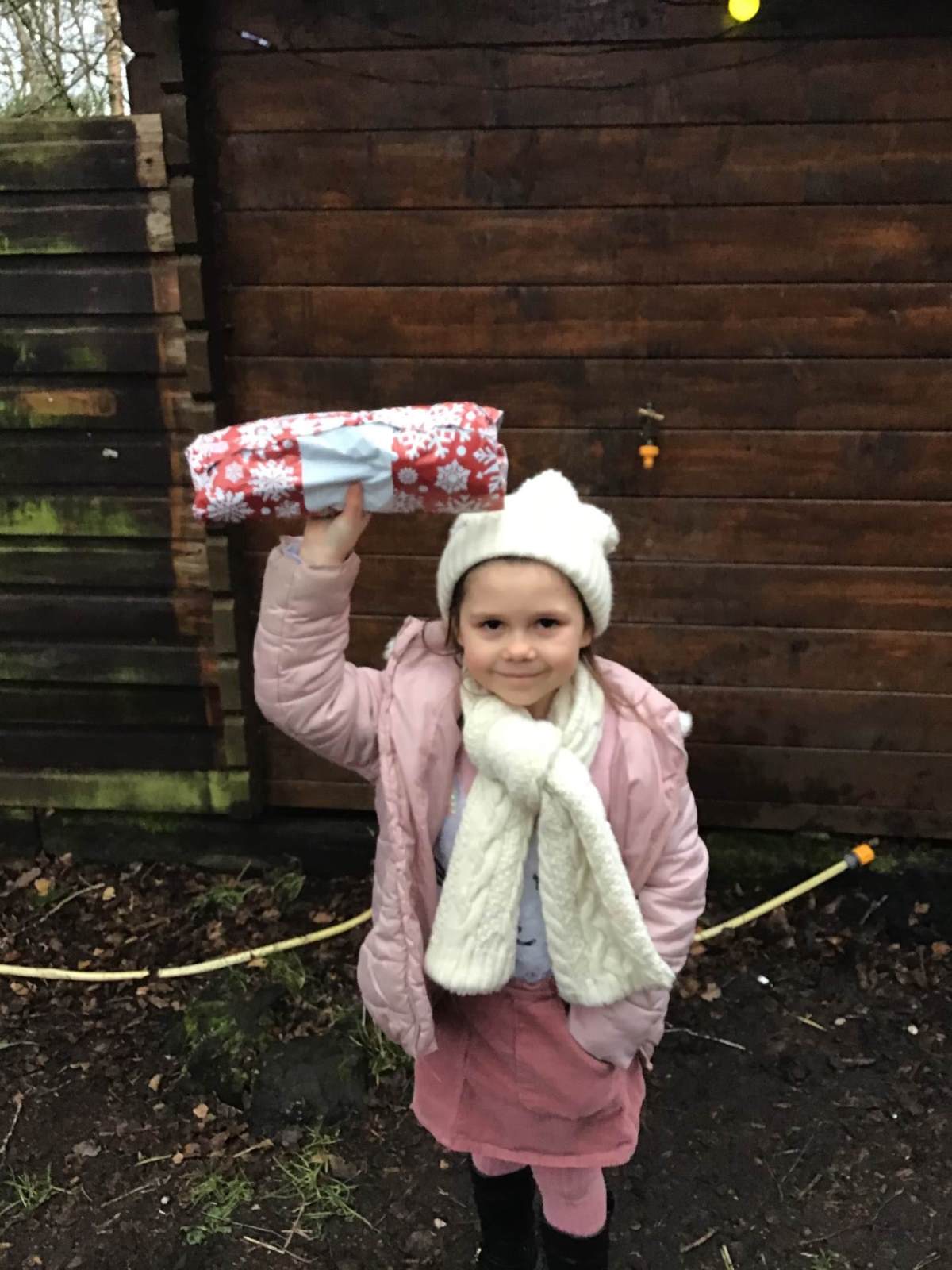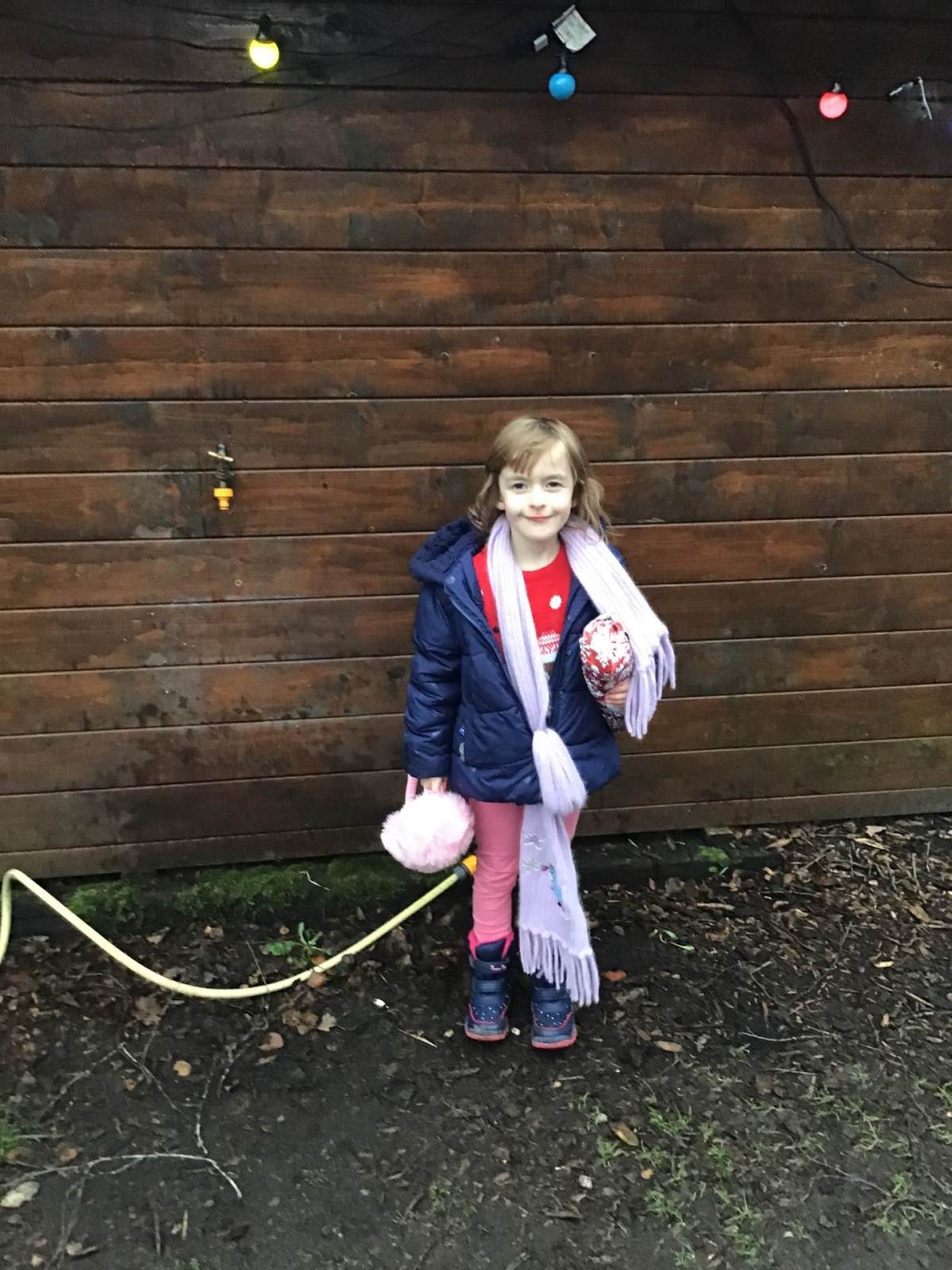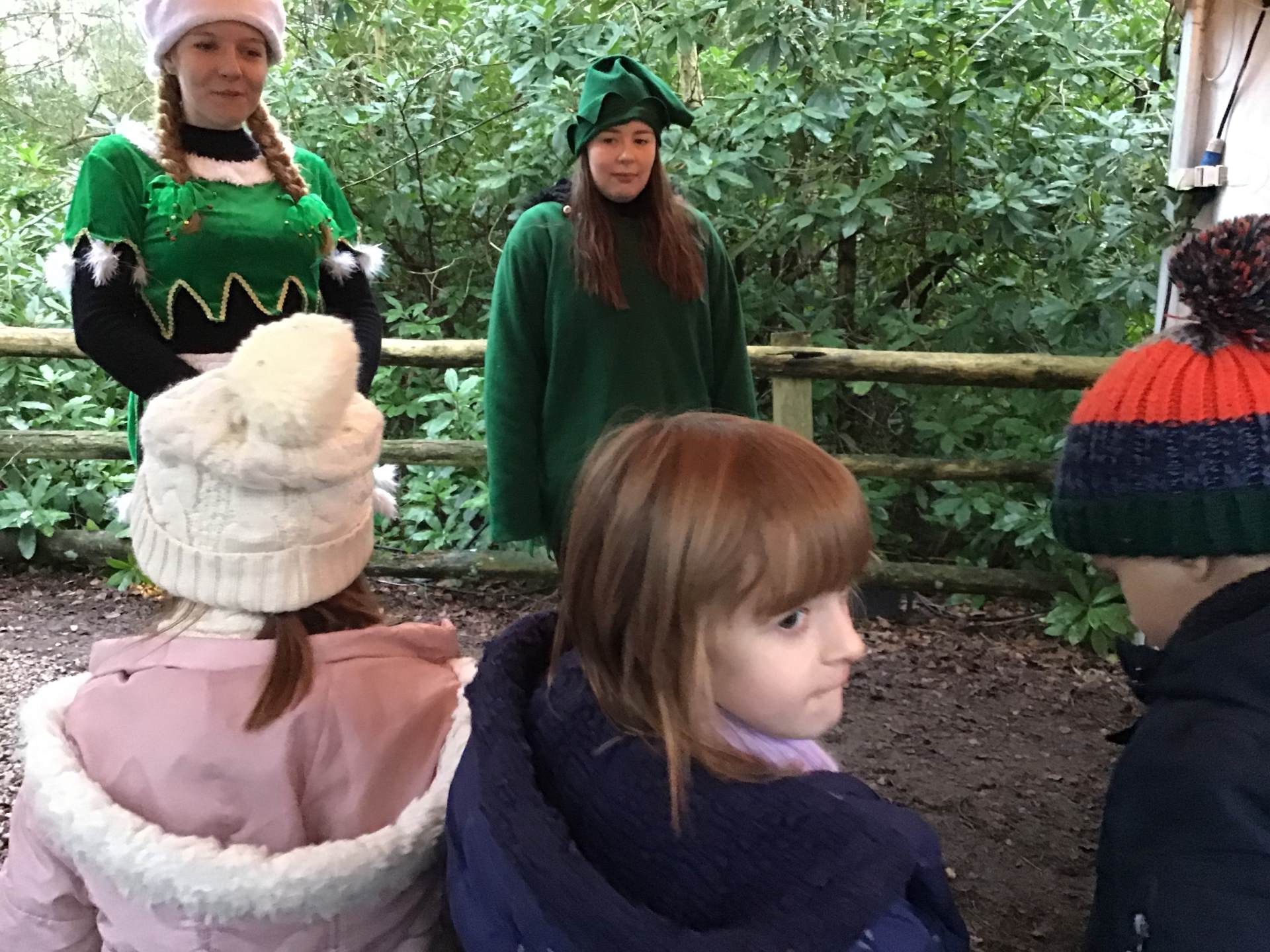 Christmas Lunch 2019
Again this year's Christmas Lunch didn't disappoint! Thank you to Mr Buckley yet again for making it so tasty! Thank you to all the adults that came to help us to celebrate Christmas.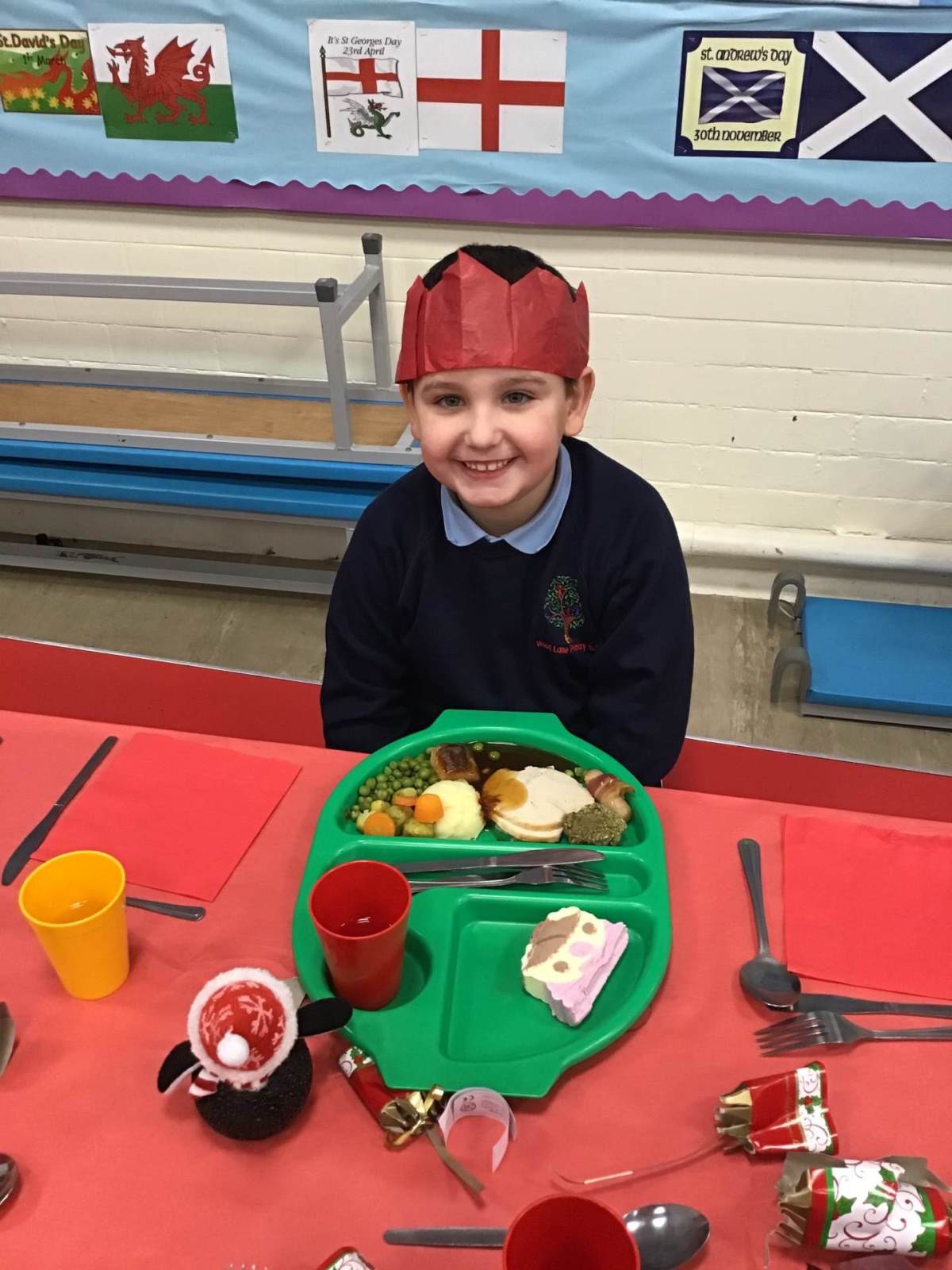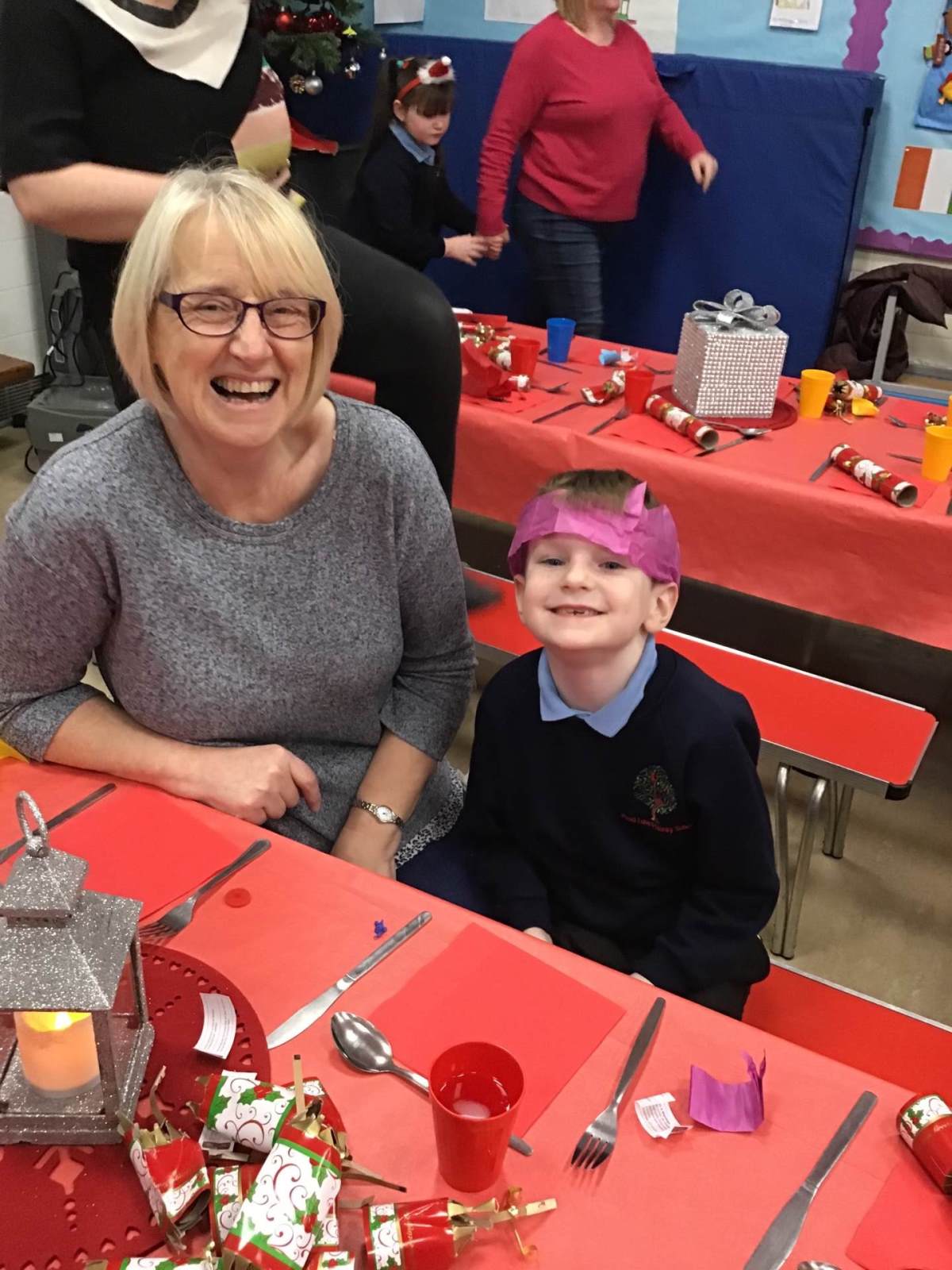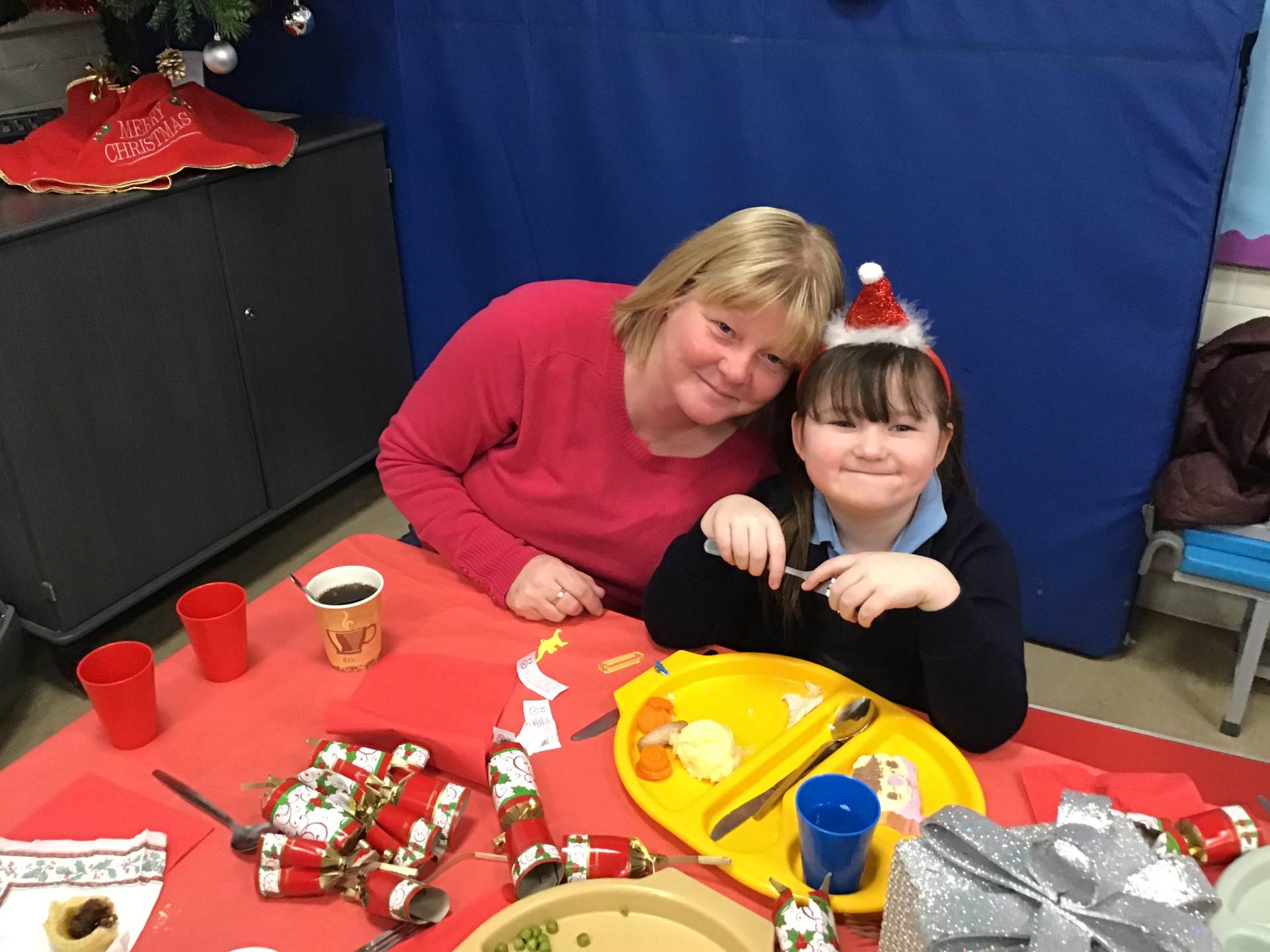 Letters from Santa
On Tuesday 17th December we walked into school and were greeted by a huge surprise. There were letters all over our classroom, one letter for each child. When we opened them we couldn't believe our eyes! Santa had taken time out of his busy schedule to write back to the letters we sent him! Look and see how exciting it was for us!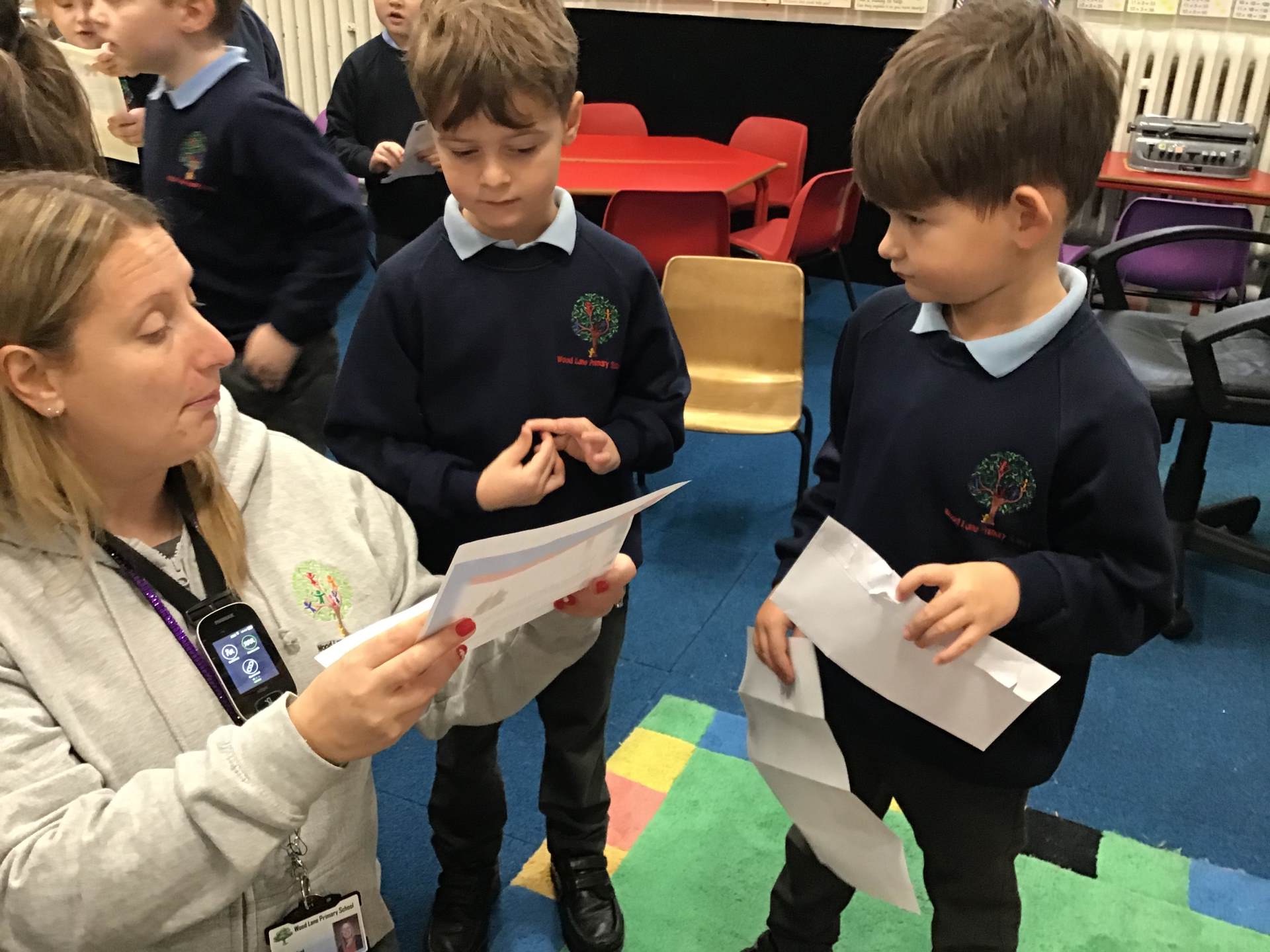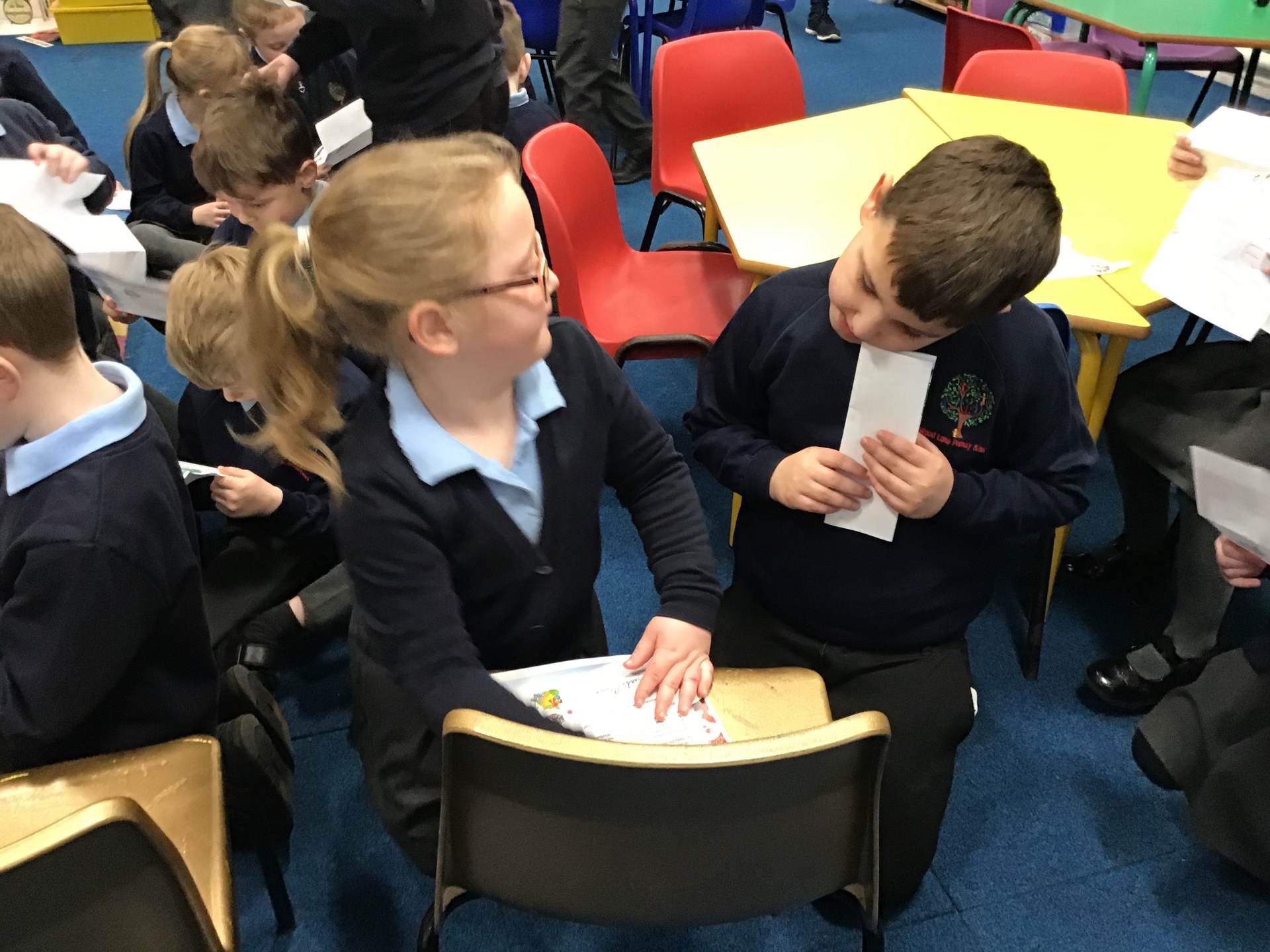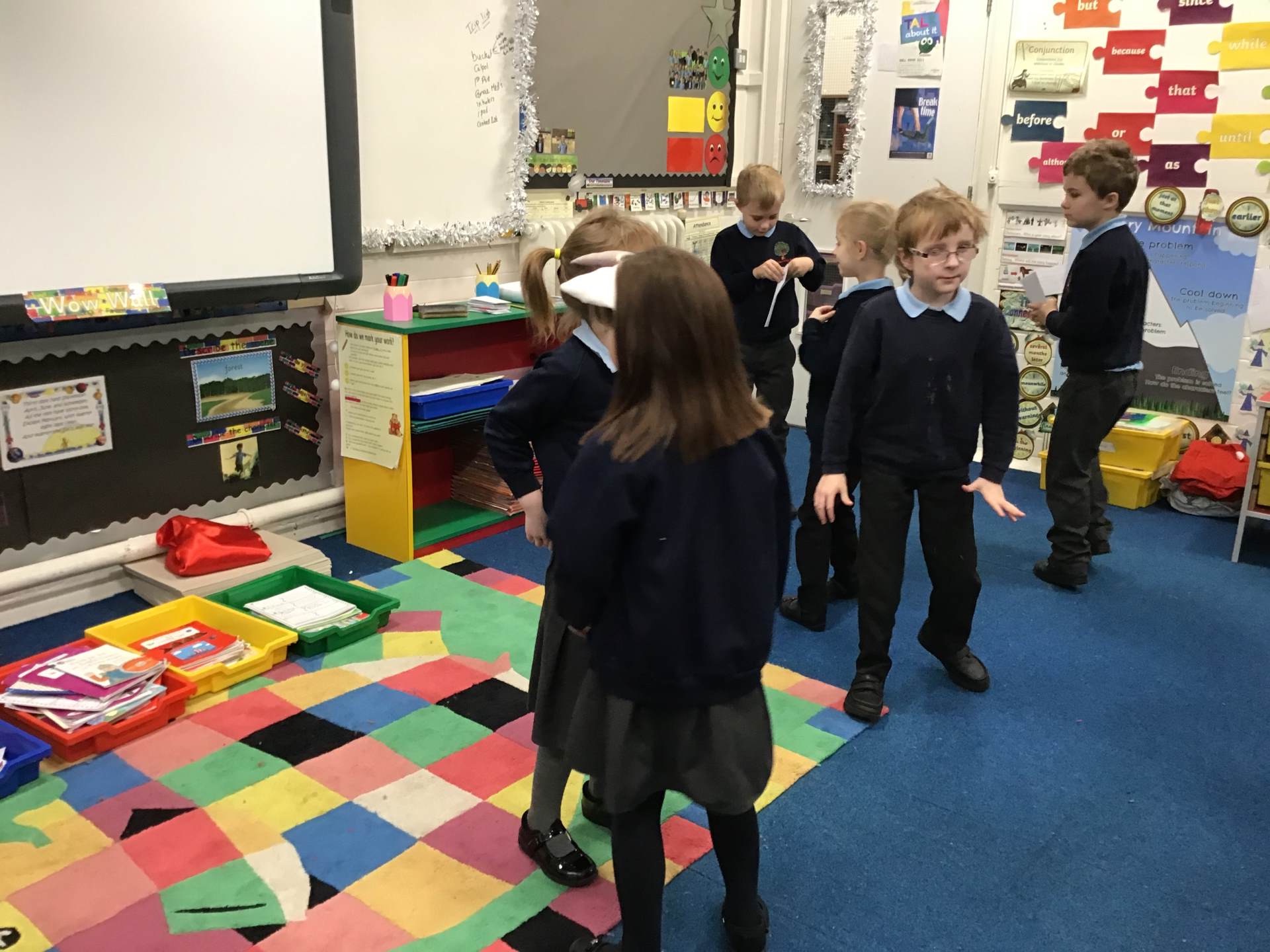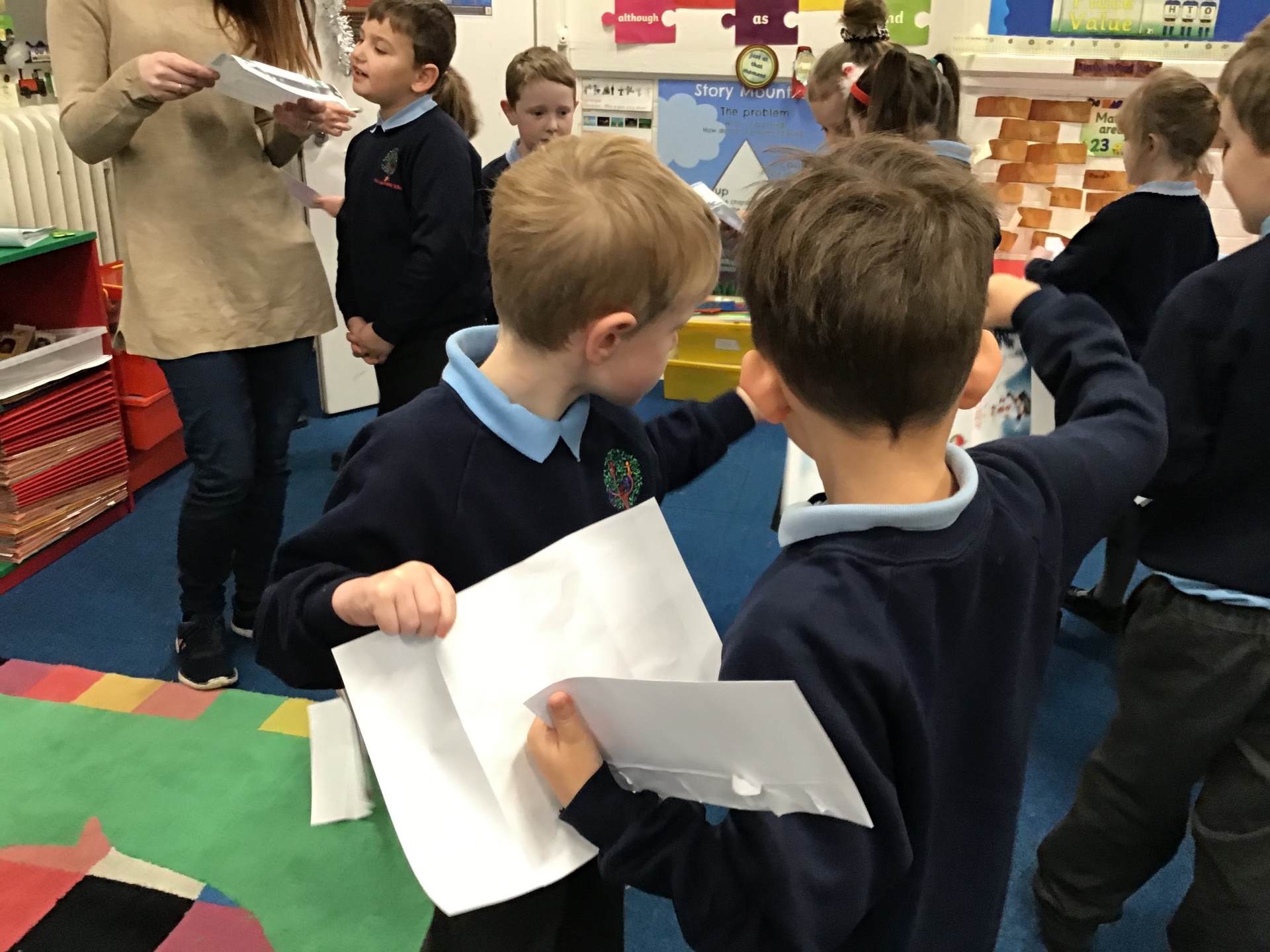 Christmas Play 2019 - Gnome Alone.
This year Acorns Christmas Play was entitled Gnome Alone. The children worked extremely hard on learning the lines, learning the songs and knowing when it was their turn to come onto the stage. We are extremely proud of all the children for what they achieved and thank you to everyone who helped make this performance possible!
We definitely have some stars in our class!!!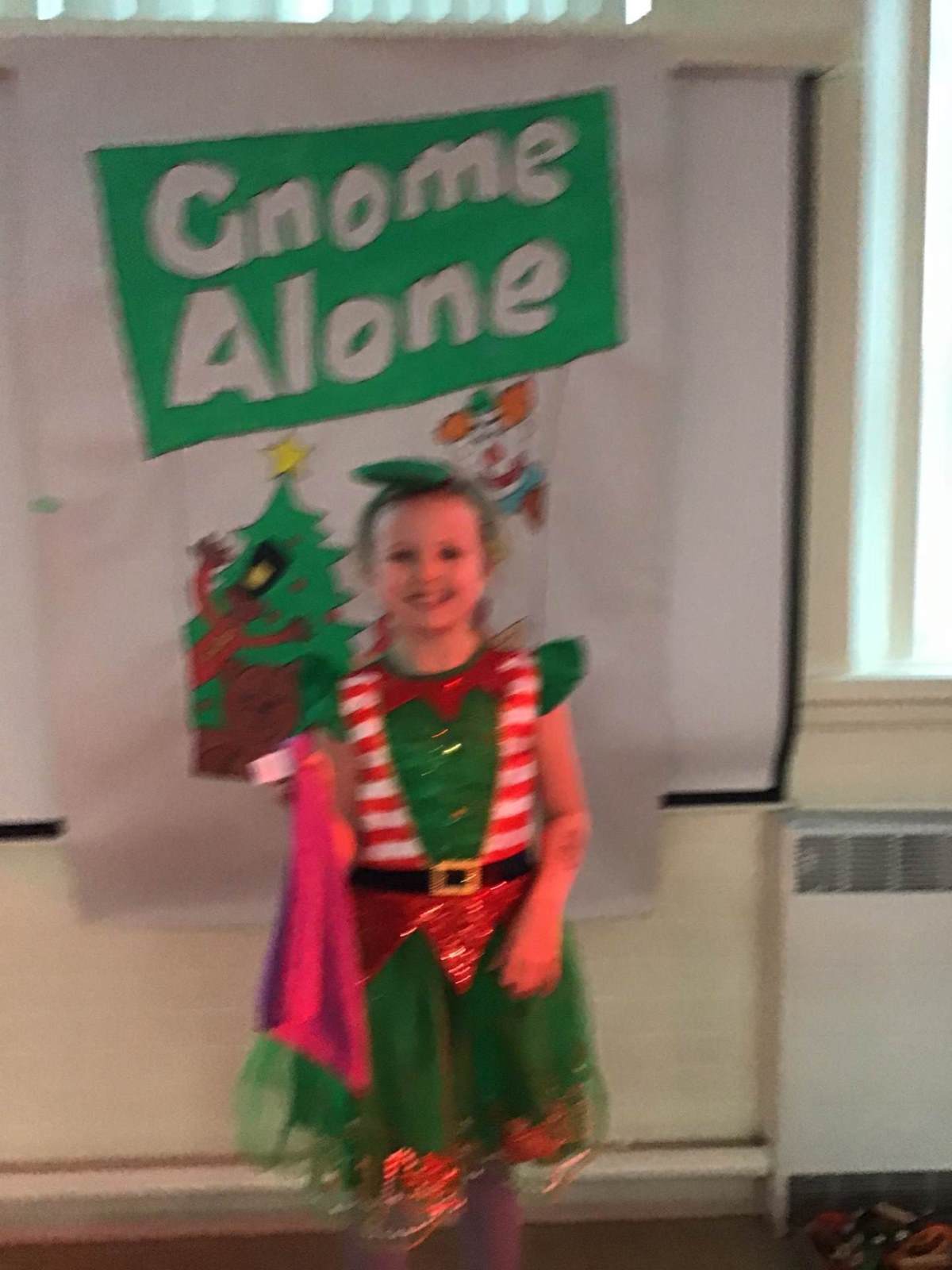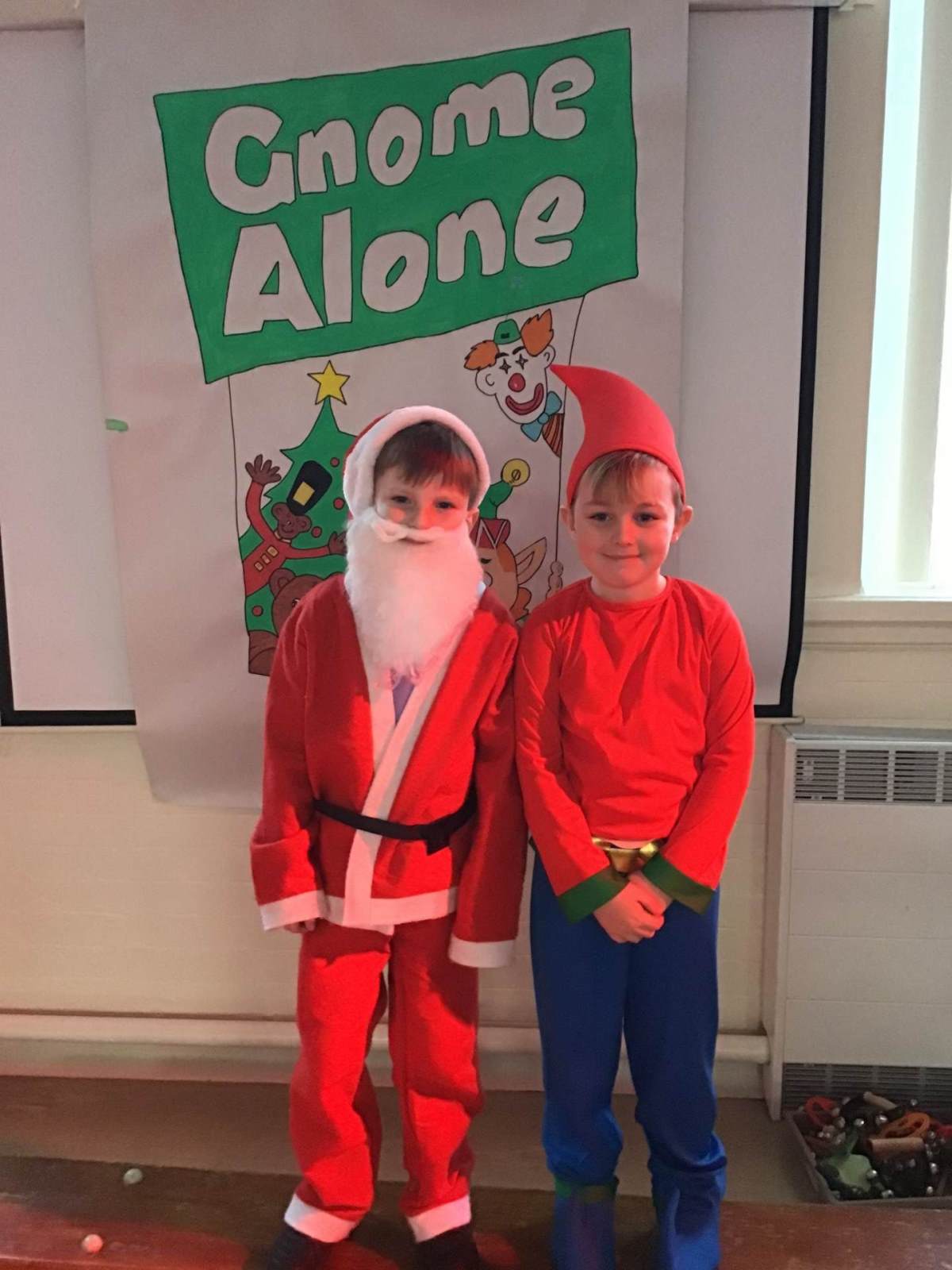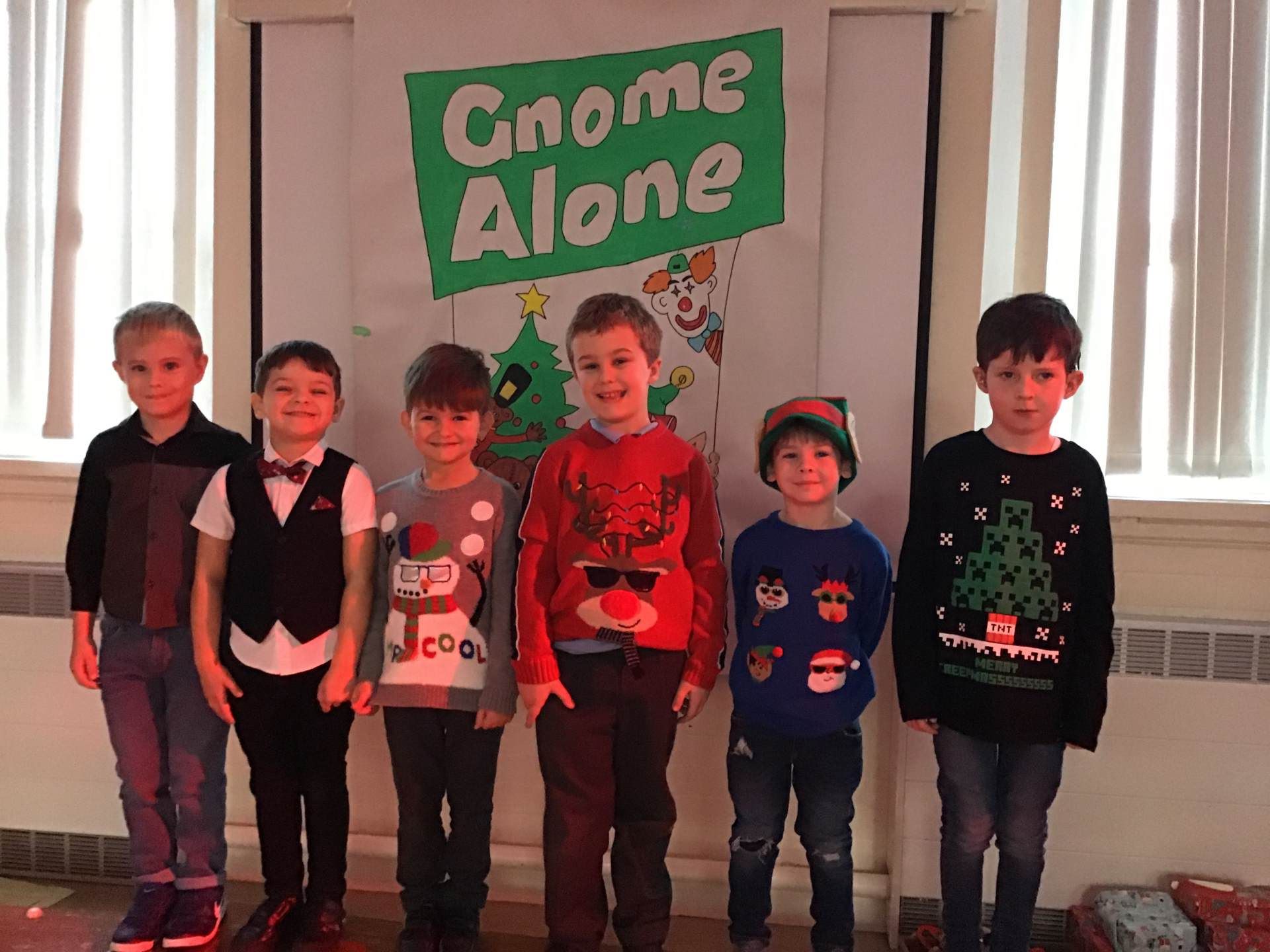 Study Books - Leaders and Power
Our Autumn Term topic was Leaders and Power and each term we create a study book all about this topic. Here are some examples of them.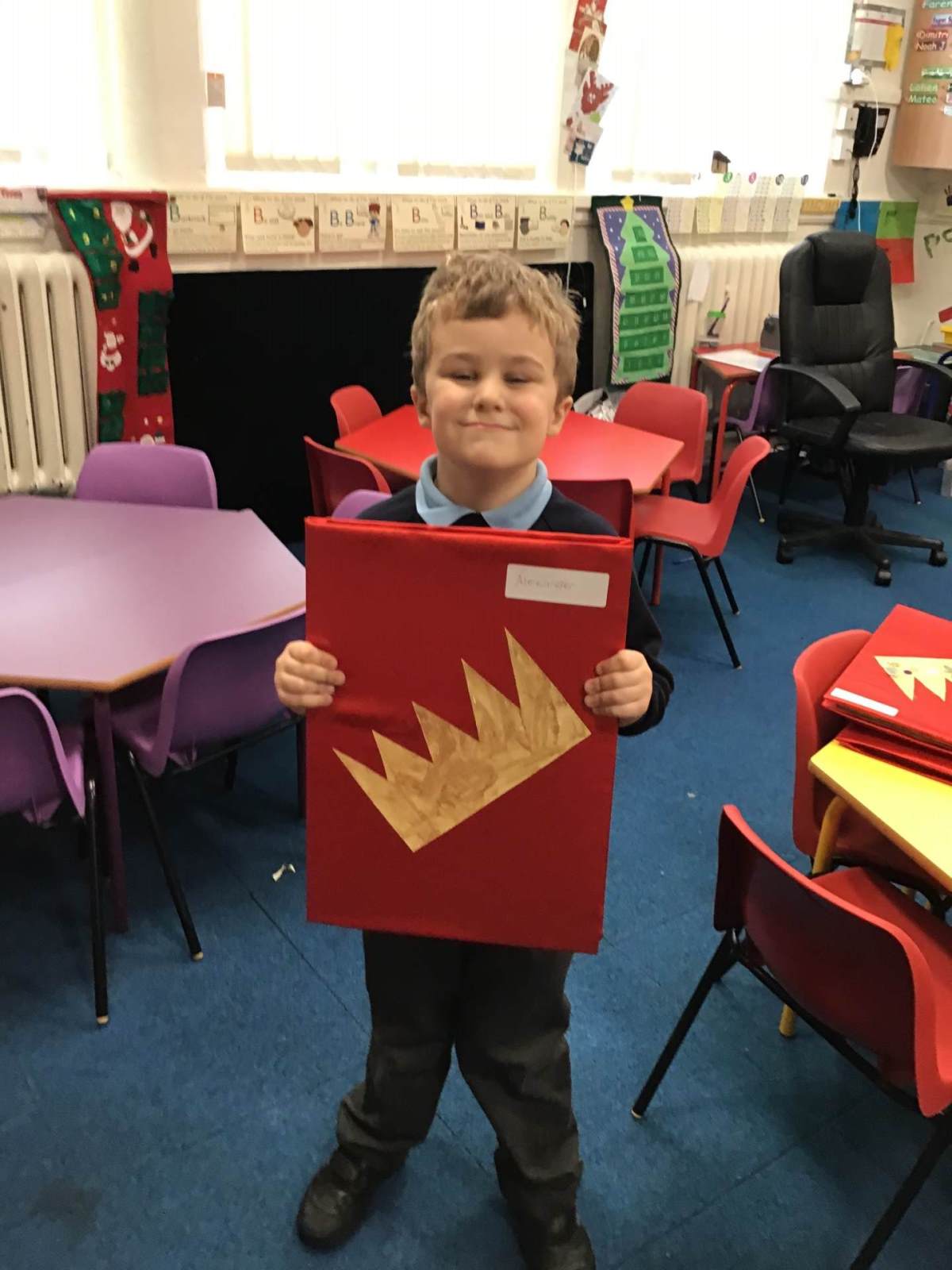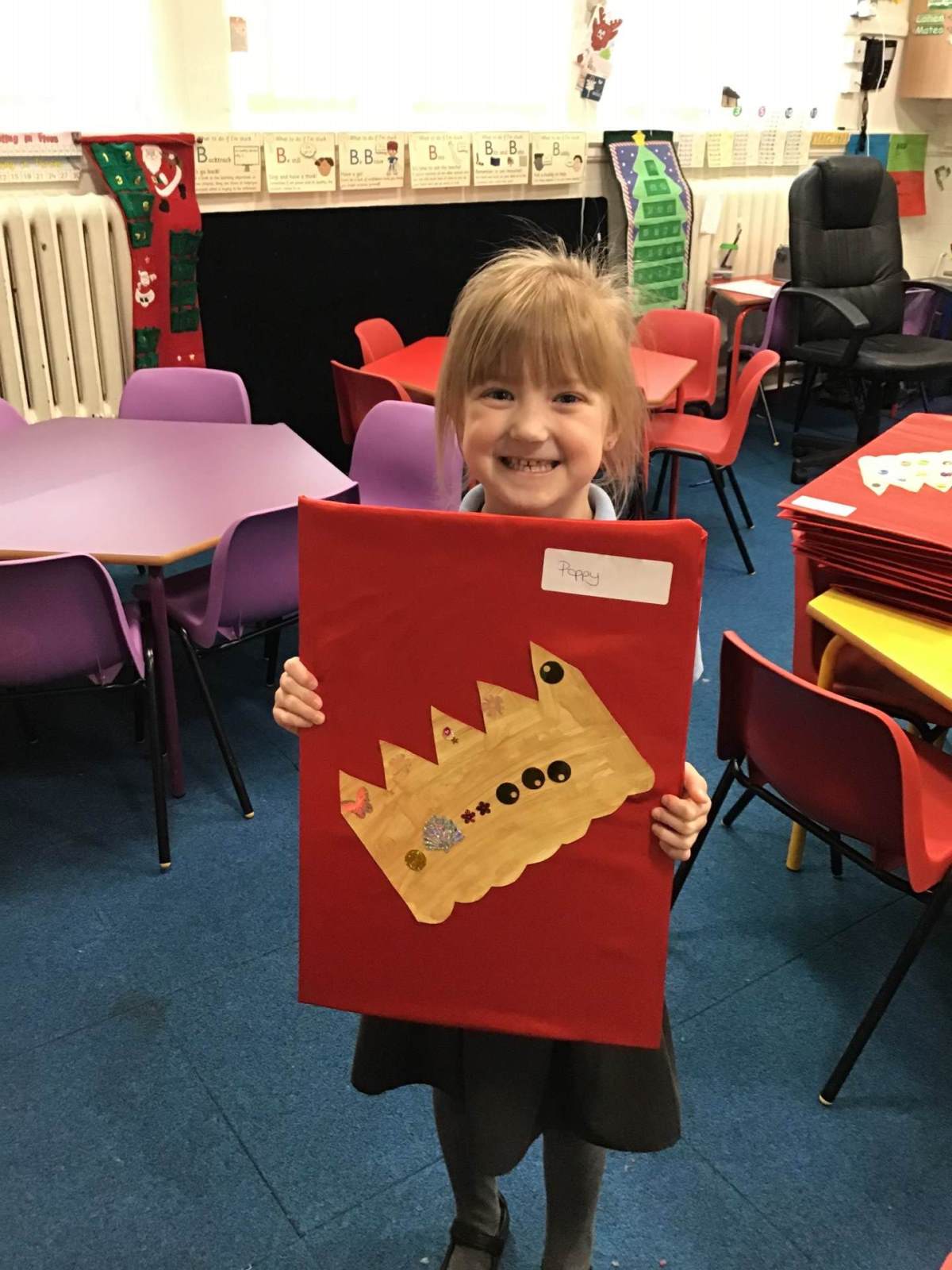 Wrapping Presents.
As part of our topic this week on Christmas, we wrote instructions on how to wrap a present. We then followed these instructions to see if we could succeed!!! We worked in pairs to help each other.





Bridge building.
We read The Three Billy Goats Gruff and talked about different bridges and how they were built. We were given the task of making a bridge strong enough to hold a car on it. The children worked together in pairs and discussed what they were going to do and then built the structure. Here are some of the results.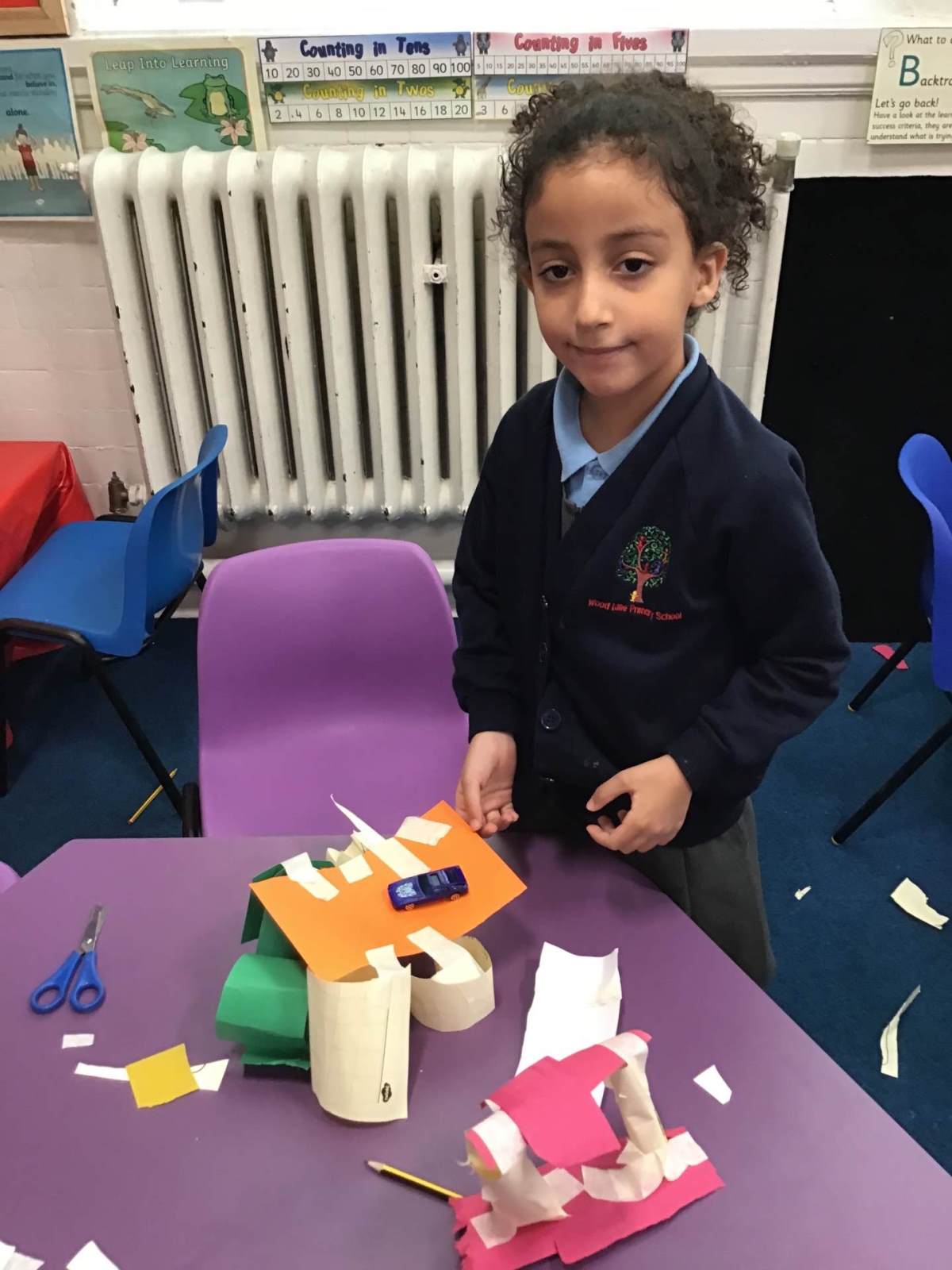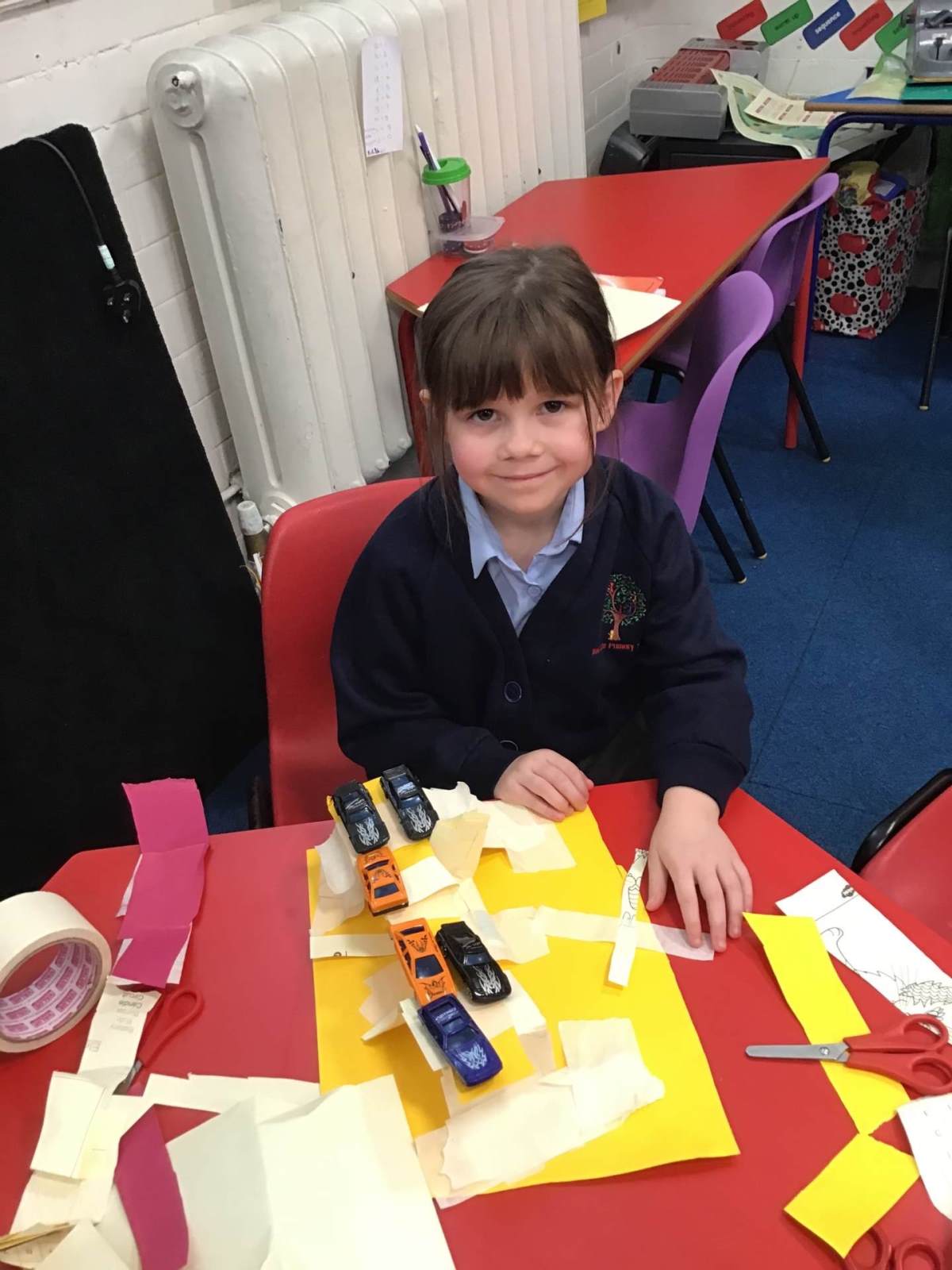 IT
As part of our topic on The Gunpowder Plot and Fireworks, we created a firework picture using the Paint program.

Attendance.
Acorns Class won the attendance award this week, so decided to have an extra play as a reward! These are some of the activities we enjoyed.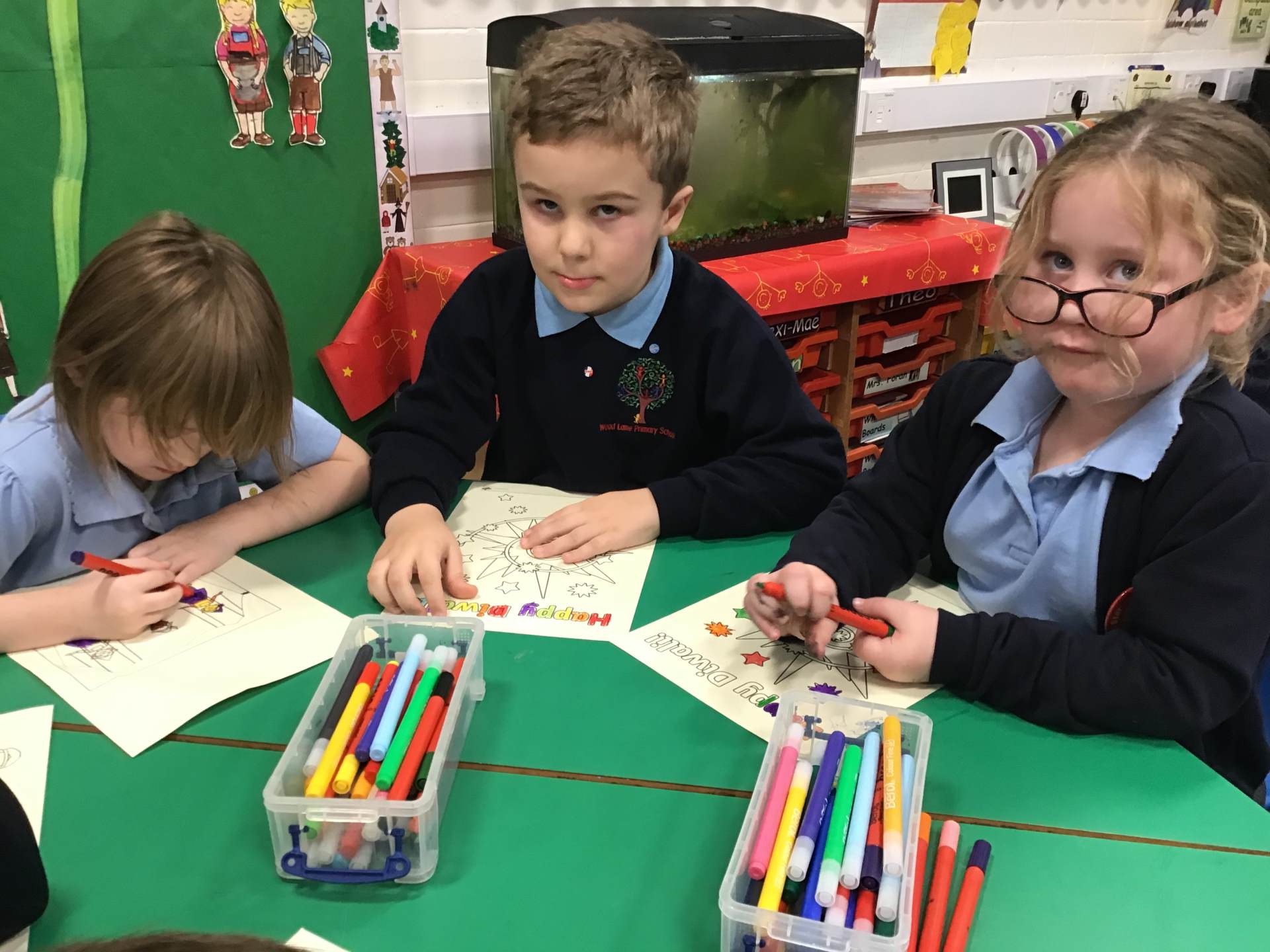 Children in Need 2019.
We also raised money for Children in Need this week. We dressed in odd socks and spots!

Raising money for Young Minds.
The children all come dressed as a superhero or in yellow to raise money and awareness for Young Minds! The costumes were amazing!


Sharing afternoon - Leaders and Power.
On Friday Acorns Class had their first sharing afternoon of the school year. This was a great success and the projects that the children produced were amazing! Thank you to all those adults that attended and we hope you enjoyed it as much as the children did!
Here are some of the projects that were produced.



Happy Halloween.
Mrs Foran's Dad grew some pumpkins so we carved them. We had a great time and shared this with After School Club because they were so big!!!!
Here are the finished pumpkins!

Diwali Workshop.
On Wednesday 23rd October Acorns Class had a Diwali Workshop in school. We have been learning about the Hindu Festival as part of our topic.
We made Diya lamps.







Look had well they turned out.
We were taught some Indian dancing and had so much fun with the moves.


It was was a fantastic workshop and we really enjoyed ourselves.
Rangoli Patterns.
We have have also created Rangoli Patterns with different coloured rice.

PE.
In PE we have been learning how to balance and all the different ways to balance. We have been practising headstands, forward rolls and bridges, as well as balancing on different body parts.





Using ICT.
We have been learning about Diwali and we created Rangoli Patterns using paint on the laptops. We also used the laptops to create patterns on a cloak.

More science experiments.




Science experiments.
Floating and sinking
Magnetic and non-magnetic.
Waterproof or not.




Electricity
We have been looking at electricity this week and what uses electricity and what doesn't. We went on an electricity hunt to see what we could find.




Making Crown Biscuits.
As part of our topic on The Queen, this week we have made crown biscuits. They tasted really nice and we loved doing it.



Portraits of the Queen and The Queen's Cloak.


Hot seating the dragon.

Using the Learn Pads to find information about Dragons.

Science - looking at pushes and pulls.



Dancing with Ron



Making castles

Acorns Blog
Welcome to Acorns Blog. Our teachers are Mrs Foran, Miss Thackeray and Mrs Pugh. Here you will find all of the exciting things we do, so sit back and take a look!
Tattenhall 2019.
Last week Year 2 children went to Tattenhall for a one night stay. They all had a fantastic time and gained so much independence.
On the way we stopped at The Cheshire Ice Cream Farm for an ice cream. The weather stayed sunny for us and we managed to have a play too.
During our stay at Tattenhall we did some pond dipping, art work, watched a DVD and slept for a whole 10 hours!!!!
Look and see how amazing it was!!!

















Week beginning 17th June 2019.
This week in our topic work we have been designing, making and evaluating puppets.
Look how good they look!

Showcase 2019
On Tuesday 25th and Wednesday 26th June Acorns Class performed in the Showcase 2019, along with the whole school.
Year 1 performed a dance called Mooves and Year 2 performed a dance called Mechanics.
The whole class then performed a percussion piece and a song called Under the Sea.
They were all fantastic and we are very proud of them.


Acorns Reading Challenge.
During the holidays Acorns Class were given a reading challenge. The challenge was to find the strangest place to read or the strangest things to read. A few children entered and here are our winners this time!!! Well done to all those that entered.



Week beginning 8th July 2019.
This week we have been talking about the past year and what activities we have got up to. It's never a dull day in Acorns Class!
We have produced some plates as a memento of this year. Here are a few of them.



Study books - Life Around The Sea
In Acorns Class we work really hard on a termly study book. This study book was about Life Around the Sea and consists of all the different topics we covered within that topic. The book we used for English was Snorgh and the Sailor.
Look at the fantastic study books we created.